Dog Who Loves Pigs Finally Meets One Who Loves Him Back
He's been waiting his whole life for this moment ❤
A 10-acre spread in Morrow, Ohio, should be all the room in the world for five pigs, three cats and a dog.
But for one of those pigs, there's only one spread. The bedspread.
While the rest of Whitney Chiong's pigs are content to romp and chomp outside, Calvin prefers the cozier confines of the house.
"The other pigs want no part in being house pigs anymore," Chiong tells The Dodo. "They have all this land to root up and explore.
"Calvin is a super couch potato, spoiled rotten, super cuddly guy."
And that suits Rizzo perfectly. The pig-obsessed puppy had been trying seemingly all his life to get his porcine siblings to play with him.
"I have the other pigs outside in the barn," Chiong says. "When I go out there to take care of them, Rizzo tries to play with them. And they're just like, 'Uhhh ... no. What are you doing?'"
But two weeks ago, Calvin came along - he was rehomed after his former family could no longer take care of him - and brightened every corner of the house.
And, from the moment they met, Rizzo's heart.
"Rizzo tried to play with him," Chiong recalls. "They chased each other through the house. They were best friends from the beginning. They are inseparable."
Indeed, when Calvin isn't giving Rizzo his heart, he's at least offering a warm bottom for a pillow.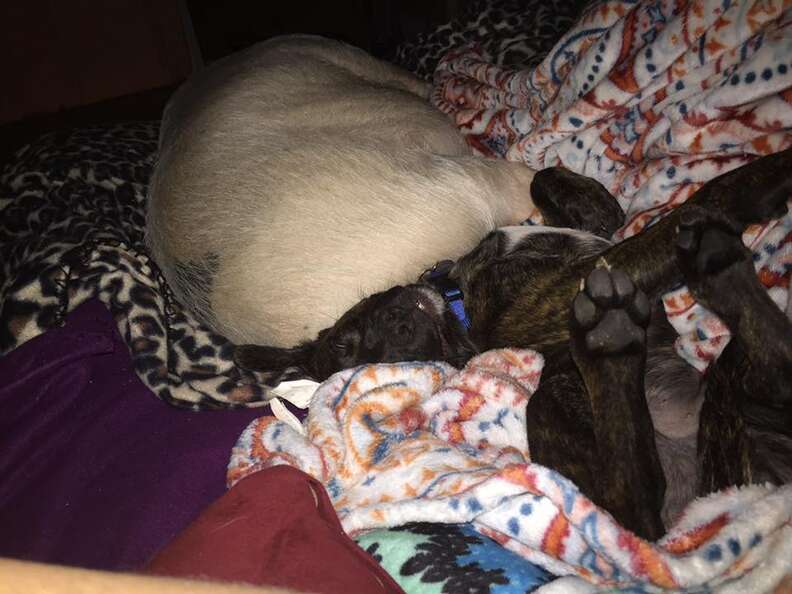 At those times, Rizzo's joy is written all over his face.
Of course, Chiong loves her outdoor pigs too - Mo, Opal, Jonesy and Boomer.
"I spend the majority of my life screaming about how wonderful, emotional and beautiful pigs are," she says. "Saving them is what I'm meant to do, I just know it in my soul."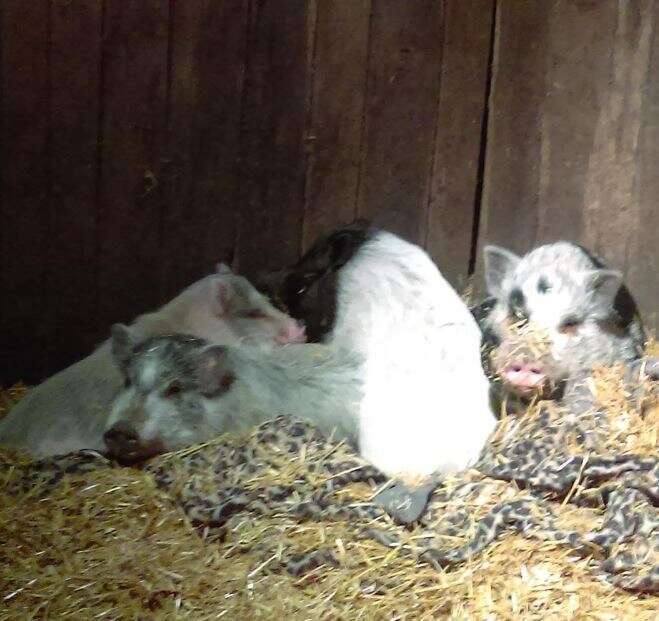 "It's a madhouse, but it's so full of love," she adds. "I can't even put into words how grateful I am to have all of these crazy critters."
And, in their own way, all of her animals have helped her get through some tough stretches in life.
"I struggle with anxiety and depression, amongst other things," Chiong says. "My pigs have helped me tremendously through some terrible shit. I'm forever indebted to them."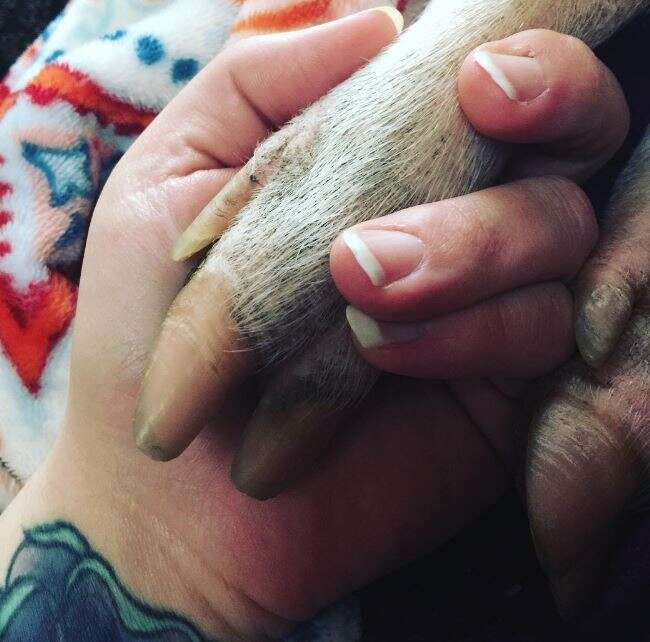 Lately, Chiong has been leaning on her pigs more than ever. She just lost her job, and the financial uncertainty has brought a few tears. It has also brought Calvin even closer.
"I've been really emotional and stressed and he's been right by my side since the day we got him," she says. And when she cries, Chiong swears, Calvin shares those tears.
"I was petting him and felt something wet; I looked closer and it was tears."
But Calvin isn't here to break hearts. Just fill them with all the love and reassurance a pig can bring - and, of course, make a pig-loving dog's dreams come true.
While Chiong doesn't officially run a rescue organization, the pressures of losing her job have made keeping her rescued animals especially challenging. If you would like to support her efforts to give them the life they deserve, consider making a donation.
You can also follow the adventures of Rizzo and Calvin, as well as the rest of Chiong's animals, on Instagram.