Puppy Who Can't Walk Or Stand Is Happier Than Anyone Could Have Imagined
<p>Road Dogs & Rescue</p>
When his breeder saw that Herbie had special needs, he immediately gave up on him - but that hasn't stopped Herbie from continuing to fight every single day.
Road Dogs & Rescue
Herbie the French bulldog puppy is about 10 weeks old and suffers from hydrocephalus, a condition that causes a buildup of fluid on the brain. Herbie was brought to Road Dogs & Rescue about a month ago, and his chances looked pretty slim.
The rescue took Herbie to a veterinary neurologist, who was able to give him medication to help reduce the amount of fluid on his brain. The vet determined that he will likely need brain surgery, but can't have it done until he's at least 6 months old.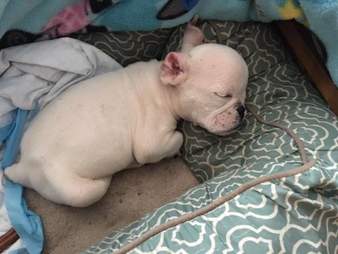 Road Dogs & Rescue
"The next couple of weeks were touch and go, as often these dogs start having seizures and it goes downhill from there," Nikki Carvey of Road Dogs & Rescue told The Dodo. "So far, Herbie has remained happy and spunky - he just can't stand or walk due to balance issues."
Even though Herbie can't move around on his own, he's still one of the happiest puppies ever. "He loves his food, to chew your fingers and play with a ball," Carvey said. "He has a wonderful spirit so I decided he should start physical therapy."
Even though Herbie is still very little, the rescue decided to start him in physical therapy because of how eager and determined he already is. He is currently staying with Two Hands Four Paws, which specializes in canine rehab, and will be there for 10 days.
While in rehab, Herbie has been doing hydrotherapy ...
Road Dogs & Rescue
Road Dogs & Rescue
"The goal is to get him so that he is able to stand and walk by himself so that he can have quality of life," Carvey said. "Then hopefully the surgery at 6 months old will give him the chance to live a much longer, happier life."
Despite his struggles, Herbie has remained happy through it all, and has proved that even someone so tiny can be an incredible fighter.
Check out a video about Herbie's journey with therapy below: