This Puppy Was Born With Half A Brain Because Of A Bad Breeder
Adopt, don't shop.
A mother dog and her 6-week-old puppy were found cowering by the side of a road.
Peggy, the mother dog, was missing part of her leg, and her puppy, Pip Squeak (called Pip for short) obviously had something wrong with her, but no one knew what.
Luckily, the Peggy and Pip were rushed to the local branch of the Royal Society for the Prevention of Cruelty to Animals (RSPCA) in the U.K.
At first, rescuers thought that there was just a buildup of fluid in Pip's brain, which was causing blindness in the tiny puppy. But as the swelling went down, rescuers gave the puppy an MRI and found something shocking.
RSPCA
"An MRI scan revealed that she is missing part of her brain which means her optic nerves are not developed and she cannot see," Amy De-Keyzer, RSPCA press officer, told The Dodo. "It's something the neurology team at The Animal Health Trust had never seen before in a dog."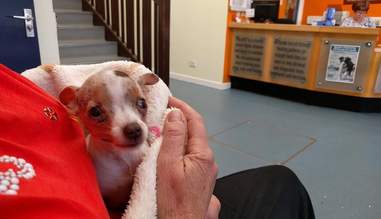 RSPCA
And Pip's mom has her own problems, too.
"Peggy is missing the lower part of her left rear leg - an injury which has now healed - and we believe she will need considerable veterinary and surgical treatment," Kathy Butler, trustee and dog coordinator with the RSPCA, said in a press release. "The vet believes it is the result of a traumatic injury or could have been caused deliberately. Although amputation is an option, she may be referred for specialist treatment and could be suitable for a prosthetic limb."
Thankfully, the worst could be over for the little family.
"They're safe in our care now and are settling into their foster home," Butler said.
The dogs will need extensive surgery to make a full recovery, according to the RSPCA. Click here to learn how you can help.
The RSPCA is also asking for information to find out who abandoned Peggy and Pip. Anyone with information should contact the RSPCA.
If you'd like to adopt a dog of your own, you can check out Adopt-a-Pet.com to get started.