It was March 29, Liz Fratea's 26th birthday, when she got a call about a teeny puppy with a mangled front leg who needed her help right away.
"My boyfriend and I joked, 'What would a birthday be without saving a puppy?'" Fratea tells The Dodo.
By one account, the puppy's leg may have been stepped on and left untreated. But it's not entirely clear how she got so hurt.
What they know for sure is that she "was in rough shape," Fratea says.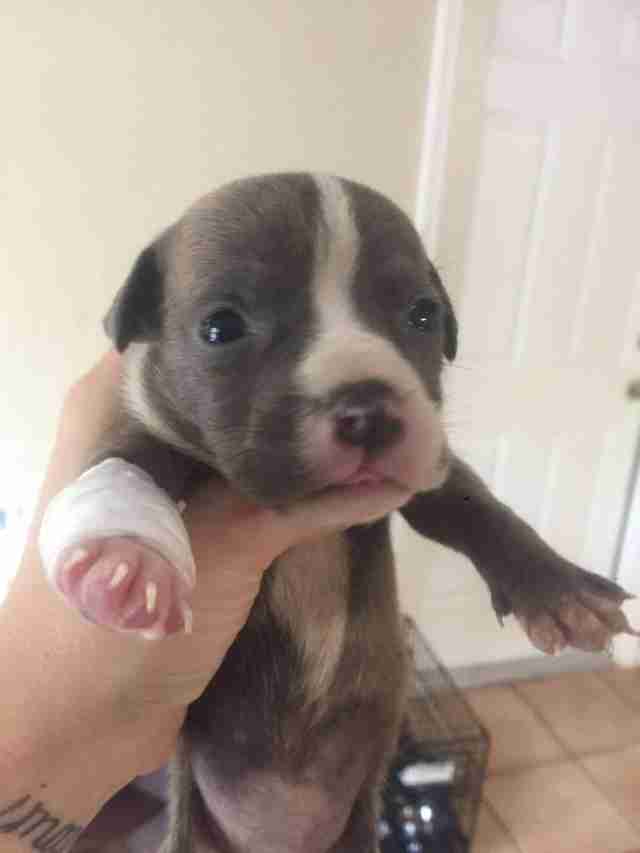 The puppy was just a pound and a half, and a month or so old. Her leg was bent and badly infected, with pus oozing out of it.
Fratea and her boyfriend rushed the pup to the BluePearl Veterinary Partners hospital in Clearwater, Florida, where Fratea is a veterinary technician.
With the puppy's body so weak from trying to fight the infection, the surgeon recommended amputation.
The puppy came home with Fratea to recover.
She got a new name - Leana, because she leans when she walks - and she got an attentive older canine sister, Isis, who knows the drill since Fratea often takes in foster dogs through Passion 4 Pits (the group that rescued the inspiring pit bull Khaleesi.)
"My dog loves taking care of the fosters," says Fratea. "She loves to lick them, cuddle with them and play so sweetly with them."
Since coming home to convalesce, Leana is learning to balance on three legs. She is all of 2 pounds now.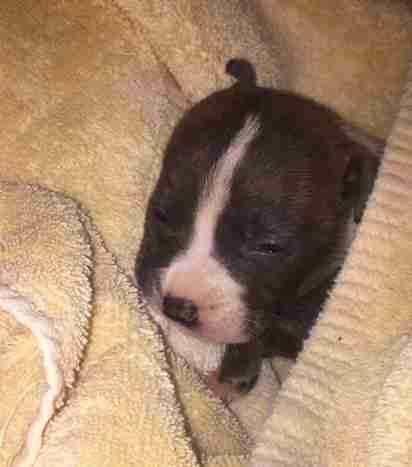 She eats and poops and plays and naps like a normal pup. (Well, not always totally normal - sometimes she falls asleep in her food dish.)
And "she showers us with kisses and loves sleeping on our chests," Fratea says. "She is a great puppy with everything she's been through."
Fratea - and her boyfriend and Isis the dog - will get to enjoy this great puppy and her kisses until she's well enough to go up for adoption, whenever that is, and "if we can part with her," Fratea says. "She is the sweetest puppy."