Sailors Stumble Upon A Tired Puppy Lost At Sea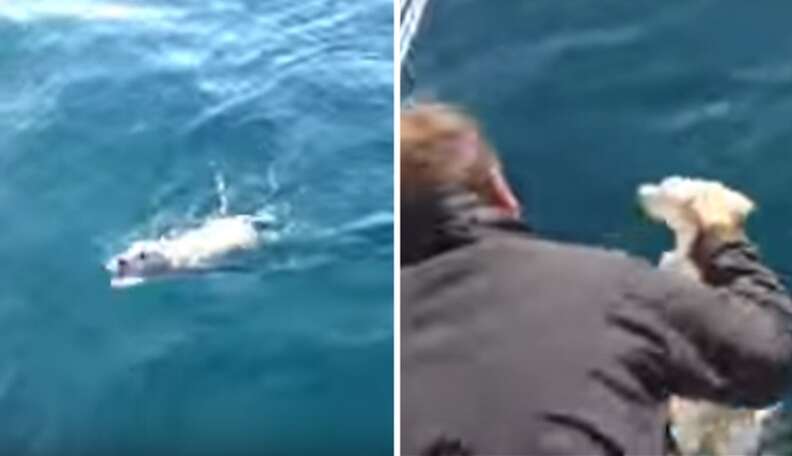 <p> RYCC Savoia<span></span> </p>
Members of a sailing club were recently out enjoying a day of boating in the Gulf of Naples, off the coast of Italy, when they spotted something they could hardly comprehend. There, all alone in the open waters a mile from shore was a little yellow puppy, paddling toward them as he struggled to stay afloat in the rolling waves.
There was no immediate indication of how the animal had gotten there, but it was clear he needed rescue.
RYCC Savoia
"We approached, we were sailing and maneuvering was not easy," the club's directro Massimiliano Cappa told La Repubblica. "He was visibly exhausted, his legs almost paralyzed by the cold. He trembled and wept."
Video from the astonishing rescue shows the dog approaching the vessel, gazing up with desperate eyes, before being plucked from the chilly water. The group quickly sets about trying to comfort him, drying his sopping fur and holding him close to their bodies for warmth. They then called a rescue boat to come take him back to shore.
The tired dog was calm as the group raced back to dry land, though the question that no doubt remained on everyone's mind was about how the puppy ended up being lost at sea.
Soon they'd have their answer.
Once back on shore, rescuers learned that that morning a puppy, whose name is Noodle, had been reported as having fallen overboard during a ferry ride from Naples to the island of Ischia, about 20 miles west. The puppy's owner, Mario Di Meglio, says he was in the process of bringing his new pet home when she slipped out of the leash and fell overboard.
He immediately alerted the ferry's crew, Meglio told La Repubblica, but they refused to stop, saying that Noodle had likely already drowned.
Fortunately, the sailors found him about half an hour later.