Charlie, Hawke, Copper, Parker, Finch and Olive have been living with their mom in Southern California for a year and a half now. They're all very sassy and know what they like - and were definitely a bit shocked when a new member joined their family.
All of the chickens have very distinct personalities, and aren't afraid to show them off.
"It's crazy and definitely not something you expect from chickens," Kate Kadowaki, the chickens' mom, told The Dodo. "They're all so different and I appreciate and love that about them."
The chickens are incredibly social, and love cuddling with their mom and playing with the kids who live next door. Copper is especially fond of the kids, and always looks forward to their visits.
"They talk to her all the time and give her treats," Kadowaki said.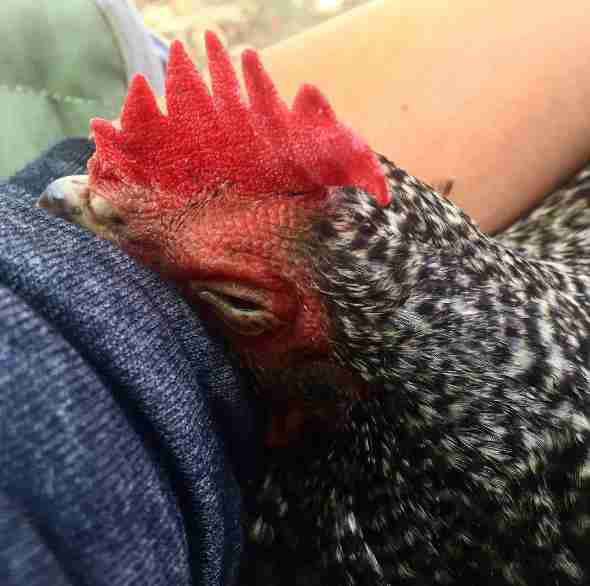 Kadowaki and her husband had always wanted to get a puppy to complete their little family, and when their friend's dog had puppies, they decided to adopt one.
"Everything just fell into place," Kadowaki said. "We were so thrilled about it. Finn is the best dog I could've ever hoped for."
Finn adjusted to her new home quickly and easily - and then it was time for her to meet the chickens. At first, they were a bit baffled by Finn, and weren't quite sure what to make of their furry new sister.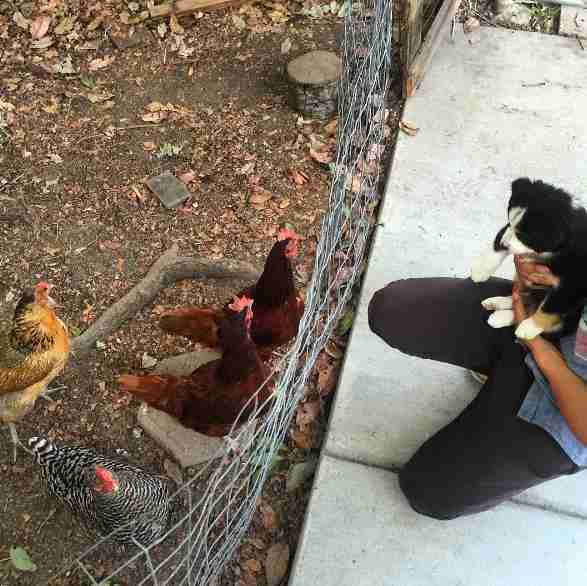 "The chickens at first were suspicious, but they came right up to the fence and tried talking to Finn, who was like, 'I have no idea what you're saying,'" Kadowaki said.
Now that they're used to having her around, the chickens pretty much just ignore Finn and continue to do their own thing. Finn, however, is desperate to make the chickens her new best friends.
"She tries to play with them through the fence," Kadowaki said. "Charlie is never amused by that and just walks away."