Pit Bull Puppy Stands Next To His Life's Tragic Story
Among a litter of pit bull puppies, one stood out as different.
His right ear was missing a flap and his left eye never fully formed, so his owner decided to drop him off at a high kill shelter in rural North Carolina.
Nicole Horabik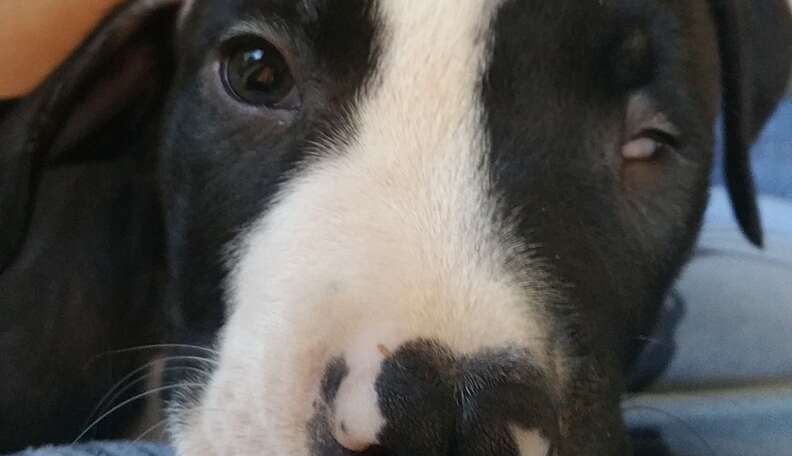 An employee with the shelter explained to the dog's owner that he'd likely be put down soon since the shelter was already at max capacity, but the owner insisted on separating the little pit bull from his mother and siblings and leaving him at the shelter.
Luckily for the young puppy, Nicole Horabik, assistant director of North Carolina's Cause For Paws, a rescue organization, came across the shelter's Facebook post pleading for help and had a strong emotional reaction.
"I saw the post, and I was like 'Oh, hell no,'" Horabik told The Dodo. That same day, she welcomed the 8-week-old puppy into her home and made a post of her own, below.
She also gave him a name: Captain Morgain, Cap for short.
Nicole Horabik
In addition to Cap, Horabik has five German shepherds in her house, and they've been getting along well. But Horabik wants to find Cap a forever home that's going to "love him for who he is."
Nicole Horabik
"What people need to take away is that imperfection is perfection," said Horabik. "Not all dogs are perfect in your eyes, but they can be amazing dogs."
Nicole Horabik
"One of my German shepherds is completely blind and my other dog is an amputee - he only has three legs," Horabik said. "And they are perfect in every way possible."
Do you see perfection in Cap and the other dogs at Cause for Paws? Maybe you have what it takes to adopt a dog. Fill out an application here.
Can't adopt but still want to help? Donate to Cause for Paws, North Carolina division, here.