People Visit 'Responsible Breeder' — And Can't Believe What They Find
They're all safe now.
When families decided to buy a dog from a breeder named Rocky Knight, he always insisted on bringing the dog straight to their home so he could do a "home visit," according to the RSPCA. He acted like he cared about his dogs so much that he had to check out their new homes before he could give them up — but really, he just didn't want people to see where the dogs came from, or how they were forced to live. 
Knight advertised his business online and claimed to be a responsible, reputable breeder. He was friendly and seemed to care about the dogs he was selling, and so families trusted him.
RSPCA
"People thought he really cared where his puppies were going," Pippa Boyd, an inspector with the RSPCA, said in a press release. "The reality is that he didn't want people to know where he lived or to see the conditions he kept his dogs in." 
Knight was able to keep his deceptive business going for a while, until the puppies he was selling started getting sick after they had arrived in their new homes — and many of them sadly passed away.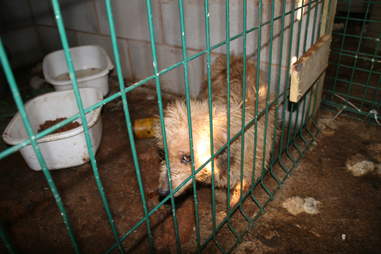 RSPCA
The RSPCA began working with the police to get a warrant for Knight's property, and when they arrived on the scene, what they found was even more awful than they had anticipated. There were only two dogs on the property that day, but the conditions they were living in were cramped, dirty and overall horrendous. They also found another puppy resting on a garbage bag, but sadly, he had already passed on.
RSPCA
"We found crossbreed Patsy and pug Phoebe living in horrendous conditions in dark, dank and cold pens with no warm bedding or dry areas off of the cold, hard floor," Boyd said. "It was a completely inhumane environment to keep dogs. Thankfully, we got to them in time and removed them."
RSPCA
Patsy and Phoebe might not have lasted much longer in those terrible conditions, and they were both incredibly lucky to be found when they were. They were immediately taken into the care of the RSPCA and treated for skin issues, and Phoebe was also treated for severe breathing problems. Luckily, both dogs ended up making a full recovery, and before long they both found amazing new forever homes.
Knight was arrested, and later pled guilty to three animal welfare offenses, according to the RSPCA. He is now serving time in jail, and has been disqualified from ever being able to have animals in his care again.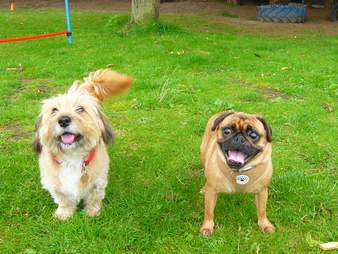 RSPCA
"This should be a major flag to anybody looking into buying a puppy," Boyd said. "We would advise anyone thinking of getting a puppy to first consider adopting a dog from a rescue center."
Both Phoebe and Patsy are loving life in their new forever homes. They have so much space to run around now and are so in love with their respective families, and will never have to experience cruelty or neglect ever again.
RSPCA
"Phoebe has settled in really well in her new home, it's like she has always been here," Nicola, Phoebe's new mom, said in a press release. "She's a beautiful little pug with a fabulous nature. We wouldn't be without her and hope she is as happy in her forever home as we are with her!"
RSPCA
If you'd like to help other puppy farm survivors like Phoebe and Patsy, you can
donate to the RSPCA
.