She Left Her Puppy Outside On The Coldest Day Of The Season
A Michigan woman has been charged with animal cruelty after her puppy was found in her yard frozen to death.
The 6-month-old pit bull was reported to animal control after passing drivers spotted her frozen to the ground.
"We arrived this morning to find the dog had deceased due to the neglect of the homeowner and due to the harsh weather conditions," Josh Shook of St. Joseph County Animal Control told local station Newschannel 3.
YouSignAnimals

Speaking at her arraignment this week, the dog's owner, Roxanne Grochoske, said she only brought her outside to get some fresh air - and then fell asleep inside.
It was reportedly the coldest day of the season in West Michigan.
Grochoske faces four years in jail for animal cruelty. A second dog was seized from her home.
Warning: Graphic Images follow.
The case echoes another tragedy, occurring just days earlier in Seaville, New Jersey. That's where a dog was found frozen to death on the sidewalk.
The haunting image was taken by Shore Animal Control and posted to its Facebook page as a warning to dog owners: It's cold outside. Most dogs can't handle it.
The warning joins those from a chorus of animal experts who have long witnessed the ravages of cold on dogs left outside.
"I have cut free a chained golden retriever who had managed to create his own igloo in an attempt to retain his body heat," Scotlund Haisley of Animal Rescue Corps told The Dodo last month. "I have removed deceased pit bull puppies stuck in a frozen mud puddle."
And the song seems to remain the same. Dogs and cats continue to be seen languishing outside in winter.
Amy Haas-Gray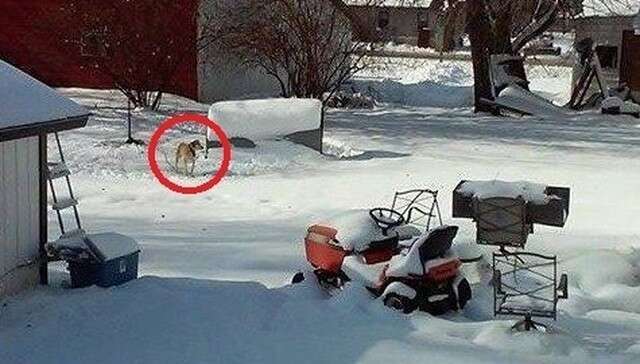 There's every reason for bringing dogs inside this time of year. For cold weather tips, and what to do if you spot an animal in cold-weather peril, read this.