Puppy With Cleft Palate Has Adorable Way Of Drinking Water
Gertie was found in a dumpster when she was only a day old. The tiny puppy was born with a cleft palate, and was rescued by The Mia Foundation, a group that helps animals with birth defects.
Thanks to the foundation, Gertie was adopted into a loving home, where she is delighted to overcome her challenges everyday.
YouTube/Rumble Viral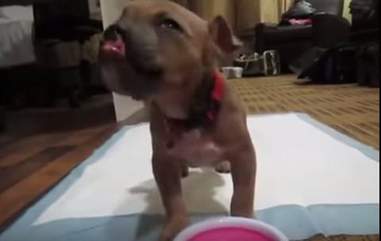 YouTube/Rumble Viral
A cleft palate happens when the roof of a dog's mouth fails to fuse together, resulting in a space between the nasal passages and the mouth. This defect is typically surgically repaired after a puppy is 3 to 4 months old.
Due to her cleft palate, Gertie has to get creative when performing some basic skills - like drinking water. Her unique way of drinking also happens to be one of the cutest things about her.
Perfect, right? Her determination is so sweet, and it's great to watch her confidently overcoming her disability.