Puppy Claims His New Favorite Spot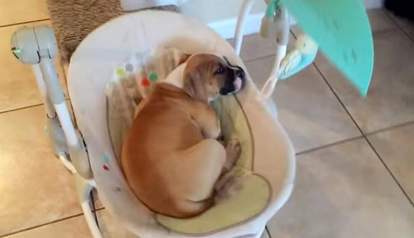 <p> <a href="https://www.youtube.com/watch?v=QwWw1dWVMXE" target="_blank">YouTube/DipYourCar</a> </p>
Moose is only an 8-week-old puppy, so it totally makes sense that he would love stuff that's meant for babies ... right?
As his dad explains in this adorable video posted to YouTube on Tuesday, "He has decided that he wants to take over the baby swing, so if he's not outside or eating, he's pretty much swinging himself to sleep in the baby swing."
YouTube/DipYourCar
YouTube/DipYourCar
Moose is definitely thinking, "They bought this for me, I just know it." He probably gets so confused whenever the ACTUAL baby is in the swing.
But just look how peaceful and sleepy he gets when he's swinging!
YouTube/DipYourCar
YouTube/DipYourCar
As Moose's dad says in the video, "I don't know if that's normal, but that's what Moose does."
The whole video is a walkthrough of Moose's dad's day at an auto body shop, but for some great doggie action, skip to 3:11.