Meet the cutest new recruits for the York County Sheriff's Office in South Carolina - these seven very floppy bloodhound puppies.
As you can see, they're quite eager to get to work.
Bloodhounds' remarkable sense of smell makes them indispensable in finding missing people from their scent alone. But there's one thing they must do before they join the force:
Undergo special training to become world-class trackers.
At this early stage in their education, learning looks an awful lot like playing - but that's on purpose.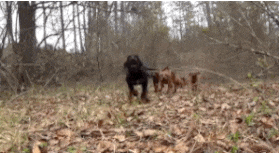 "The seven of them, they compete with each other," says their trainer in a video released by the sheriff's office. "They think it's a game right now."

The bubbly youngsters, five boys and two girls, are from the the same litter.
That may be why each one tries his or her hardest to stand out from the pack.
Even if that means sometimes demanding the special attention they know they deserve more than their siblings.
Along with all that playful running and chasing, however, the bloodhound puppies are gaining the skills it'll take to put their powerful noses to the best possible use:
"We'll get to the point where they don't see us at all," the trainer says. "What they'll do is start to pick up our scent and start running our scent."
Just look at them go.
We can certainly see why the York County Sheriff Office hired these adorable pups. Best of luck to them all!
Watch the entire floppy puppy training school video below: