Trapped Puppies Found Alive Days After Deadly Avalanche
They're bringing much-needed hope in the search for survivors.
As rescue crews in Italy continue the search for nearly two dozen people missing in the ruins of a hotel buried by a powerful avalanche last week, hopes have been renewed that more victims could be found alive.
On Monday, five days after the deadly avalanche hit the Rigopiano Hotel, firefighters rescued three puppies who had been trapped deep inside the rubble.
The animals had been found inside the hotel's boiler room, which required breaking through a wall to access. Though it's unclear if more puppies remain trapped, the discovery of these three suggests other rooms may not be inundated with snow, leaving more survival pockets of air.
Further bolstering hope is the fact that, despite their long ordeal, the puppies were all in good health.
Sadly, seven people are confirmed dead in the disaster, and 22 are still missing.
It's no surprise then that discovery of the puppies has helped raise the spirits of those working to save them - as seen in this video taken shortly after their rescue.
Finding the puppies amid so much devestation came as "a little ray of sunshine," one firefighter told Quotidiano.
The looks on their faces say it all.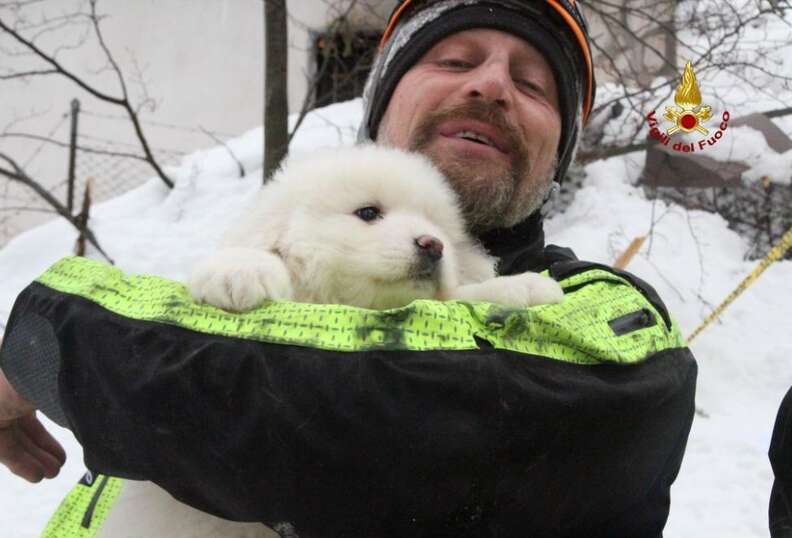 Amazingly, the ideal outcome for these puppies will soon be getting even better. Their parents, Nuvola and Lupo, had survived too. They were swept away by the avalanche, only to turn up safe and sound in a neighboring town.
We can only imagine theirs will be the happiest reunion.