Puppy Missing Her Paw Was Going To Be Killed Because She Was A Pit Bull
Now she's getting a new paw — and her siblings are safe too.
Everything was a mystery about the puppies found living in a forest on the edge of an abandoned subdivision.
How did they get there? Where was their mother? How could they, at just 5 weeks old, have survived even a day on their own?
About the only thing that wasn't a mystery was what would happen to them once local animal control officers brought them to the rural Georgia shelter.
Henry County Animal Care and Control has a policy of not adopting dogs deemed to be pit bulls to members of the public.
"Basically, if a pit bull is found as a stray, they do a three-day stray hold," Jason Flatt, of Friends to the Forlorn Pitbull Rescue, tells The Dodo. "And after that, they euthanize them."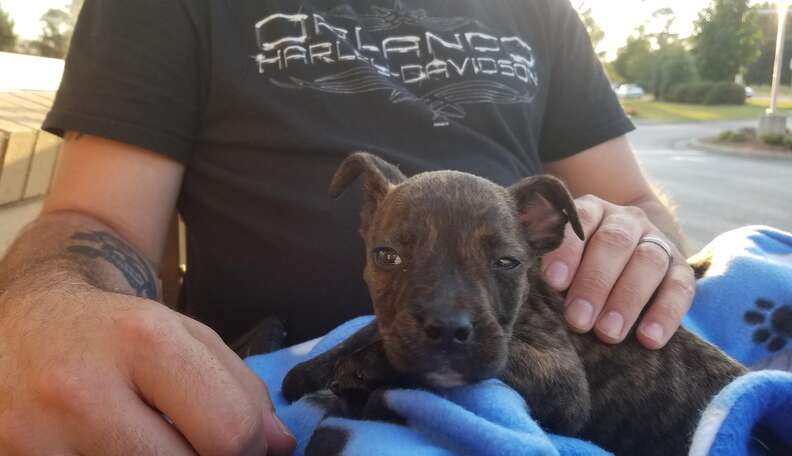 Flatt's organization is among a handful of rescues that work with the shelter to find homes for pit bulls.
So when he got a call from animal control asking if he might be interested in rescuing these three tiny orphans, he didn't hesitate.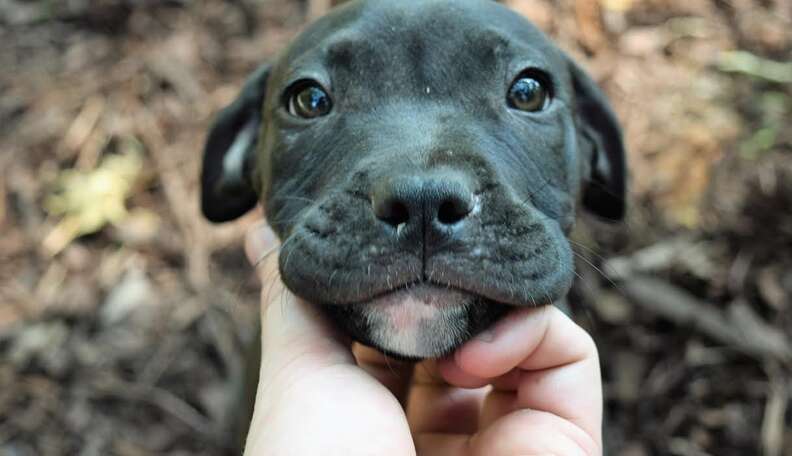 In fact, while Flatt was still on the road, he sent a plea to his network of foster families asking if anyone could give these puppies a home.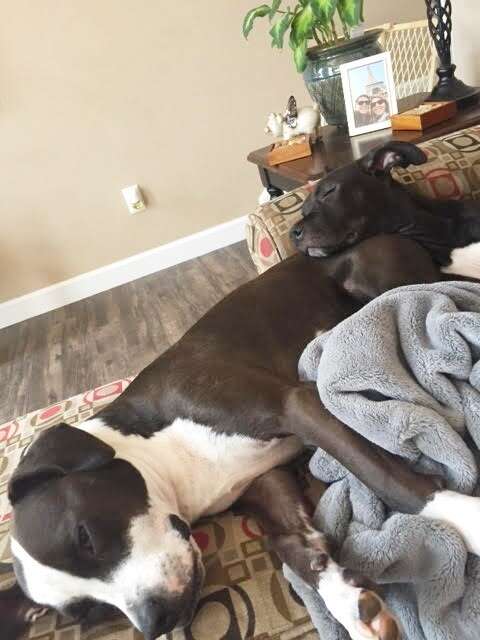 And just like that, these three puppies - named Krissy, Nugget and Sunshine - found themselves out of the woods, saved from death row, and into foster homes.
But of all the mysteries surrounding these puppies, one stands out the most.
Sunshine, or Sunny for short, is missing a front paw.
"We don't know if it was a birth defect," Flatt says, "We don't know if was chopped off. It's hard to tell."
But Sunny really wanted to use it. She pumped her missing paw into the air and constantly tried to walk on it.
"She's beautiful," he adds. "She's funky as shit."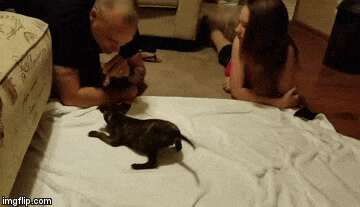 So Flatt brought Sunny to a veterinarian who suggested she would be a good candidate for a prosthetic paw. For the moment, she was fitted with a temporary, flexible leg splint.
And Sunny took to it with her trademark enthusiasm.
"She did amazing," Flatt says.
The next step? Not one, but four prosthetic paws. She would need to have one for each stage of her puppyhood.
"You can't fit her with just one prosthetic because she's still growing," Flatt explains. "Basically, every couple of months, they'll refit her for a new prosthetic."
Why not wait until she's fully grown and fit her with just one?
"If you do, she's going to develop atrophy where she's not going to use that muscle," Flatt notes. "So you want her to keep using it."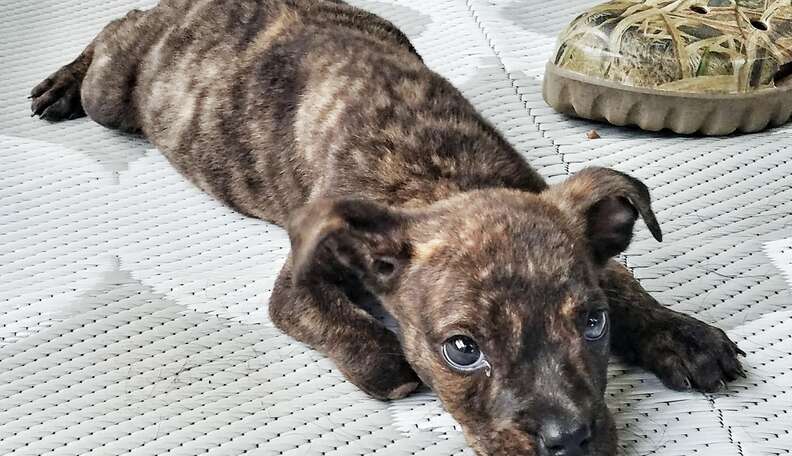 Fortunately, Sunny's found just the right people to set her on the best path in life. But she's going to need some help for these first crucial steps. The organization is looking for help to cover the prosthetics, which Sunny will use over the course of a year.