Guys On Road Trip Find Puppies Dumped In The Middle Of Nowhere
"We didn't have to capture them — they literally jumped in our car."
We may never know for certain what cruel notion could have inspired someone to abandon a pair of helpless puppies on the side of a long, desolate highway - but we do know whose kindness and compassion it was that ultimately saved their lives.
Briggs LocHaven and his brother, Chris Vanness, were driving from Arizona to Colorado late last month when they happened upon the two young dogs scampering on that remote stretch of road.
"At first we thought they were prairie dogs, until we got closer and were able to see exactly what they were," Vanness told The Dodo. "Then we stopped and got out of the car to check on them. They were friendly and severely dehydrated and starving and our hearts just sank. We didn't have to capture them - they literally jumped in our car. We were speechless and our only thought was we need to get these guys some food and water and a bath."
LocHaven described the location the puppies were found as being "literally in the middle of nowhere" - as evidenced by this video taken shortly after they were rescued.
After giving the dogs food and water, slowly as to not overwhelm the puppies' starving bodies, the road-trip crew continued on as a foursome.
"Over the next 24 hours, we continued to feed them in small amounts," Vanness told The Dodo. "After about 10 hours they started to become more active and needing potty breaks."
LocHaven and Vanness's new passengers seemed more than appreciative of the opportunity to ride along.
Fortunately, thanks to the two strangers who stopped to help them, the puppies' story has a happy ending.
The puppies continued to travel with LocHaven and Vanness until they reached their final destination. It was there that a friend, who rescues dogs, offered to take the puppies in.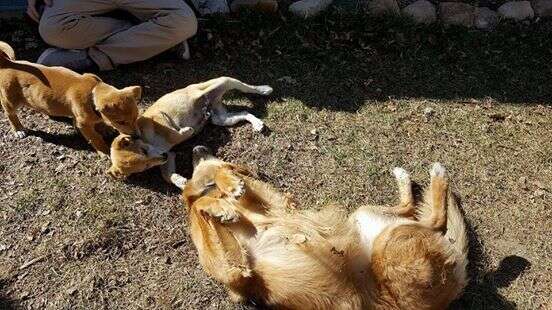 "They both have found an amazing home and family with [another] rescue dog! And they get to stay together!" LocHaven wrote in an update. "Makes my heart warm and happy!"