Dogs Trust puppies choose Spice Girls as their #specialsomeone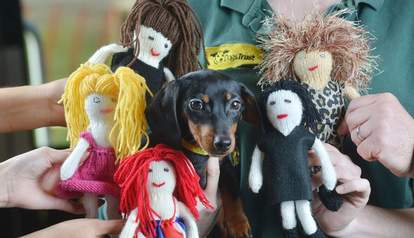 Five homeless puppies have finally answered the age-old question of who is the most popular Spice Girl - with 'Baby Spice' Emma Bunton coming out on top.
Click here to see the exclusive video!

The puppies - who are currently at Dogs Trust enjoyed selecting one of five Spice Girls dolls laid out in a row, to raise awareness of the plight of rescue dogs as part of a new nationwide #specialsomeone rehoming campaign.
The pups had fun sniffing each of the puppets before selecting which one they liked the most (see notes to editors below for description).
The video, put in place by charity Dogs Trust, comes as rumours suggest the five singers will reunite this year to celebrate their 20th anniversary.
It was filmed at Dogs Trust Harefield in West London, where the puppies are being cared for whilst they await loving new homes, as part of the nationwide campaign. The charity believes there is a special someone out there for all the dogs in their care.
And it follows a touching new Dogs Trust TV ad, #specialsomeone which debuted at the weekend on ITV1.
The advert features a new acoustic version of Dusty Springfield pop classic 'I Only Want To Be With You', performed by 16-year-old singer songwriter Hope Russell-Winter, from St Albans, Herts.
The ad, which also features a voiceover by actor Martin Clunes, shows a dog at a Dogs Trust rehoming centre with his favourite woollen figure - until finally a man looking uncannily like the figure arrives to give him a new home.
Dogs Trust expects to take in over 15,000 dogs in 2016 - while at the same time the charity has experienced a decline in visitors to its 20 rehoming centres across the UK.
Giles Webber, Dogs Trust Operations Director, said:
"Many people who come to us describe the moment they decided to make a dog part of the family as their dog choosing them, and not the other way around. We decided to put this to the test in a fun video which shows our pups picking their favourite Spice Girl - with very entertaining results. Puppies are so readily available via the internet at the click of a button.So not only do people buy them online before even considering rescue, but dogs bought online often end up in our care - bought on a whim by owners who haven't considered the commitment. The most important thing is that a dog suits a person's lifestyle - and we have dogs of all ages, shapes and sizes which suit a range of circumstances all searching for loving homes.
"We hope people will consider becoming a special someone and helping a rescue dog before taking to the internet in search of a four-legged family member as they may be second hand but they certainly are not second best."
If you think you could be a special someone to a homeless hound at Dogs Trust, contact your local rehoming centre on 0300 303 0292.
To watch the new Dogs Trust advert, click here.