A woman in California was passing by a homeless man on a bridge when she noticed he was holding a box of five puppies - dangerously close to the edge of the bridge.
Her reaction changed the puppies' lives forever, as well as the lives of so many others.
Humane Society Silicon Valley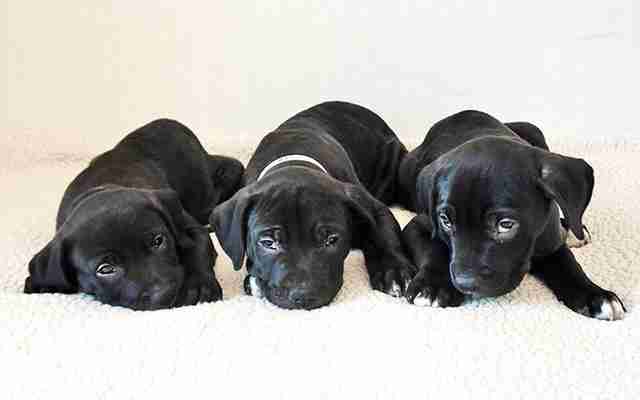 When asked what he was going to do with the pit bull puppies, the homeless man told the good Samaritan that he couldn't care for them, and therefore was going to toss them over the side of the bridge.
The woman immediately told the man that she could take the puppies and brought them to a local shelter, who took them right away even though they did not have the resources to care for them. Luckily, the Humane Society Silicon Valley (HSSV) heard about the puppies and were more than happy to take them on and find a foster family for them.
The five puppies, two girls and three boys, were named Kylo Ren, Finn, BB8, Rey and Po.
Humane Society Silicon Valley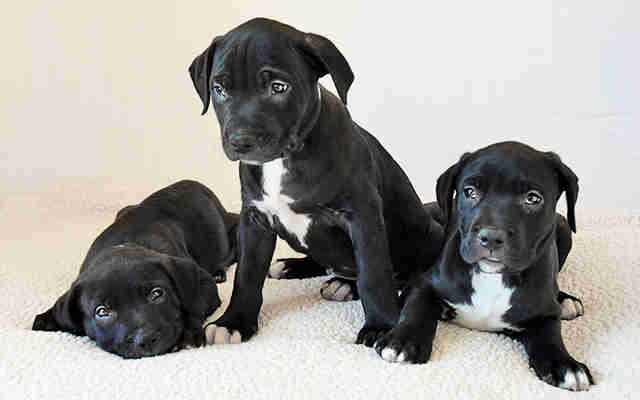 And that was only the beginning of their happy ending.
A local news channel, ABC7, features homeless pets on their news segment called Perfect Pets. When they heard about the bridge puppies, they knew they had to have them come in ... for the sake of the puppies, and the news anchors who would get to play with them.
During their time at the studio, the puppies did anything but blend into the background. "They raised hell and charmed the pants off everyone - we had to pry one out of the arms of the anchor for the segment," Finnegan Dowling, the social media manager at HSSV, told The Dodo.
And she definitely wasn't exaggerating.
From the moment they arrived in style ...
To trying to help operate the cameras ...
All the way to their not so graceful exit ....
The puppies delighted and warmed the hearts of everyone they met in the studio ... and, apparently, everyone who watched the segment as well.
Humane Society Silicon Valley
"The next day people lined up to adopt them. All were adopted within a half hour," Dowling said.
Humane Society Silicon Valley
Now, all five of the pit bull puppies have loving families. The sweet babies went from almost meeting an untimely death to having more love than they could ever know what to do with - and that is the absolute definition of a happy ending.
If you'd like to help the Humane Society Silicon Valley, you can check out its donation page.
If you're ready to adopt a pet of your own, you can check out Adopt-a-Pet.com to get started.