Pug Puppies Just Want To Crawl All Over Man's Face — And Of Course He's Cool With That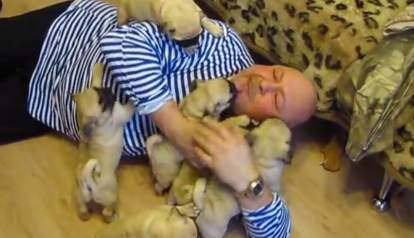 This grumble of pug puppies looks super innocent as they hang out on their little pug nest. But don't let their doe-eyed expressions fool you. These little pups will swarm all over you, given the opportunity.
This man takes one for the team, sacrificing himself to the fearsome beasties.
PUPPY MOB.
These wiggly little critters spring into action as soon as the man lays down, crawling all over his arms and face. Oh the humanity!
... Okay, so it would probably actually be the best thing ever to be the victim of a puppy stampede -especially pug puppies, whose wrinkles and snuffles cannot be resisted.
And if you were wondering what the man's POV of the harrowing experience was, here's some footage of the puppy attack:
You can watch the full baby pug attack below:
If you needed an extra dose of cuteness, you can also check out what these pups were like when they were feisty little newborns: