Sulky, petulant or merely resigned? It's hard to get a good read on their attitude, but they're inarguably eerie, magisterial and frickin' strange. They are also immense, have long, bandy legs, bald, scab-encrusted heads, and they possess the singular trait that always cries out, "Hug me!"
They eat carrion, and most anything else that will fit in their enormous beaks. And then there are the pinkish, pendulous air sacs that droop from their backs and throats. But why dwell on those? We all have certain features we'd just as soon others ignored. Once airborne, however, they have the grace and control of Nureyev, and their performances are nearly as hypnotic to watch. They are difficult to love, but love them I do. Even their Latin species name is appealing in a gawky, homely sort of way: Leptoptilos crumeniferus.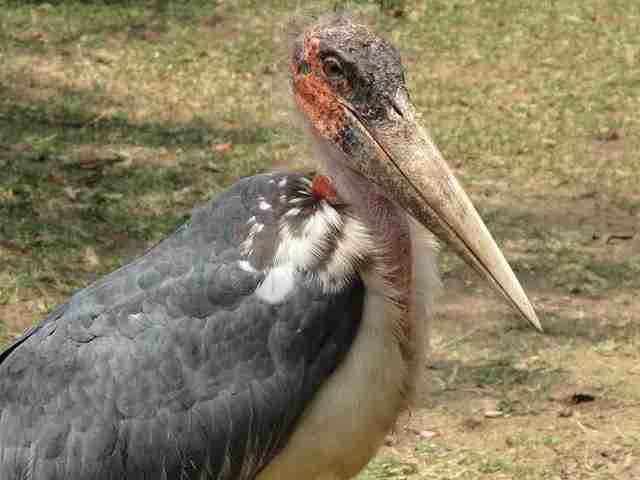 Resembling creatures out of science fiction (they should have been in "Blade Runner"), or prehistory, Marabou storks operate constant high-altitude surveillance flights over Kampala or stand in open lots and on building ledges, glowering at all before them. They are some of the largest birds on the planet. Held aloft by their massive wings that can span more than 9 feet, they trace circles and ovals and figure eights high over the mad megalopolis, and come in on long, sloping descents to the tops of trees, cellphone towers, billboards. Imagine if L.A., New York, London or Berlin had hundreds of pterodactyls regularly patrolling overhead, and you've got a picture of what Kampala air traffic looks like any day of the week.
There is something inscrutable and otherworldly about them. They're also mildly menacing (a mature male is nearly 5 feet tall), especially if you're nearby when they land or are walking close by when they're bickering with one another. They are the overlords from some distant, conquering planet, an occupying army of guardian soldiers sent here to watch over us -- firm but benign until orders arrive from their faraway home to be otherwise.
The other day, I was sitting in a taxi in Kampala in the usual gridlock, but I lucked out by being frozen in time and carbon monoxide near a median strip planted with two jacaranda trees, which three mama storks had chosen as an ideal place to raise up their young ones. I was entertained (if that's the appropriate word) trying to figure out exactly what the furry, dripping, meaty chunks were that the doting mamas were delivering to their demanding offspring. The noise the storklets made as their food flew in was like the soundtrack to a horror movie, but the looks on the moms' long faces as the little nippers gobbled their breakfast was as heartwarming as a Gerber commercial.
"Pterodactyls to Watch Over Us," is an excerpt from "Somehow: Living on Uganda Time," (Verflectin Media) a collection of essays and intimate, powerful photographs from time spent in Africa.