South Africa is one of the last countries to have a significant population of rhinos left in the wild. But rhino poaching continues to escalate – with 1,004 rhinos killed within the country's borders in 2013 alone (according to the Republic of South Africa's Department of Environmental Affairs).
Today's poachers use high-caliber weapons and getaway vehicles or helicopters, and are backed by well-organized international criminal networks. Countering this requires a multitude of trained and equipped people.
Nongovernmental organizations and the Critical Ecosystem Partnership Fund (CEPF) grantees Space for Elephants Foundation and Wildlands Conservation Trust – in a collaboration with its roots in CEPF's investment in the Maputaland-Pondoland-Albany biodiversity hotspot – have joined forces on rhino protection in South Africa and teamed up with the privately owned Thanda Game Reserve, Ezemvelo Kwa-Zulu Natal Wildlife (the provincial conservation authority), and private donors to collectively fund and implement the installation of GPS tracking devices in the horns of white rhinos.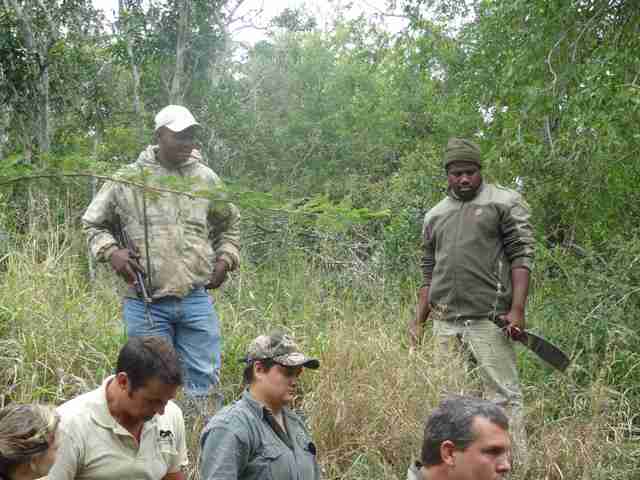 The team sets off on its mission to find a white rhino and install a GPS tracking device in its horn. (Photo by Dan Rothberg)
Once immobilized, a vet checks on the health of the white rhino. © CI. (Photo by Dan Rothberg)

Once immobilized, a vet checks on the health of the white rhino. © CI. (Photo by Dan Rothberg)

A guide from the Thanda Game Reserve, where the rhino was located, poses for a picture. © CI (Photo by Dan Rothberg)
Rhino monitor and anti-poaching patrol members from the Thanda Private
Game Reserve keep watch. © CI (Photo by Dan Rothberg)
Nearby rhinos continue grazing in the Thanda Game Reserve. © CI (Photo by Dan
Rothberg)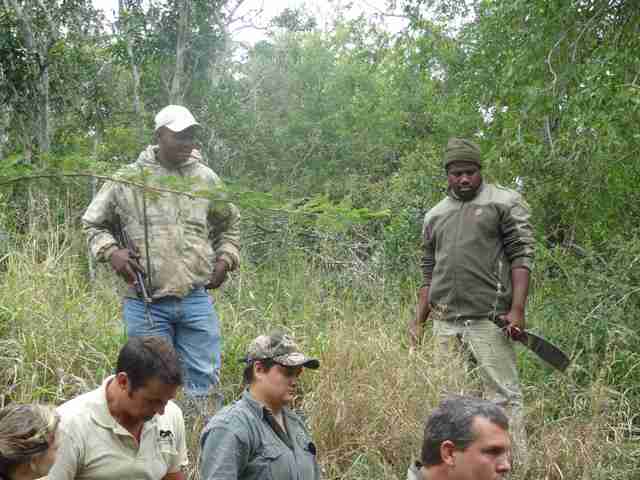 A guide from the Thanda Game Reserve, where the rhino was located, poses for a picture. © CI (Photo by Dan Rothberg)
A guide from the Thanda Game Reserve, where the rhino was located, poses for a
picture. © CI (Photo by Dan Rothberg)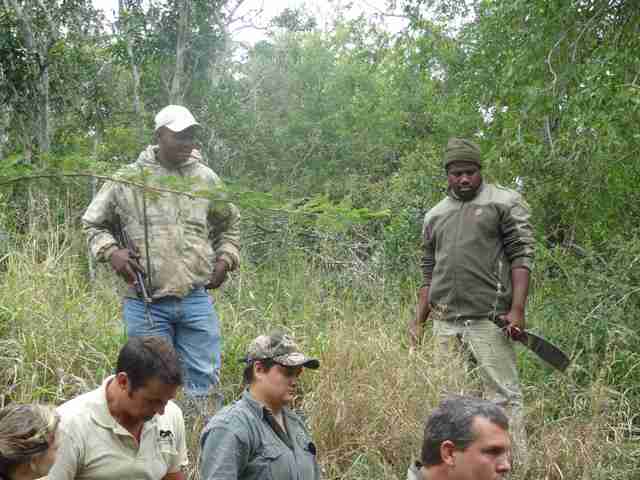 Rhino monitor and anti-poaching patrol members from the Thanda Private
Game Reserve keep watch. © CI (Photo by Dan Rothberg)
Nearby rhinos continue grazing in the Thanda Game Reserve. © CI (Photo by Dan
Rothberg)