Inspired by a Pit Bull Named Ginger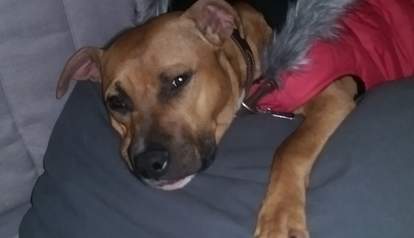 Ginger
A little over two years ago, my sister called me. She wanted me to adopt a dog named Ginger. Ginger was born with all the odds against her only because she was a pit bull. Living across the country in a tiny apartment and in a building that didn't allow dogs, I told her I was unable to do so. She already had an old dog, a deaf cat, and was moving to a new city. On top of that, she came to find out that her new apartment did not allow pit bulls. My sister raved about that the young, sweet, loving dog that wanted nothing more than to be loved back. She did all she could to get her adopted, but I it was to no avail. Ginger was euthanized. It broke her heart- and mine too. We cried for hours on the phone. This is the pain of many people who try to help animals in need. It was the first time I had truly felt it first hand. I am teary now just thinking about it. This was a LIFE. And this happens to about 2,800 pit bulls that are euthanized every single day in the USA alone.
In memory of Ginger, my friend Priya and I decided to take action. We learned of Pit Bull Awareness Day, started by Jodi Preis of Bless the Bullys, and organized a Fundraiser in 2013. We bought poop bags and wrapped them with information and pictures of pit bulls looking for forever homes. We also included positive facts about pit bulls, to combat the negative image that plagues them. We made our own displays out of painted cardboard boxes, set them up at partner pet stores in our neighborhood, Williamsburg, Brooklyn and gave 100% of the donations received to Brooklyn Animal Rescue Coalition (BARC).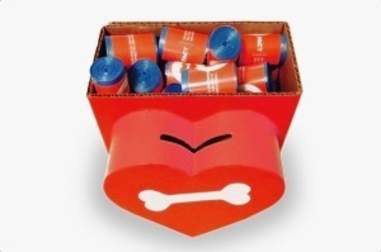 Today was pit bull awareness day 2015. In honor of Ginger and all the pit bulls that need our support, I wanted to share a few ways to participate in building a better future for them:
1. Adopt a Pit Bull
Many shelters and animal rescue groups are hosting special events or promotions for NPBAD. For example, Animal Care and Control of NYC is offering discounts for Pit Bull adoptions and partnering with Bark & Co to give free BarkBoxes to Pit Bulls and their rescuers. Check with your local shelter to see what they are doing for NPBAD.
2. Educate the people around you
Check out this useful Truth vs Myth sheet for interesting facts to combat common myths surrounding pit bulls. On October 25th, make sure to say at least one fact to a friend about Pit Bulls that demonstrates they are unfairly judged. Continue throughout the year when you hear negative comments about Pit Bulls in your network.
See if your City/State has BSL. If it does, you can write a letter to your local officials. For guidance, talking points and a template, see:http://blessthebullys.wordpress.com/opposing-bsl-letter-writing-tips/.
Ginger also inspired Project Underdog, aimed at helping animals in need via the sale of poop bags. Check out the Kickstarter here. Project Underdog bags are bright orange to remember Ginger.