Prince William Games The System To Save Species Being 'Eaten To Extinction'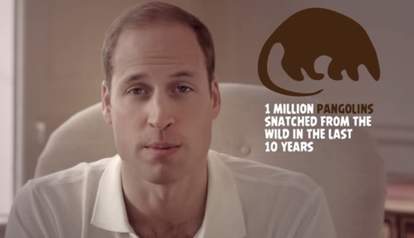 <p><a class="checked-link" href="https://www.youtube.com/watch?v=eTTXPd8iLsQ">Rovio Entertainment/Youtube</a></p>
Prince William has been fighting the illegal wildlife trade for nearly a decade, raising awareness about rhino poaching and calling for the Buckingham Palace's ivory to be destroyed. Now, he's taking a different approach.
The Duke of Cambridge is teaming up with the makers of the game "Angry Birds" to create an online contest aimed at helping the pangolin, a scaly mammal found in Africa and Asia. All eight species of pangolins are threatened with extinction, according to the IUCN Red List, because of poaching. Their meat is considered a luxury item and their scales are used as an ingredient in traditional medicine practices in East Asia.
Though he is a known hunter, Prince William, also head of the organization United for Wildlife, is spearheading this initiative. He explains:
One of the world's most endangered species, pangolins are protected by an international ban on their trade. But they continue to be one of the world's most-traded species on the black market. Conservationists have said that the species is being "eaten to extinction."
(Rovio Entertainment)