Pressure Mounts To Free 50-Year-Old Orca As SeaWorld Flails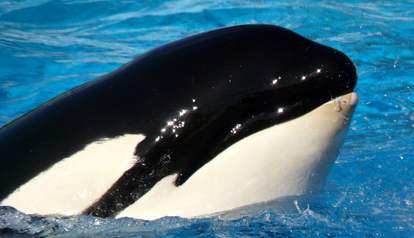 <p><a class="checked-link" href="https://www.flickr.com/photos/paruula/" style="text-decoration: none;">Paruula</a><a class="checked-link" href="https://www.flickr.com/photos/paruula/3966326209/sizes/m/" style="text-decoration: none;">/Flickr/CC BY 2.0</a></p>
As SeaWorld CEO Jim Atchison steps down, orca advocates are calling for another retirement: They say Corky, the 50-year-old killer whale at SeaWorld San Diego, should no longer be performing.
"It is time to retire her, just as other performing animals are retired to a sanctuary to live out the rest of their lives in some semblance of their natural [habitat], and without having to perform, without having to be subjected to loud noise and [the] constant stress of living in a complete unnatural environment," activist Martha Sullivan said at an open city council session on Tuesday, according to Fox 5. A petition to retire the orca garnered more than 1,000 signatures in two weeks, Fox 5 reported.
OrcaLab's Paul Spong describes making a potential sanctuary for Corky in September 2014. (OrcaClicktrains/YouTube)
In a statement, SeaWorld declared the calls for retirement "not only unfounded, but completely out of touch with reality," saying, "Corky is loved by her trainers who have passionately cared for her for more than 45 years. She is happy, healthy and continues to thrive in our care." Thursday is the 45th anniversary of her time in captivity; she was captured on December 11, 1969, according to Sullivan.
Corky's pod was the target of several captures in the '60s and '70s. Separated from the rest of her family except for her mate Orky, who died in 1989, she has spent the past quarter century at SeaWorld San Diego.
Atchison was CEO for five years before stepping down.
CORRECTION: Corky was captured in 1969, not 1968. Orky was Corky's mate, not brother, as previously stated.