The Fur Industry Is Worse Than You Could Even Imagine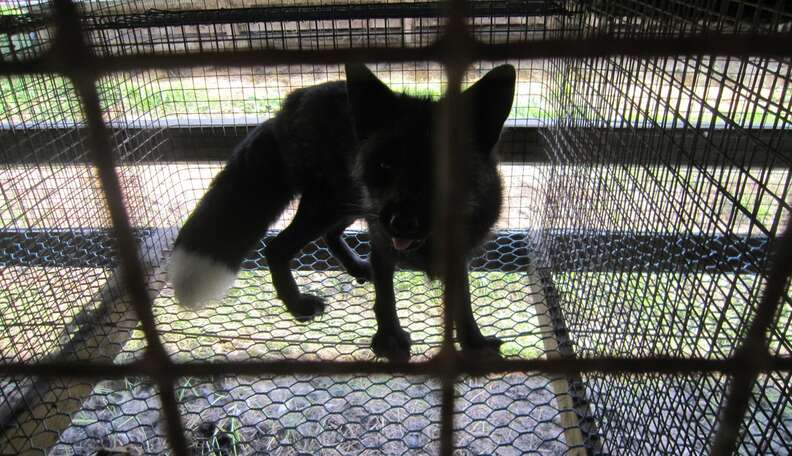 <p> Heta Rousi<span></span> </p>
How is Finland going to respond to the growing international pressure to end fur farming? Several other European countries have already banned fur farming or made restrictions to it, and animal protection organizations deem the industry as highly unethical. Regardless, there are still almost a thousand fur farms in Finland, where millions of animals die every year. Saga Furs, a Finnish fur sales company, is strongly present in national as well as international markets, especially in China and Russia. The company plays with people's minds claiming farms certified by them are ethical. The truth is quite different.
The farmed foxes have been bred for 100 years, but they still have their natural instincts left. (Photo: Heta Rousi)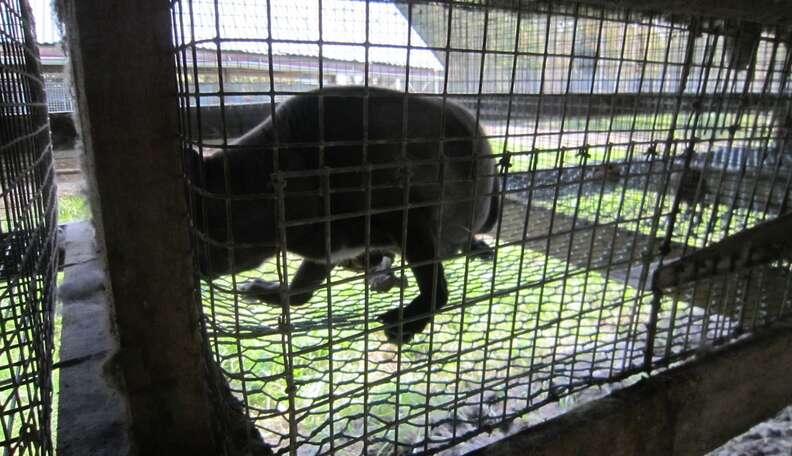 Finland is the world's largest farmer of foxes and raccoon dogs and one of the largest of mink. Currently there are 965 fur farms in Finland, and annually about 4,000,000 animals die in them. Animals are kept in appalling conditions in small wire cages, a typical cage size for an arctic fox is 0.8 square meters (approx. 8.6 square feet) and a cage size for minks is 0.25 square meters (approx. 2.7 square feet). Cages are often filthy and animals typically suffer from various sicknesses such as eye and face infections, obesity and deformations with leg problems being the most common. In a typical fur farm there are about 10,000 animals altogether, and it is often a family business with even just two people working regularly and taking care of the animals.
A cross fox in the farm visited by Anti-Fur Society Finland in Ypäjä, Finland. (Photo: Heta Rousi)
Most of Finnish fur is sold to China and Russia, and the industry generates about 300,000,000 to 700,000,000 Euros (approx. 354,000,000 to 825,000,000 dollars) per year as income to Finland. Saga Furs is the biggest Finnish fur seller, and has created a certificate system, which it claims to guarantee ethical treatment of animals, although the animals do not have significantly better conditions in certified farms. Cage size is the same, and the animals are denied of even their most basic biological needs. The animals are usually killed at seven-months old, foxes and raccoon dogs by anal electrocution and minks by gassing with carbon dioxide gas. Finnish farmers claim that if farming is banned in Finland, it will only move somewhere else like Poland or China. What they don't say is that farming in each country maintains machinery for manufacture and marketing, and thus farming in one country will indirectly encourage fur business in other countries; as long as fur is marketed as fashionable clothing, there will always be people who buy it.
A mink in a metal wire cage in a Pro Fur (Saga Furs) certified fur farm in Ypäjä, Finland. The stuff on the cage is food, with e.g. soy and herring from the Baltic Sea. Minks are playful animals, and in nature they live close to water and often swim. (Photo: Heta Rousi)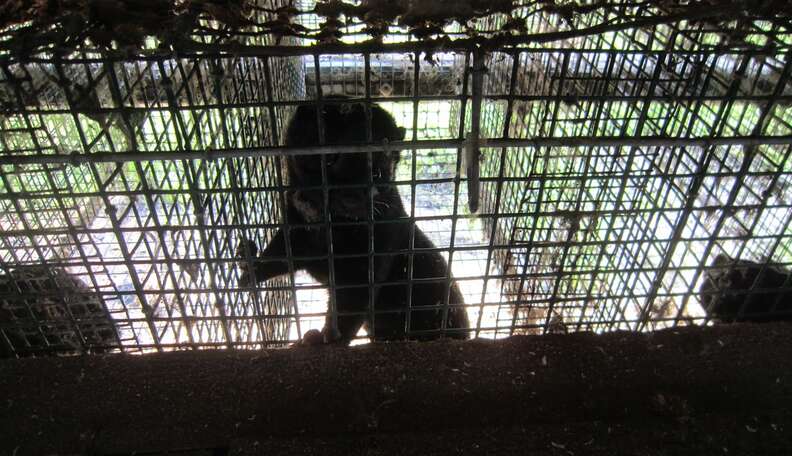 Finland is a key player in fur markets in many ways, and thus a ban in Finland would significantly reduce the power of fur industry in the world. We have created an online petition targeted to Finnish parliament. The petition has already gathered almost 133,000 signatures. Signatures come from all continents, from over 100 countries. The petition is open until April 8, 2015, and it will be handed over to the next parliament of Finland.
Two blue fox cubs in the farm visited by Anti-Fur Society Finland in Ypäjä, Finland. (Photo: Heta Rousi)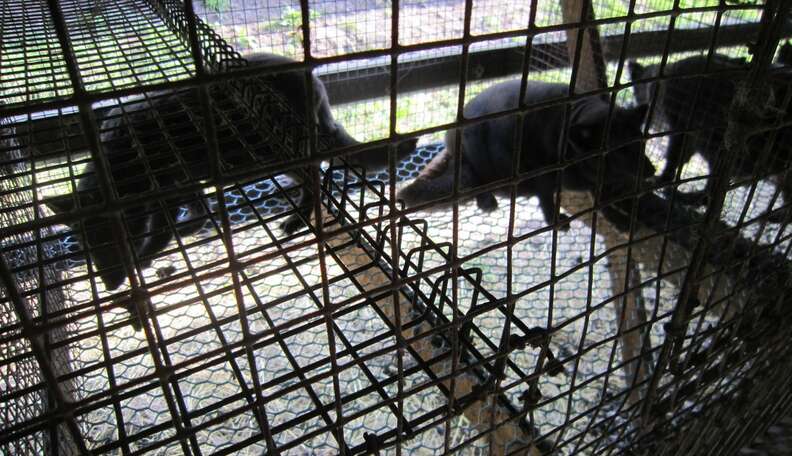 The petition
The petition has received much international attention on social media. Many societies and organizations have given their support for the ban by sharing the petition in Facebook and Twitter (e.g. Care for the Wild International, VGT, NOAH, L214 Ethique et Animaux, Animal Defenders International, Bont Voor Dieren, Djurens Rätt as well as Germany's, Switzerland's, Netherland's and Australia's animal parties).
Thousands of signers have also left a message to Finland's Parliament. Below are three of them:
Mrs., Netherlands: "Please stop farming for fur! There is no need for people to wear animal skin, just for pleasure and luxury! I hope this soon will come to an end for the sake of animal welfare. In the Netherlands designers made a statement; no fur anymore! Hope the rest of the world will follow soon."
Mrs., United States: "Finland, It's barbaric what you are doing to innocent animals, just so that you can make money off their backs ... Literally!! I was under the impression that Finland was a country that cared for all humans and animals alike. Now it appears to me that it's money hungry, and ignorant to the cries of your own country!! Please stop this cruel and barbaric treatment of God's creatures!!"
Unknown, Switzerland: "Respect for life! No need fur of animals, industries do good clothes without blood!"

Here's a link to the petition. Here's where you can read more information: here, here and here, and a 2013 article from YLE.