With a litany of candidates already jockeying for a place in the Oval Office, it's a perfect time to take a look at those furry friends who've helped their owners win favor in the past. From a political power play to a trusted friend, presidents' dogs can have incredible impacts, both on the course of history and, of course, on the people who own them. Here are five stories of the D.O.T.U.S.'s who helped guide their owners to victory.

1. Warren G. Harding's most trusted adviser, Laddie Boy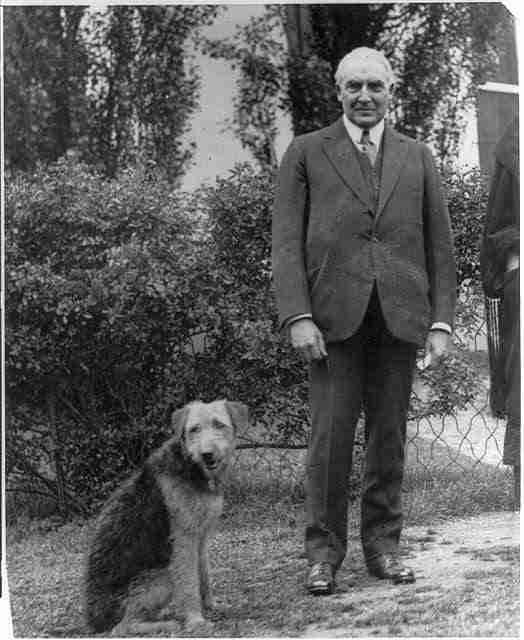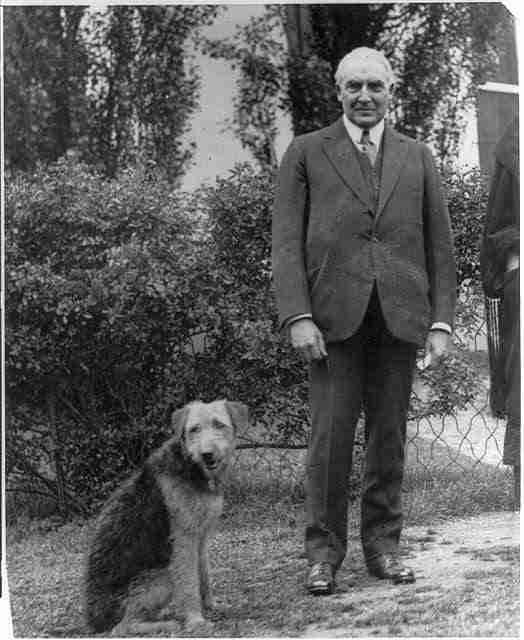 In an effort to seem more relatable to the American public, President Harding made Laddie Boy one of the most visible political dogs to date. The faithful Airedale terrier was given his own chair to observe cabinet meetings. A pup who's been called the White House's "first celebrity dog," Laddie Boy gave faux interviews to the press and hosted a birthday party every year at 1600 Pennsylvania Avenue, complete with a cake made of dog treats.
2. Franklin D. Roosevelt's second-in-command, Fala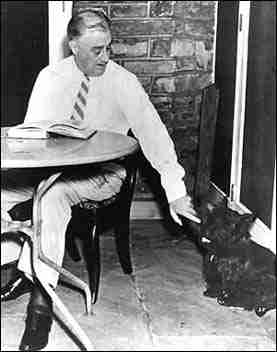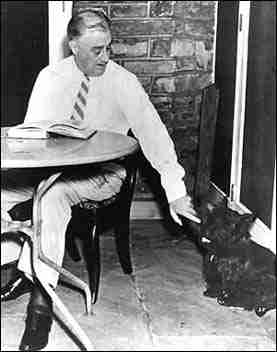 When FDR traveled, he always kept his right-hand man close by - his right-hand dog, that is. Fala, a Scottish terrier, was a media darling who could perform a repertoire of tricks. He became the subject of a minor media storm when Republicans accused President Roosevelt of sending a U.S. Navy destroyer to fetch him after he was allegedly left behind in the Aleutian Islands. During a radio broadcast in 1944, the president reprimanded the American people, saying that little Fala was deeply offended:
Fala outlived FDR by seven years, yet the faithful dog was still buried at his master's side in New York.
3. George H.W. Bush's vice-spaniel, Ranger
FDR wasn't the only one to suggest that the media had insulted his dog - in fact, it seems to be a common trope used to distract White House journalists from more serious matters. When a journalist accidentally addressed President Bush's favorite dog, a cocker spaniel named Ranger, by the wrong name during a press conference, the president responded:
The other day our dog Ranger appeared at a press conference, and he was called Millie [by reporters]. He's a strong male dog here, as you can see, and his feelings were slightly hurt.
First Lady Barbara Bush also reportedly had to tell guests not to feed Ranger, because he had become such a boisterous and, at times, over-friendly dog.
4. Herbert Hoover's public image consultant, King Tut
King Tut, President Hoover's handsome Belgian shepherd, may have helped him to win the presidency. The veteran leader was known for his savvy politicking, but not for his charm - that is, until he took a photo with King Tut that the New York Times called "one of the happiest pictures ever made" of the president. The photo is credited with improving Hoover's public persona, which launched him into the nation's top role.
5. Richard Nixon's power play, Checkers
Before President Nixon even made it to the White House, he used his dog, a cocker spaniel named Checkers, as a political pawn. In his famous "Checkers speech," then-Senator Nixon ripped a page out of Roosevelt's book: He told 60 million Americans about his dog, instead of dealing with serious political accusations. In defending charges that he had misappropriated funds, Nixon took time to talk about Checkers at 18:00:
It was a little cocker spaniel dog in a crate that he'd sent all the way from Texas. Black and white spotted. And our little girl - Tricia, the 6-year-old - named it Checkers. And you know, the kids, like all kids, love the dog and I just want to say this right now, that regardless of what they say about it, we're gonna keep it.