Prairie Dog Needs A Helping Hand After His Home Catches On Fire
He and his dog are so happy to be alive.
To say it's been a bad week so far for this little prairie dog would be an understatement.
Still, he seems to be taking it all in stride thanks to his new friends.
Red Paw Emergency Relief Team
Vern, as he's known, was at home with his family in Pennsylvania on Monday when a fire broke out, causing severe damage to the structure. Fortunately, the prairie dog, his mom and canine brother, and all other human and animal inhabitants, made it out safely.
But they didn't do it all on their own.
YouCaring.com
After learning of the blaze, volunteers from Red Paw Emergency Relief Team joined emergency crews to make sure Vern and the other pets also got whatever care they needed, and a place to go afterward.
The Philadelphia-based organization was founded with just such scenarios in mind: "To provide relief and recovery for displaced pets and their people 24/7, and to ensure that ALL family members are taken care of during, and after, a disaster in their home."
After all Vern had been through, he appears to appreciate the gesture.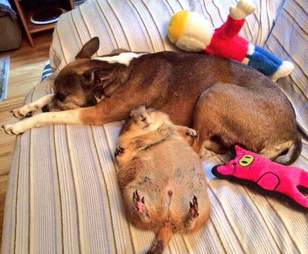 Red Paw Emergency Relief Team
Insurance is helping to cover certain expenses for the family following the disaster at their home. But thanks to donations of pet food and supplies from Red Paw, Vern and the dogs are able to cope as well.
From the looks of photos posted after the fire, Vern seems to know he's in good hands — and is ready to put this whole terrible week behind him.
In fact, he's even found the peace of mind to catch a few z's.
While Vern may be over the ordeal already, his caretakers still have a longer road ahead of them.
Visit Red Paw Emergency Relief Team's website online to learn more, and to find out how you can help Vern and pets like him. His family has also launched a donation page for folks interested in helping them get back on their feet.