Rescuers Find Worst Surprise In Old Rice Bags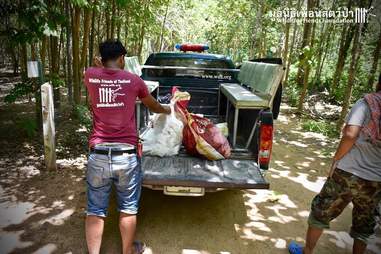 Wildlife Friends Foundation Thailand
A man had brought them to the center, saying he owned the little animals inside. When rescuers opened the bags, they found four Malayan porcupines just barely alive.
"They were brought by their 'owner' in a terrible state," WFFT wrote. "Rice sacks are made for transporting rice NOT wild animals."
Wildlife Friends Foundation Thailand
The porcupines, who had been captured from the wild, were the man's pets, and he no longer wanted them. After however many months of incorrect care, and possibly hours stuck in the bags under the hot Thai sun, they were about to give up. One already had.
"One was dead on arrival, two were in critical conditions suffering from severe heatstroke, and the other could just about walk around," WFFT said. "Transporting any animals is highly stressful and when not done properly in such hot weather it can end in death, as we have seen today."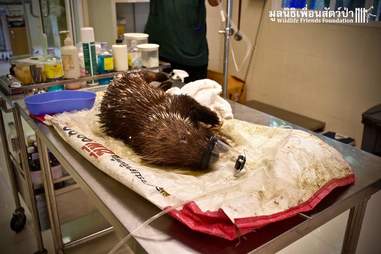 Wildlife Friends Foundation Thailand
Wildlife Friends Foundation Thailand
"Drop-offs are not a rare occurrence," LWRC wrote at the time. "Whether these wildlife pets have been obtained legally or illegally, in a fair percentage of our 'drop-off' cases we have to conclude the owners are attached to their animal and often even feel affection for them. Most of them fortunately bring in their animals because they realize they have been in the wrong by owning such an animal in the first place. Other owners are ashamed, or simply do not want to face the confrontation. Unfortunately this often results in the drop-offs that happen under the wrong circumstances and with animals in bad and traumatic situations."
Wildlife Friends Foundation Thailand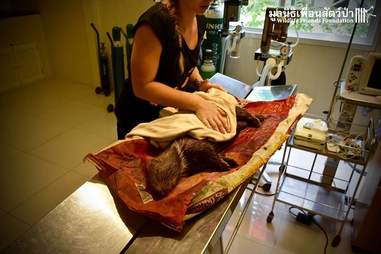 Wildlife Friends Foundation Thailand
The two porcupines with heatstroke were rushed into treatment right away. "After over an hour of emergency treatment by our whole team the two porcupines that were suffering from heatstroke managed to pull through," WFFT wrote. They're currently in intensive care.
Wildlife Friends Foundation Thailand
And with a little help, the healthier porcupine was able to find his feet. "The strongest one was active and started drinking and eating almost straight away," WFFT said.
Wildlife Friends Foundation Thailand
The stronger porcupine is currently living in a forest enclosure, and if all goes well his companions will soon join him. It's unclear if they will be able to released, but if not they will stay at WFFT's sanctuary - and finally experience something close to the natural life they should have had all along.
To help care for the porcupines and the many other animals WFFT takes in, you can make a donation here.