Popular Soy Sauce Brand Tortures Animals [UPDATED]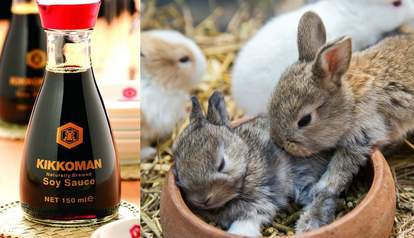 <p> <a href="https://www.facebook.com/KikkomanSoySauce/photos/pb.129696897069921.-2207520000.1447702681./1029369017102700/?type=3&theater" target="_blank">Facebook/Kikkoman</a>; Shutterstock </p>
UPDATE: Kikkoman has agreed to end all animal testing, PETA announced on Tuesday.
"Kikkoman is committed to non-animal approaches to test the safety of our products when we use biological methods," the company said in its updated policy. "Kikkoman is introducing and developing non-animal testing methods, and conducts no animal testing across any of its product lines."
A popular soy sauce brand has been engaging in torturous animal research to back up health claims it makes about its products.
Kikkoman Corporation, makers of Kikkoman soy sauce, has been conducting a series of questionable experiments published as recently as August 2015, according to a new investigation by PETA.
During the series of gruesome tests, rabbits were fed high-cholesterol diets until they developed heart disease then killed. Mice were bred to be obese then killed so their muscles could be removed. In one test, rats had feeding tubes forced down their throats and were force-fed fermented soymilk; in another, they were force fed through stomach feeding tubes then "sacrificed by decapitation ... followed by rapid removal of the brains." Guinea pigs were also used in some of the tests.
The tests are all the more unsettling considering they're quite unnecessary. "These types of cruel health claim experiments are not required by law," PETA explained. "There are more relevant non-animal research methods - including tests with human tissues and human volunteers - available that are humane and can actually establish the health benefits of food products for humans."
And Kikkoman - which, funnily enough, is often considered a vegetarian staple - isn't the first surprising food company to engage in animal testing. Nestle freely admits to animal testing on its website; Lipton ended its animal tests in 2011 after widespread public backlash. Coca-Cola and Pepsi both tested on animals until 2007; Barilla conducted experiments until 2015.
To find out how to make your shopping list cruelty-free, visit Leaping Bunny.
You can sign this petition to ask Kikkoman to stop performing tests on animals.