Animals From Vegas Show Found Stuffed In Small Boxes Backstage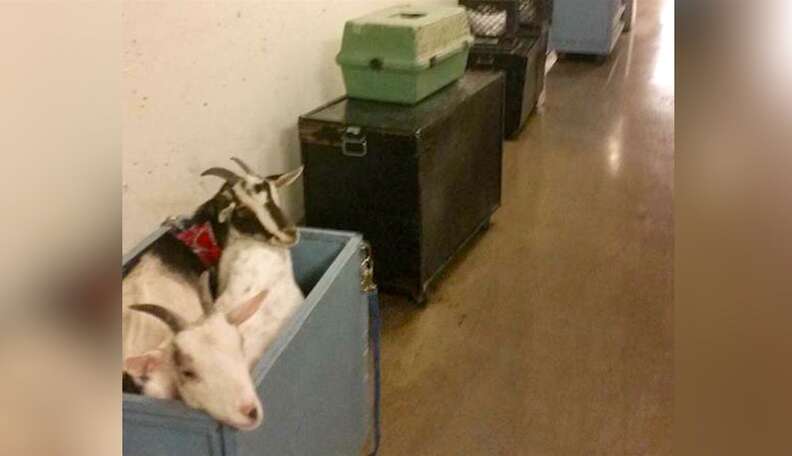 There were barking dogs packed into carriers, piled on top of one another like cargo, with cats in a similar situation. Pigeons were stuffed into small plastic crates with mostly their feathers, not faces, discernible. Live geese were packed into small black boxes, the only opening facing the wall.
Most notable of all were two goats, sharing a pen so small that they were pressed up against one another with barely any room to move.
This was the scene that animal advocate Hani Levi recently saw and caught on video behind stage at the V Theater in Las Vegas, Nevada.
"Situations like this are very common," Lisa Wathne, captive wildlife manager for The Humane Society of the United States (HSUS), told The Dodo.
"In fact, they are the norm. When animals are carted around to be used for shows at circuses, fairs, festivals and the Las Vegas strip, they are subjected to intense confinement, the noise and chaos of large crowds of people, the lack of opportunity to exercise and irregular access to food and water," she said.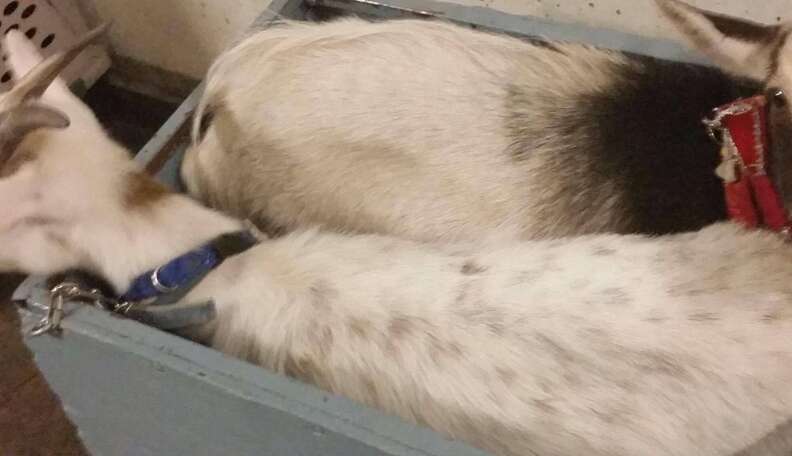 Levi was tipped off by employees to check out the situation she ultimately caught on tape. "I went there on [Memorial Day weekend], when they had a few shows a day, and I took some video," Levi told The Dodo.
"From what I saw, they were brought out from a room next to the back door of the V Theater where they perform, out to the [backstage] hallway, so they will have an easy access to them between shows," Levi said, adding that there appeared to be no supervision while the animals remained in the back hallway area and that the equipment the animals were stored in looked old.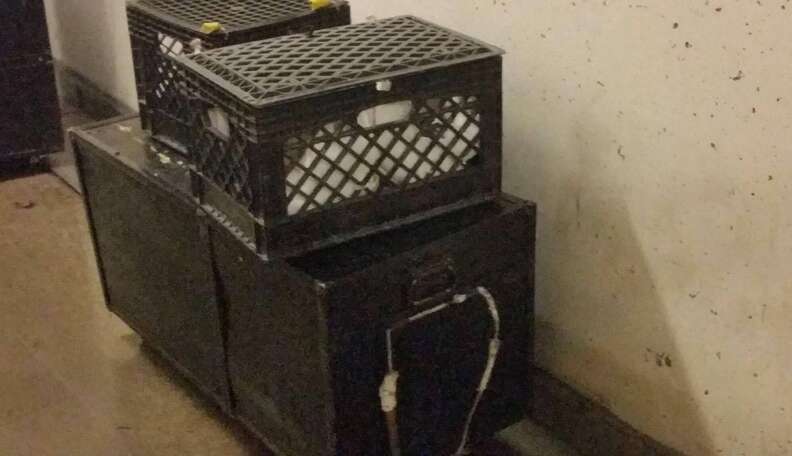 Levi told The Dodo that the animals did look well-fed, at the very least. "I don't know or think [they were] in the [backstage area] all day, but from what I saw, they were there for at least 2 to 3 hours with breaks [in between performances.]"
The backstage scene brings into question the treatment of the rescue animals associated with Popovich's acts. According to Popovich's website, he is a lifelong advocate of animal rights and the animals featured in his show are "ambassadors" for all animals seeking homes who "live in comfortable quarters." The show did not respond to a request for comment.
San Sal, a recent attendee of a Popovich show, shared on the Facebook event group Animal Lovers Call For Action a troubling account of what she observed:
I'm only visiting LV and saw the show tonight, as I thought my son would like it. I HOPE YOU CAN GET TO THE BOTTOM OF WHAT IS REALLY HAPPENING WITH THESE ANIMALS!! We were front row and able to see the offside of back stage. First horrifying thing, the goose was waddling off stage and stopped, a stage hand reached out and SNATCHED the goose by the neck, yanking it off stage, NO EXAGGERATION. The white poodle has a significant ear injury and possible ear infection, kept pawing at it. The wire fox terriers seemed to have eye issues, perhaps conjunctivitis. The handling of the cats going into to apartment building was VERY ROUGH. The animals looked mostly healthy otherwise.
In a statement to Action News 13, V Theater said Popovich's show has played at the theater for 10 years and animal abuse has never been witnessed at the theater. Popovich also reportedly has all the necessary permissions from the U.S. Department of Agriculture (USDA), state of Nevada and his veterinarian to operate his show.
Levi said that she's spoken to the USDA and has already filed a formal complaint.
Watch this video about the end of Ringling Bros. elephants performing at the circus: