Things got dirty in a hurry for one little girl out for a ride on her pony. Turns out, the sweet white steed wasn't really much in the mood for walking - especially after stumbling upon a perfect puddle for some happy wallowing.
Don't worry though, he "invited" her along, too.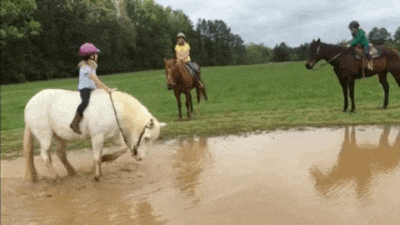 Facebook/Jim N Stacey Warner
What began as a few playful kicks at the water soon evolved into a full-on pony mud bath. But apparently in all the excitement he forgot all about the tiny rider atop him before going in for more.
We're pretty sure she noticed though.
Facebook/Jim N Stacey Warner
Fortunately, the little girl didn't seem to mind the unexpected stop - or the sudden splash. In fact, after getting over the initial shock, she's as tickled as anyone by the impromptu mud bath.
Even a dog decided to join in!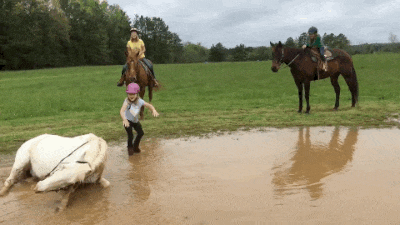 Facebook/Jim N Stacey Warner
Evidently, there's a term for riders who find themselves sopping from equines' adventures in uncleanliness, as evidenced by footage from the incident:
"You've been pony dunked!"
Watch this video in its entirety below: