Cops Show Up To Wrong House And Shoot Little Boy's Dog
Police officers may have had the wrong address when they arrived at an Oklahoma family's home to serve an arrest warrant.
And from there, things only got more wrong.
Eli Malone was celebrating his fifth birthday with his family, as well as his best friend, a dog named Opie.
The kids had just gone inside for ice cream when police showed up.
They heard a gunshot outside.
Looking out the window, Eli reportedly said, "Mama, something's wrong with Opie."
Two more gunshots from a high-powered rifle.
"He (Opie) was over here kicking and gasping for air," the boy's mother, Vickie Malone, told Fox25 News.
The town's chief of police, Ken Moore, says the shooting was justifiable. The dog, he claims, was showing signs of aggression and appeared to be a "dangerous" breed. A pit bull mix. (Pit bulls have a very undeserved reputation.)
"We have a right to defend ourselves so I stand by my officer in the decision that he made," Moore told News 9.
Never mind reports that the officer used a high-powered rifle he took out of his car to shoot the dog through a fence. Or that a computer glitch may have led officers to the wrong address.
Or that a little boy will never forget his fifth birthday.
While the chief is satisfied his officer did the right thing under the circumstances, the department faces a barrage of criticism on social media. In addition Wynnewood mayor Mike Perry has called for an investigation into the incident.
At the very least, the shooting has renewed calls for training among officers in how to deal with dogs.
"There is a lot of real estate between 'hi puppy' and 'bam, bam, bam'," Edith Williams, founder of the Idaho for Nonlethal Canine Encounter Training, tells The Dodo. "Officers must be given the opportunity to know and be confident in the use of less lethal means to deal with such encounters."
Williams has been spearheading educational and training programs for police departments in her state - and hopes training programs expand to agencies nationwide.
"I just wish the critics would see that the burden for change does not rest with law enforcement alone," she adds. "I hope dedicated advocates will rise in Oklahoma and all other states, someone that will find a way to work with law enforcement to bring about awareness and change."
If the shooting in Wynnewood, Oklahoma, raised awareness, it's certainly the wrong kind.
But, Williams says, "Criticism of use of force on dogs and respect and gratitude for officers are not mutually exclusive."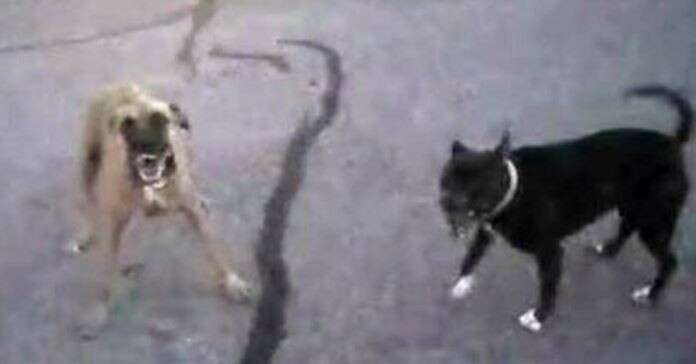 Gomez squared off against not one, but two growling dogs on a dark street. He didn't end up drawing his gun. But ultimately, he got the dogs in the back of his cruiser and home to their owner with just a few words:
"You want to go for a ride? Come on, let's go for a ride!"
Gomez is an example of the right way forward: trained officers acting as true ambassadors to the community they work in.
"I don't think I was anywhere close to drawing my weapon," Gomez told The Dodo in June.
The shooting in Wynnewood, Oklahoma, on the other hand, suggests we still have a long way to go to make sure families are not torn apart when police officers show up at the door.
And little boys don't have to bury their best friends on their birthday.
Want to learn more about what's being done to fight these tragedies? Visit Canine Encounters Law Enforcement Training.
Watch a video about how canine encounter training works below.