Cop Brothers Both Save Animals Who Were In The Middle Of Traffic
<p><em>City of San Antonio Animal Care Services</em><span></span></p>
Horrendous thunderstorms and flooding in heavy traffic on the highway didn't stop Justin Kalk, a police officer with the San Antonio Police Department in Texas, from his patrol duties on May 19. Something else stopped him right in his tracks as he drove down the highway.
"I saw a little animal crossing four lanes of traffic, either a kitten or puppy, but I couldn't tell what it was," Kalk told The Dodo. The animal in the road, as it turns out, was a small kitten.
"As I was driving, I saw the car in front of me almost hit the animal," Kalk said. "I saw the little cat roll, and I had to swerve around him to avoid hitting him."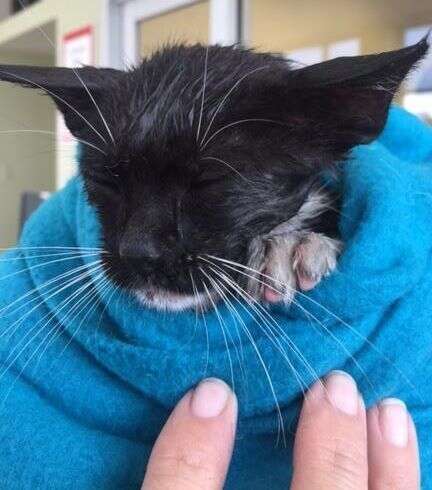 Kalk actually had to do a complete turnaround in a nearby grocery store parking lot. He then came back and shut down one entire lane of traffic. "I thought the cat was actually dead," Kalk said.
Then, he got out of his vehicle, walked up to the kitten and saw he was breathing. "I think they have nine lives because the little thing opened up his eyes, looked at me and meowed at me," he said. "I didn't know if he was injured, but he got up and started walking a bit. So I scooped him up and placed him in my police car."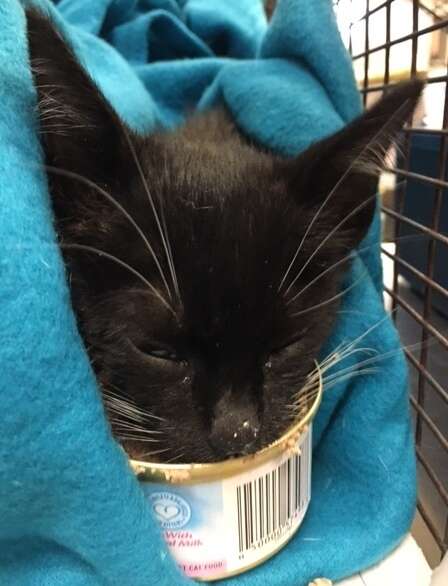 Not sure of what to do with the kitten, Kalk decided to bring him to City of San Antonio Animal Care Services (ACS).
When Kalk arrived at ACS, the kitten was completely soaked. "Officer Kalk was concerned about the kitten and asked us to save him," Lisa Norwood, public relations and outreach manager at ACS, told The Dodo. "We rolled him into a 'purrito,' essentially like swaddling a baby, but in this case swaddling a kitten."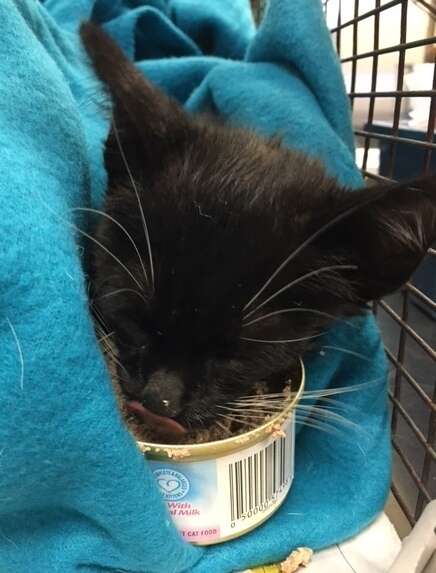 Not only was the kitten, eventually named Thor, cold and wet when he arrived at the shelter, he was also starving. "As soon as he got warmed up and introduced to food, he worked his way out of the purrito ... and ate an entire can of cat food," Norwood said.
Afterward, an ACS rescue partner, San Antonio Pets Alive!, took Thor into its adoption program.
Days later on May 23, Norwood received a call that a police officer was at the front desk waiting for her. She went up front and saw a police officer holding a little dachshund. "He was frantic and said he didn't know what to do because, while on patrol, he had found the dog running in traffic," Norwood said.
She wondered why the officer looked so familiar and asked his name. He said he was Officer Todd Kalk and that his brother had brought in a kitten some days ago. Todd Kalk, who has two dachshunds of his own at home, said his brother had told him about ACS and recommended he bring the dog there.
Similar to his brother's story, Officer Todd Kalk had been on routine patrol driving around. "I came to a busy intersection, and I saw him out of the corner of my eye, dodging in and out of heavy traffic," he said of the mini dachshund, named Loki by staffers with ACS.
"I immediately turned on the patrol lights and shot up the road," he said. "I stopped and traffic didn't slow, so I got out and he ran behind me. He then came up to me. I scooped him up and he was kissing all over my face. He had puppy breath."
The dog had no collar or tags, so Kalk drove around the neighborhood with the dog on his lap while he tried to search for his home, even stopping to speak with people in the area to ask if they knew the dog. He eventually took Loki to a nearby veterinarian, only to find he was not microchipped. He then drove around some more in search of the dog's owner without any luck.
"I remembered my brother told me what he did with the kitten he found," Kalk said. He brought the dog to ACS on a day they normally don't take in stray animals. "They really went above and beyond and took him in for me. I hated to let him go."
Loki was in good shape and most likely had a home, despite not being microchipped. Kalk found out days later that the dog's owners came for him. This time, ACS microchipped Loki before he left the shelter.
Justin and Todd Kalk are not surprised that they each had similar situations only days apart - their love of animals goes a long way.
"If somebody sees an animal in need, they should get out and at least see if the animal is OK, and make sure he has a surviving chance rather than turning a blind eye and driving off," Justin Kalk said. "I'm a firm believer that animals have feelings just like we do. In my own conscience, I couldn't just leave the cat there to die."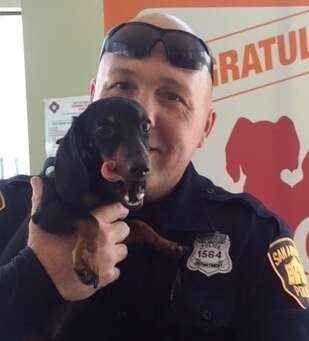 His brother Todd Kalk feels the same. "I don't want to see anyone suffer - an animal or person," he said. "If you see an animal in distress, take him in. It just takes a few minutes to see if they are microchipped. It's worth it if you can save the animal's life."
Find out more about the City of San Antonio Animal Care Services or consider donating here. To help San Antonio Pets Alive!, where Thor is currently waiting to find a permanent home, go here.