A polar bear named Tongki is suffering in a South Korean zoo.
This is the claim by an animal welfare group called Action for Animals. The organization, founded in 2012, is advocating for the well-being of zoo animals in South Korea, and Tongki has been enduring far too much, for far too long, according to Jiyoung Lee, an activist with the organization, who spoke with The Dodo via email.
Tongki - who has been captive since his birth in 1996 - exhibits stereotypic behavior, actions like head-swaying and pacing inside his inadequate enclosure in a South Korean theme park named Everland, says Jiyoung. (The Dodo contacted Everland for comment but received no response at the time of publication.)
Action for Animals
Jiyoung bluntly describes Tongki's exhibit as "small, barren and terrible." It lacks for just about everything, she says, ticking off a list of what he needs: "natural surface and substrates, natural enhancements and furnishings, proper shelter, [and] a proper pool and cooling system for hot and humid summers" (temperatures can reach into the high 90-degrees Fahrenheit in the summer months).
On a recent visit to Everland, Jiyoung says the only "enrichment" she saw in Tongki's enclosure was two plastic bowls. And the enclosure, she says, is an outdated "pit" - where people look down at the animal.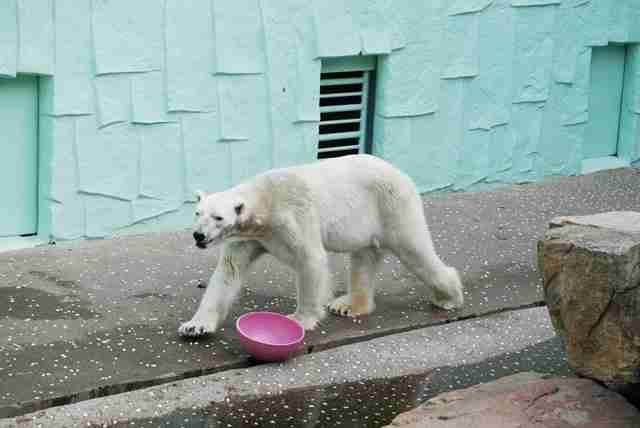 Unfortunately Tongki's life is not unlike those of many polar bears in zoos around the world.
"Polar bears seem to suffer - by appearance - the most of all the animals in captivity," says Rob Laidlaw, the director of Zoocheck Canada. "I've never encountered a polar bear that doesn't stereotype extensively. I've never seen polar bears in environments that would satisfy their needs. I would say that polar bears, except in exceptional circumstances, shouldn't be in captivity at all."
Laidlaw says the conditions for polar bears are the same in zoos around the globe: barren environments, an inability to escape from heat and an improper diet.
However, Laidaw maintains that the number one problem for polar bears is lack of space. "Polar bears have evolved to live in hundreds to thousands of square kilometers - this is the widest-ranging terrestrial mammal on earth," he says. "You can't say, 'I'm going to take this animal that should live in this space and put it in a compressed space millions of times smaller' and think it could do well."
One zoo that has created a remarkable space compared with so many other zoos is the Detroit Zoo.
"For polar bears, you want the most natural environment you can create," says Ron Kagan, executive director of the Detroit Zoo. Kagan has thought long and hard about the optimal exhibit for a polar bear and the Detroit Zoo's Arctic Ring of Life is proof of this consideration: At four acres, it is not only the largest polar bear exhibit in the world, but is perhaps the best, due to its emphasis on animal well-being.
Kagan says that, other than the size of the enclosure, many zoos do not provide polar bears appropriate environments within their exhibit space. "Polar bears spend most of their time on land and on ice, not in the water," he says. Zoos often have proportionally more water than land to force bears to spend time in the water, "but that isn't what polar bears do," says Kagan.
"You also need climatic conditions which are reasonably similar to [a polar bear's natural environment]," Kagan notes. Unfortunately, polar bears can be found in zoos with climates that are too warm for them. "There are even days that are too hot for our bears [in Detroit], and South Korea is quite a bit warmer, so that would be an immediate big challenge for the polar bears," Kagan admits. (Detroit's The Arctic Ring of Life never lets the water temperature of the 300,000 gallon aquatic space get above 45 degrees Fahrenheit.)
As for the best substrate - the surface on which an animal lives - Kagan says that polar bears spend time on ice, on gravel beach areas and tundras - and a zoo should incorporate these natural substrates, not ones that simply "look" natural.
Kagan also says it is paramount to have an elevated polar bear exhibit - not a "pit." Elevation allows polar bears to "smell, hear and see 365 degrees," which is what they deserve.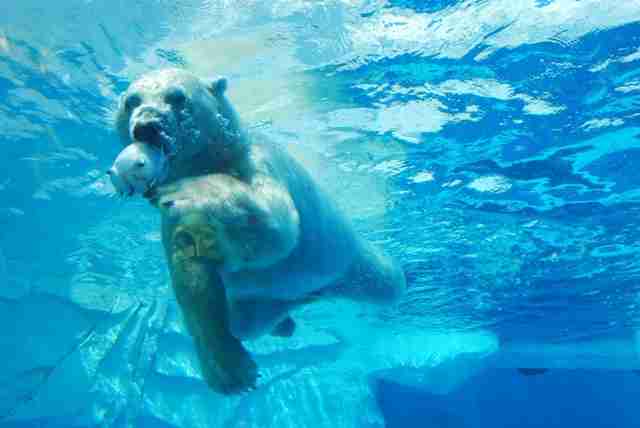 Altogether, Kagan stresses, one of the most important things a zoo can give all its animals is the elusive sense of choice. "Even if a polar bear doesn't have a big environment, if it doesn't get to make choices it creates frustration," he says. And more suffering. Not only can stereotypic behavior like head bobbing and pacing occur, he says, but he has also seen polar bears self-mutilate.
"Hopefully, South Korea is interested in advancing animal welfare," Kagan says regarding Tongki.
But it's not just zoos in South Korea that need to think about animal welfare, adds Kagan: "U.S. zoos need to as well."
CORRECTION: A previous headline on this article stated that polar bears walk hundreds of miles a day. They do not travel such distances over the course of one day.