So far I've posted articles about a few of the terrible things that dogs, especially podencos and galgos, suffer during their oft-short lives in Spain. I'll be posting more of these articles soon, but I want to take a moment to discuss what happens once the luckier ones are rescued.

I say luckier because one must not assume that being rescued automatically guarantees a perfect life free from further fear, suffering, or sadness. Most of the podencos taken in by Spanish rescues must wait for extended periods in rescue centers, paid residences - which are something like kennels, housing rescued dogs waiting to be adopted - or foster homes until they are adopted. Often these dogs wait for months or even years. Some podencos are born in their rescue centers and then live three, five, seven, or even more years there, waiting for someone to ask for them.
Podencos tend to languish because in Spain they are seen as little more than trash, not as good pets. This is quite sad since in reality, podencos are wonderful, loving, loyal pets. And although once they arrive here in the states they don't wait years, occasionally they may wait months if they are shy, fearful, or otherwise deemed by applicants imperfect. We think of ourselves as a progressive country when it comes to animals, especially pets, but we have our flaws.
As one of the main decision makers on Hound Sanctuary adoption applications, I've been accused more than once of trying to not adopt out dogs. That accusation is part true: I do try to not adopt out dogs - to people who will fail those dogs. One way to fail is to expect perfection. Those fails are the applicants likely to lose patience with a dog for the slightest of errors, and return the dog rather than learn proper training methods or simply pay more attention to the dog. (Of course a dog being returned to its rescue is preferable to any other possibility, but it is still hard on the dog.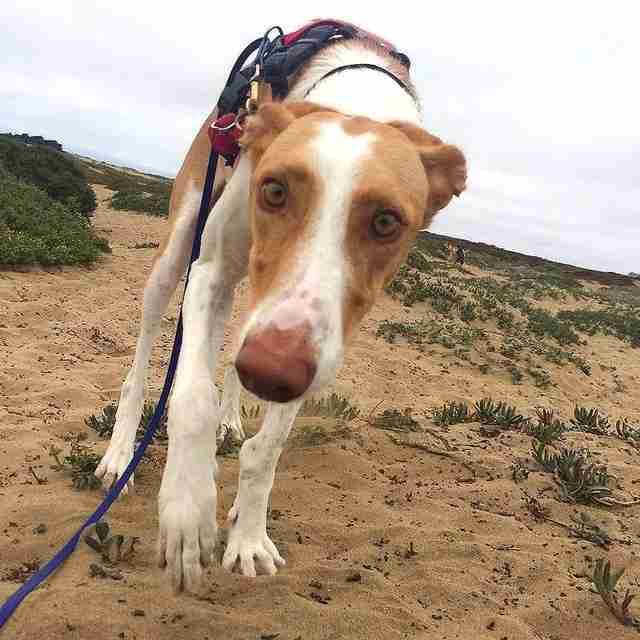 Sadly, there are many worse ways to fail a dog, especially in a society where there are so many varieties of crazy: neighbors poisoning dogs, strangers stealing dogs from people's yards, unsupervised kids doing unfathomable things with fireworks, pools,and a long list of other items I cannot bear to mention, etc. These are just a few examples.
There are also many varieties of unaccountability that can lead to failing a dog: dumping a dog at the pound because it is too old, barks too much, etc., "rehoming" a dog on craigslist - one of the most likely ways to assure that your dog is treated worse in the future than s/he is being treated now - euthanizing a dog because you have to move and you "can't take it with you," and so on. Then there are those who fall into the blatantly irresponsible category.
I know a woman who decided to open her door and let her dog - whom she had adopted from a local shelter, and whom she claimed to love - leave home for good one day, just walk out and take to living on the street, vanish, simply because the dog had a tendency to sneak out when not attended to; the woman explained that: "Hey, I guess the dog just needed to be free, so I gave up and let her take off." She told me this knowing that I run a rescue - and after having asked about adoption. She told me this with a smile on her face and lightness in her voice. She told me this with no hesitation whatsoever.
So I have hesitations, and that is as it should be. I manage these hesitations via strict screening processes and adoption contracts. I am looking for adopters who feel the way I do about rescue - that these creatures deserve only the very best and safest, and that we must do whatever it takes to ensure that they have only the very best and safest, even if it inconveniences us, even if it is expensive, even if it means we cannot move to the place that we really desire, even if we have to choose our dogs over people who do not respect our dogs and the choices we make to protect them. The list is long and I am devoted to abiding by it. There are others out there who also are devoted in this way, and these are our adopters.
Is this elitism? Not unless you define "the elite" as those who do what is expected of them in order keep a promise they have made. Lately, we reject more applicants than we accept. Our adoption model is quality, not quantity; we would rather place one or two dogs a month in ideal homes with ideal adopters than place 20 or 30 dogs a month in potentially unsafe homes with adopters who we are not convinced will keep the promises made in the adoption agreement nor the promise made to the dog. The work of saving the podencos does not end at the US border. Keeping the podencos safe once here is a lifelong responsibility, and part of the promise we make every time we bring one over.
Before I sign off, I'd like to introduce you to two special dogs. The first is Pringles, a very special podenco Ibicenco (Spanish Ibizan hound) rescued from the Valencia region of Spain. He was found with a broken leg, probably done purposely, as discussed in my first article.
He is a very sweet, loving boy who was also quite traumatized. As a result of his trauma, he can be timid around new people, new dogs, and sudden noises, but he bonds very strongly with his own people. He is physically healed now, plays, walks, and runs just fine. He loves to give hugs by wrapping his front legs around your waist, and sometimes he even smiles. We looked for the right home for him: a stable, calm home where he could feel safe and loved, be allowed to take his time with things, and not be expected to meet stereotypical expectations.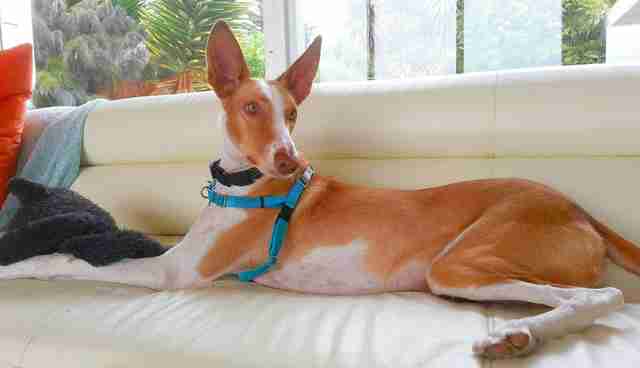 Pringles was recently adopted! He waited patiently for just the right person willing to take the time he needed to get to know her before coming home, and it worked beautifully for him. He lives happily in Monte Sereno, California with his forever mom and another shy but sweet rescue dog, Lido. Pringles is now called Primo, a fitting moniker for such a wonderful boy.
Next meet Pony, a 3-year old chihuahua we rescued from a kill shelter in Orange County, California. He had been there as a stray, then adopted, but returned the very next day and immediately categorized as un-adoptable based on the reason given for his return (growling, fear bite). That meant that he would be euthanized if not taken by a rescue. It turns out that, while he did have some reactivity, Pony is cuddly, sweet, intelligent, and loves his humans. He simply needs the right human, and we intend to find that human. View his story, photos, and adorable videos here.