Plucky now lives a life of comfort on top of her canine throne, but that wasn't always the case.
In October 2014, Plucky, who is a spur-winged plover, lost her mother. She was just a day old.
Plucky's mother had been hit by a car, leaving her entirely alone.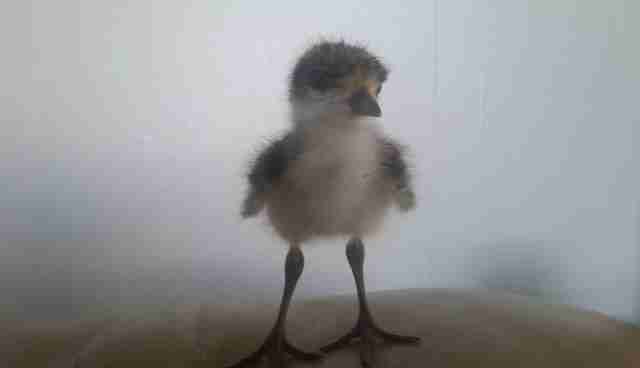 A local woman who spotted the orphaned bird stopped to see if there was any hope for her mother - but once it was confirmed that the mother was dead, the woman picked up Plucky and handed her over to New Zealand's Oxford Bird Rescue.
"During the initial stages of raising her, [she] contracted a bacterial infection in the lungs and became very sick," Scott Bowman, the rescue's cofounder, told The Dodo.
"That year we had lost a lot of birds due to one thing or another and we decided we were going to do everything we could to keep this one alive," he said.
Keeping Plucky alive was no easy task, however - after coming into the rescue's care, Plucky grew sicker from the infection and it was only after several rounds of various treatments that Plucky was free of her illness.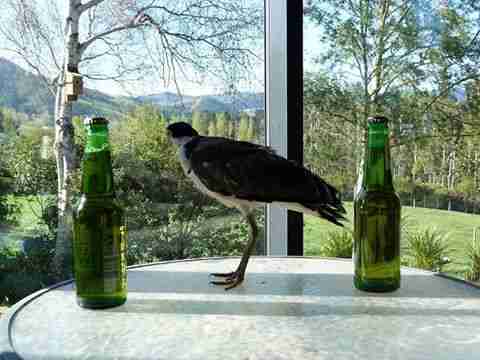 "This was over a period of about six months," Bowman said.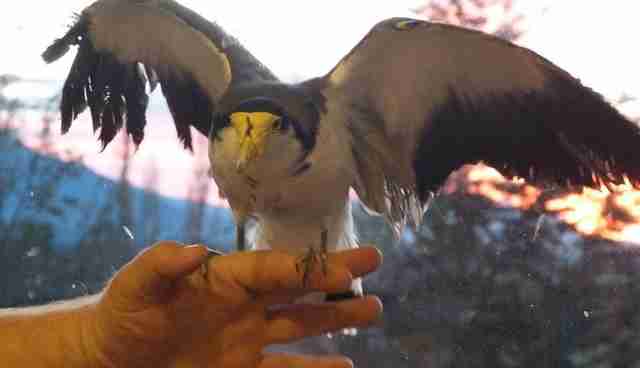 "We were constantly having to handle her, to both give medication and to tube-feed, as she was unable to eat enough food to keep herself going," he said. As a result, Plucky became especially attached to Bowman and his wife, Tracey - and therefore was not suited for release back into the wild.
Even though Plucky's life had been saved, Bowman said, he still felt guilty about the fact that Plucky was unable to survive on her own in the wild. She became a permanent member of the Bowman family, with her own large outdoor aviary - and a best friend as well.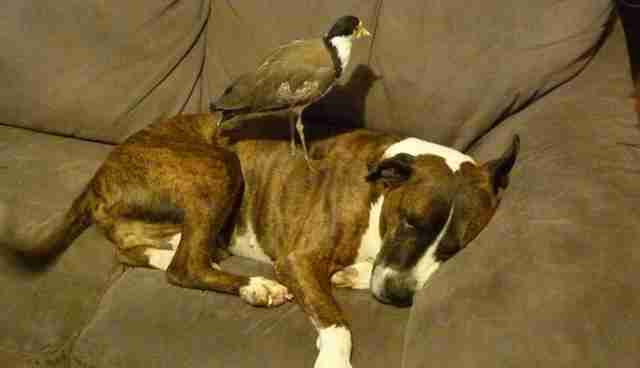 "Boof has grown up around birds and serves as a surrogate mother for ducklings from time to time," Bowman said.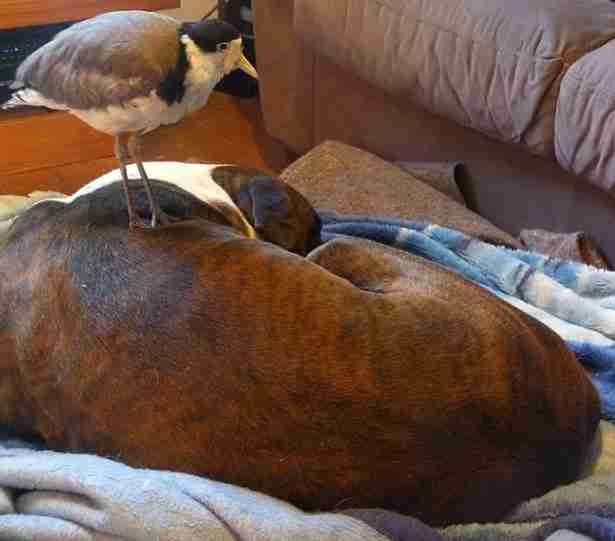 "Plucky and Boof bonded over the period toward the end of the medication treatment as she was inside most of the time and still, to this day, Plucky will follow Boof around the house sticking close to him," he said.
Plucky's also picked up a thing or two from Boof over the years and now acts as a surrogate mom for other plovers who arrive at the rescue.
Plucky and Boof sometimes even let the cat, Ratbags, join in on the fun ...
"We are still sad that we were unable to release her, but we are glad that a positive has come out of her story," Bowman said of the bird, who is the rescue's mascot and an educational animal for children.
"Although she can be a bit noisy at the crack of dawn, we would miss her terribly. She has become a loved member of our family," he said.