Polar Bear Who Was 'Going Crazy' In Shopping Mall Gets To Leave — For Now
"To send him back now would be cruel and heartless."
For the past year, Pizza the bear has been known as the saddest polar bear in the world. Now, he's getting a break from that title - if only temporarily.
On Sunday, the Grandview Aquarium in Guangzhou, China, reportedly relocated Pizza to an undisclosed marine park, where his parents live and where he was reportedly bred, so it could upgrade some of the facility's exhibits.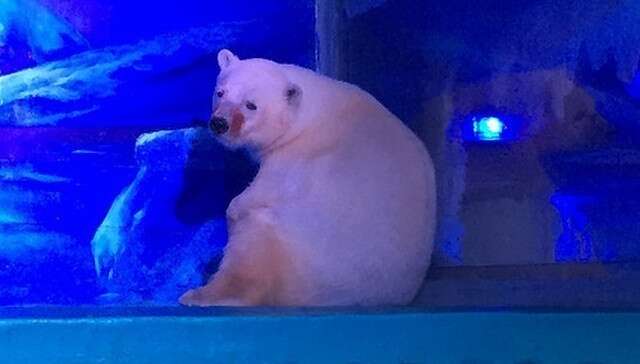 "Due to upgrading of exhibition halls, as a testament to urban renewal of Guangzhou, a result of the harmonious collaboration between commerce and tourism, and a witness to urban compassion and hearts of love, Pizza, the 'bear baby' loved by millions of tourists will say goodbye for a short period of time," Grandview announced on Chinese social networking site Weibo, according to a translation provided by Humane Society International (HSI). "To say goodbye to this polar bear prince and at the request of the visitors, we shall hold a great and special farewell party for him."
Pizza's plight first sparked international outcry back in January, when Grandview Aquarium opened its doors inside a shopping mall. The attraction is home to hundreds of animals - including Arctic foxes, walruses and belugas - but the polar bear's situation was among the most heart-wrenching.
Locked up in a tiny, garishly-painted blue concrete room, Pizza had no access to sunlight and little room to indulge in natural behaviors. His glass-windowed walls looked out onto the visitors' area, where throngs of tourists would blind him with constant camera flashes.
But late last month, a new video released by HSI showed the saddest scene yet - the trapped polar bear pacing in his cage, swinging his head back and forth violently and, at points, lying on the floor and obsessively mouthing at a grate.
Experts said the behaviors were clear signs of stereotypic behavior - repetitive patterns animals develop to cope with the psychological stress of captivity - and that the bear was literally going crazy inside his unnatural confines.
"This is the animal's attempts to cope with stressful, aversive situations such as barren enclosures, boredom and constant disturbance by visitors," Alastair Macmillan, a veterinary adviser for HSI, said at the time. "The conditions in which he is being kept are completely unsuitable, vastly removed from anything approaching his natural habitat, and if something is not done then he will likely slip further and further into mental decline."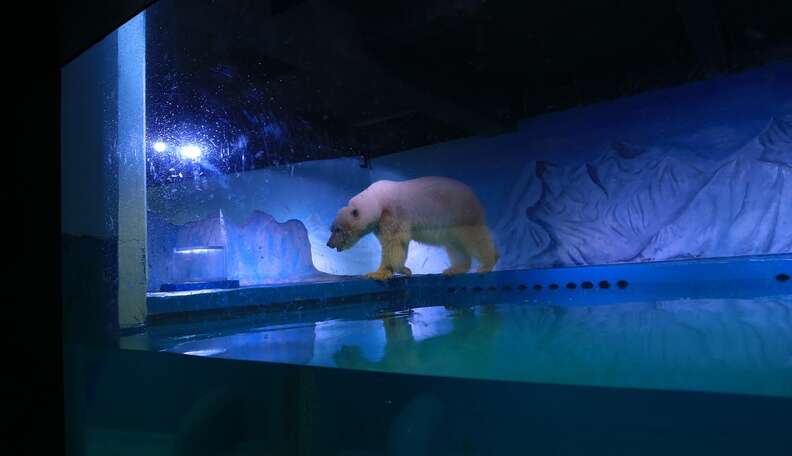 Naturally, HSI is now concerned that Pizza's sudden relocation is a sign that the bear is now too damaged to be put on display - or, at the least, that Grandview is attempting to rein in its bad PR by hiding the animal.
"Our video clearly showed that Pizza was suffering, and we warned the mall that soon his decline would be so apparent that it would be difficult to have him on public display," Peter Li, China policy specialist for HSI, said in a statement. "Without a doubt, the mall has had to act due to tremendous pressure from Chinese and international campaigners, but I fear that Pizza's poor health is part of the reason too."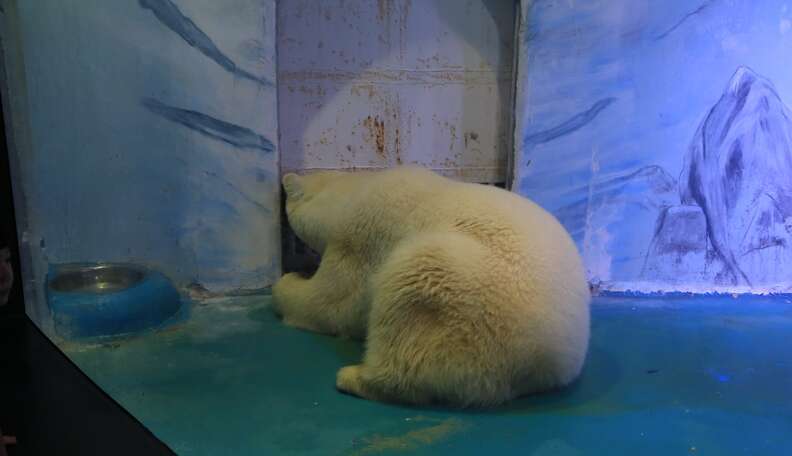 However, HSI, and the many Chinese partner groups who have called for Pizza's release, are staying cautiously optimistic. If Grandview is telling the truth about the move, then Pizza could possibly benefit from a temporary change of environment. And they're hoping that, with continued public outcry, Grandview could be shut down for good.
"It's a good decision, the right decision for Pizza, but it's not the end," Mdm Qin, the director of China's Capital Animal Welfare Association, said in a statement. "We still want to see the aquarium closed once and for all, to see all the animals moved, and we call on the Commerce Ministry to close all shopping mall zoos and aquariums and to prevent these types of zoos from being opened."
At the very least, they're hoping this could be the end of a very sad year for Pizza.
"Pizza the polar bear has endured a life of deprivation and suffering in his small, artificial, glass-fronted room at the shopping mall, so the news that he's getting out at last makes me very happy and relieved for him," Li said. "But we implore the mall to make this a permanent move for Pizza. At last he will feel the sun on his fur, sniff fresh air and see the sky above him."
"No amount of renovation could ever make a shopping mall a suitable place for this animal," he added. "To send him back now would be cruel and heartless."
If you'd like to help Pizza, you can donate to HSI, which is working to save him, here. You can also add your name to petitions calling for his release here, here and here.