Pit Bull Left To Die In Shed Bravely Escapes, Runs For Help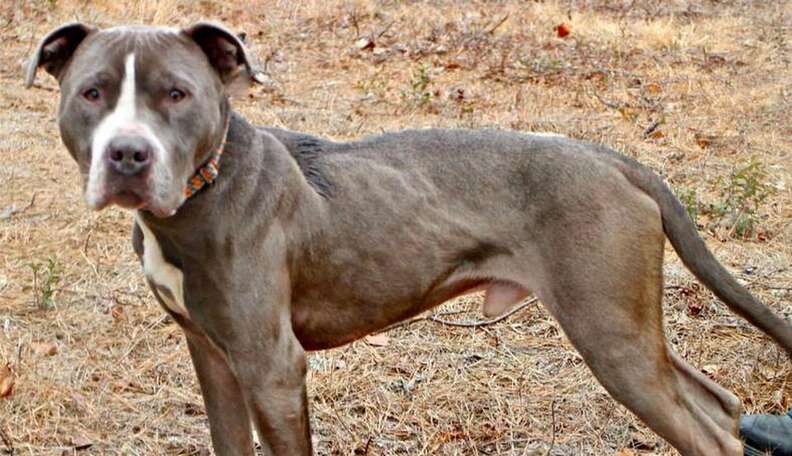 <p> <em><a href="https://www.facebook.com/media/set/?set=a.836096966437308.1073742084.122122364501442&type=1">Facebook/AssociatedHumaneSocietyPopcornPark</a></em><span></span> </p>
When no one came to save him, one dog rescued himself.
A 2-year-old pit bull named Devlin was abandoned after his owners moved away weeks ago. They left him "in a dilapidated, garbage-filled shed, with a caving in roof, and padlocked the door so he could not get out," the Associated Humane Popcorn Park Shelter in Forked River, New Jersey, said on its Facebook page.
Alone, with no food or water and no humans nearby to hear his cries, Devlin had to escape.
He climbed up to an opening near the roof of the shed and jumped out, then ran right to his nearest human neighbors for help. He was brought to the shelter hungry and weak but otherwise healthy.
An animal rescuer from the shelter went back to Devlin's "home" to take these grim pictures of the shed.
Devlin is underweight by 20 pounds, but otherwise he's remarkably happy.
"He seems really sweet; he's just in pretty bad shape," a rescuer who's working with Devlin at the shelter told The Dodo. "He seems happy to be inside and taken care of."
Devlin will be available for adoption once he fully recovers.
"Devlin was overwhelmed with joy when our ACO [animal control Officer] brought him to us at Popcorn Park and gave him a good meal, a warm bed, and some much needed medical attention," the shelter posted on Tuesday. "His temperament is fantastic and his tail has barely stopped wagging since he arrived."
If you want to help Devlin and other rescues like him, visit the Associated Humane Society's donation page to help cover the cost of emergency medical care for their neediest animals.