The dog's name was Pike.
He was 5 years old, tan and weighed only 50 pounds. When an officer from Orange County Animal Services (OCAS) discovered him inside a homemade wooden crate with a loaf of bread and bowl of water, he had so many cuts and rips around his mouth - as well as cropped ears and a partially missing jaw - that his face was swollen and severely infected.
Pike wasn't the only dog found at the property in Winter Garden, a suburb of Orlando, Florida, on July 23. There were eight other dogs, including a black-and-white pregnant pit bull who was heavily chained to a tree with no food, shelter or water. Another pregnant pit bull was ready to deliver a litter of puppies (and she eventually would). Many of the dogs were covered with scars and fresh wounds.
While the situation continues to unfold, and the dogs remain at the property, the case has raised crucial questions about how well local communities and authorities are equipped to handle suspected incidents of animal cruelty. And exactly how much cruelty has to occur before officials intervene.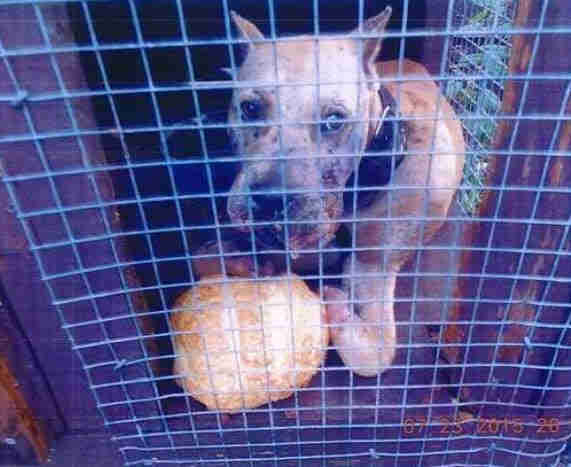 The first visit
Official notes from the Orange County Sheriff's Office (OCSO) describe animal services' initial visit to the property. The notes state that a bungee strap connected to a rubber inner tube - an item that can be used in pit bull fighting to strengthen the dogs' necks - was found on the property. A rolled-up chain link fence, another item commonly used in dogfighting, was also found on-site. The property was overlaid with feces and flies, and literally "surrounded by trash," which is exactly how the local TV news station, WESH, described the property on its newscast the next day.
Animal services confiscated Pike and had a veterinarian examine him. The vet found exposed bone, a recent infection in his mouth and "the muscle on [his] skin on his bottom jaw were ripped apart," according to additional notes provided to The Dodo by OCAS.
Not long after, Pike was euthanized.
And so began a battle in the Winter Garden community over the fate of the other dogs still on the property. Authorities say the pit bulls, including the newborn puppies, are healthy enough to remain on the property and animal services does not have legal jurisdiction to remove them.
However, according to OCAS notes, the dogs' owner was issued a citation for "improper use of restraining device, neglect of food, water and proper shelter and proper care and impoundment." Reports from the initial visit to the property showcased potential evidence of dogfighting. Furthermore, animal services has visited this same property 12 times in four years.
"We agree this is certainly not an ideal situation," reads a statement from OCAS to The Dodo. "However, by law a warrant or exigent circumstances - clear the animals are in an immediate death or serious injury situation - are required in order to remove animals from the property, which is why one of the dogs were able to be removed."
For someone like Tanisha Branchick, a volunteer with Passion 4 Pits - a St. Petersburg-based rescue group recently in the media for rescuing a dog with much of her snout missing - the remaining animals do appear to be in "an immediate death or serious injury situation."
"I think how OCAS is handling this case is disgusting," Branchick told The Dodo. "They aren't following through ... they are responsible for animal welfare. But they don't have the dogs' best interest at heart. They aren't protecting the animals. [They are leaving them there], and what kind of protection is that?"
Branchick has been following the Winter Garden case since July 23 and has visited the neighborhood at least twice to monitor the remaining dogs. It was during her second trip that she allegedly discovered a dead dog floating in a nearby swamp. Although the dog had disintegrated into bones, the animal still wore a pronged, black shock collar, Branchick says. She took a photograph of the decomposed animal and alerted OCAS.
Branchick says the dog was found approximately 600 yards from the home on the property line if walking through the woods nearby, which led her to believe the dog was likely associated with the Winter Garden case.
Initially, OCAS walked the perimeter of the home and did not find the dog. "As a result, Animal Services asked Tanisha Branchick, the woman who took the photo, to visit the area with our staff and show us where the dead dog was located. The dog was found in a ditch about 5 miles from the Winter Garden home," OCAS told The Dodo. "[The dog] has been picked up by Animal Services and will be sent for a necropsy."
Warning: Graphic image below.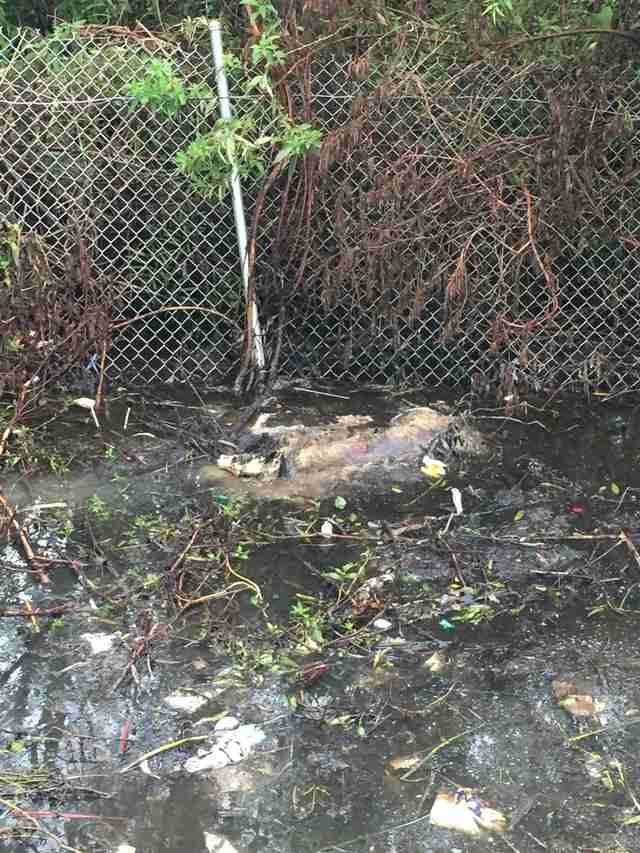 Confusing reports
A review of the official OCAS notes by The Dodo show somewhat conflicting accounts by officers visiting the property. For example, although OCAS notes from July 23 state there were open wounds on some of the dogs, OCAS notes from July 25 read that wounds on the dogs were "old minor scars," and "all of the dogs on the property appear to be active, alert and at normal weights."
Notes from July 25 also state that the officials "did not observe any open wounds or any evidence of dog fighting on this property."
OCAS later said the notes from July 23 were based on the inexperience of the animal services officer who was first to the scene. The Orlando Weekly reads:
Sgt. Al Giardiello, who works on agricultural crimes for the Orange County Sheriff's Office... says that the animal control officer who reported to the scene was "brand new" at her job and "she thought it was dog-fighting, which come to find out later we did a more in-depth investigation and that is not correct. ... animal services has since addressed the issue, told the person, that if you don't really know what you're talking about, then you shouldn't make statements alleging things that are going on that aren't."
These discrepancies in official accounts only show how difficult it can be to assess instances of dogfighting, adding to the growing outrage within the community. Local news station WFTV reported that on August 18, at an annual animal services advisory board meeting, some 50 attendees were appalled that the pit bulls remained at the Winter Garden property.
However, it's not just local welfare advocates who are confounded by officials' decision to keep the pit bulls at the property. Scott Heiser, an attorney with the Animal League Defense Fund (ALDF), has worked on animal cruelty cases for years and says he finds the actions of OCAS puzzling. "According to the cited news story, two suspects were arrested on [August 14]," he told The Dodo. "We would expect that the State Attorney's Office will be seeking, as a condition of the defendant's release, an animal possession ban during the pendency of this case."
"It defies logic," he says, "to let suspects continue to have access to a pool of victims with criminal charges pending."
The two men who lived at the Winter Garden property and cared for the dogs - Raymond Williams and Bruceness Tatum- were arrested and charged with animal cruelty, Lourdes Clayton, a public information officer with OCSO, told The Dodo. They both remain in jail.
For now, the dogs are in the care of Williams' girlfriend, Elisha Gilbert, who spoke with WESH news on August 20. "I make sure they have food and stuff. And I make sure they have water," Gilbert told WESH.
The dogs are being observed by OCAS, which told The Dodo in a statement that it has revisited the property nine times since the initial trip on July 23, "to monitor the health of the animals and ensure the owner [Williams] has complied with Animal Services' mandates, which he has. Regression on these mandates will result in Animal Services taking additional, appropriate action." Those "mandates" included kennel repairs, ensuring kennels are free of feces and that the dogs have access to food and water, according to OCAS notes.
OCAS says it "will continue to monitor the pets at this residence in partnership with the Orange County Sheriff's Office [OCSO], which is the agency that can pursue criminal charges."
Animal cruelty: in Florida and beyond
Chris Schindler, senior manager of animal fighting investigations for The Humane Society of the United States (HSUS), has been working on dogfighting cases in the field for nearly 20 years. It's unclear if the Winter Garden case involves dogfighting, but Schindler notes that around the nation, backyard dogfighting rings are not uncommon.
"People who are involved in dogfighting live in every part of the country, in every county, in every state. And neighbors aren't always aware of what is going on," he says.
Referring to another dogfighting case in Jacksonville, Florida, Schindler says, "The [ringleader's] house was on the corner of a neighborhood street, surrounded by homes that people drove by every day."
Eighteen dogs were discovered at that property where dogfighting had likely been going on for decades, he says.
Even in what can appear to be atrocious living conditions for the animals, there are cases, Schindler says, when officials simply do not have enough reason to pull dogs off a property: "You have to show that there was intent that the dogs were being owned, possessed or used for fighting. You need more evidence than the dogs alone to show intent. You cannot provide intent with just scarred animals."
Florida, Schindler claims, has some of the strongest laws in the country pertaining to dogfighting. But officials and welfare groups also rely on the public. In some cases, people are too frightened to call local authorities when they suspect dogfighting is happening in their community.
HSUS offers a reward of up to $5,000 to people who come forward with information that can be confirmed or corroborated. "And if people are worried or weary of calling local law enforcement in any part of the country, we have an anonymous tip line and we will not release their identifying information," Schindler says.
Dogs suffer tremendously in dogfighting, but not always in the most obvious manner. "The public perceives [dogfighting] as a fight to the death," Schindler says. "But that is not usually how they die. Usually the dogs aren't performing good enough for the owner, so they kill the dog. He is often killed by electrocution, drowning, hanging."
Even the winning dog, Schindler says, "can die from blood loss, shock and trauma." Dogs will also commonly have injuries to their faces, necks and forelimbs, with subsequent inflammation and infections.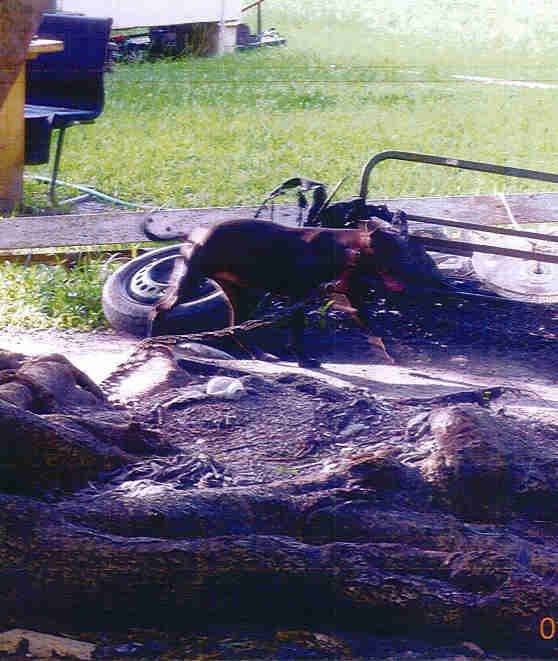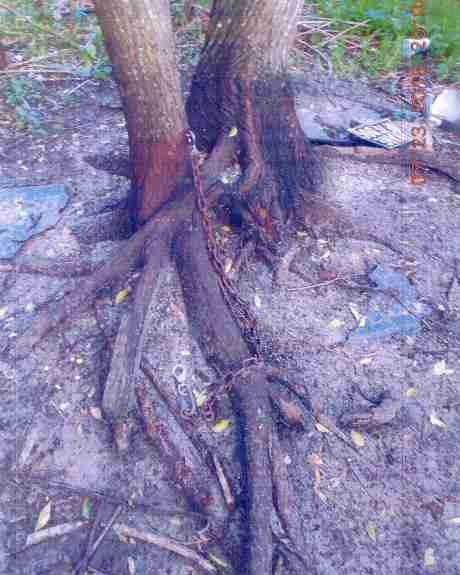 Laws only go so far
ALDF's Heiser appreciates robust laws, but says when it comes to protecting dogs, states often fail the animals' welfare. "Many states, including Florida, have antiquated cruelty laws that fail to expressly address cases of neglect where conditions of confinement are inhumane," he says.
Essentially, Florida's vague animal welfare statutes are difficult for OCAS officers to interpret, which can have grave consequences for the dogs at Winter Garden: "Florida's animal neglect statutes are in very real need of amendment to both clarify definitions and toughen the outcomes," Heiser adds.
But, until Florida's statutes are updated or intervention occurs, these particular dogs in Winter Garden - listed in the official animal services notes from July 23 as Billy Jean, CJ, Cry Baby, Django, Show, Bubba, Sassy and the dog simply referred to as "Friends Dog," along with the litter of puppies - remain in their wooden cages.
To lend your voice to this case, visit Change.org.
To learn more about how you can take action against dogfighting, visit HSUS.
The Dodo is joining the Huffington Post in celebrating Pit Bull Week, a week-long, community-driven effort to bust the myths and raise awareness about pit bulls, a maligned "breed" that often bears the brunt of dated, discriminatory legislation that can make it near impossible for these dogs to find a forever home.