Pit Bull Sisters Are Obsessed With Their New Baby Brother
"Ezra loves his fur sisters just as equally."
Lu Lu spent the first three years of her life living outside, ignored and neglected. She was super skinny, had multiple skin infections and desperately wanted someone to give her love and attention.
All Lu Lu really wanted was to truly be part of a family.
Her former family eventually surrendered her to a local shelter, where she was then rescued by QLD Staffy Rescue in Australia. When she was first pulled from the shelter, it became apparent that Lu Lu had no idea how to be a dog. She didn't know any basic commands and wasn't house-trained.
After spending some time with an amazing foster family, Lu Lu grew into a fantastic dog, and was soon adopted by Lauren Burke and her husband. And of course, her new sister, Skyler.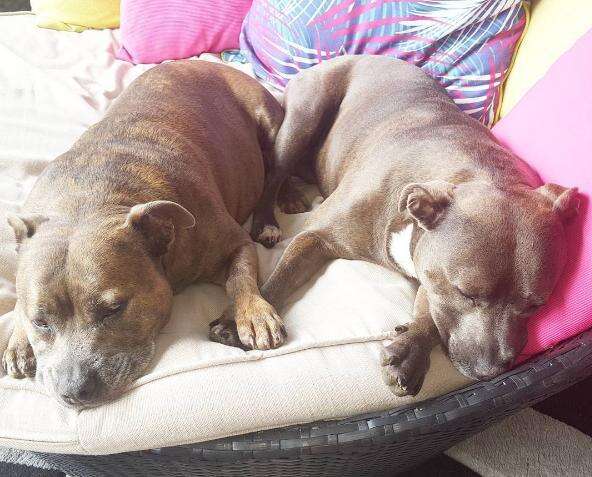 Lu Lu and Skyler became best friends almost instantly, and now the pair does absolutely everything together. Lu Lu couldn't have been happier with her new family - and then Burke learned she was pregnant.
"When I fell pregnant, both Skyler and Lu Lu instantly knew what was going on and would snuggle my bump," Burke told The Dodo. "They would often go into the set-up nursery and lay down to sleep in there. We always knew they would be great fur sisters."
When baby Ezra was born, Burke's husband would bring some of his clothes home from the hospital so that the dogs could get used to his smell. When baby Ezra finally came home, all Skyler and Lu Lu wanted to do was be near him.
"The first day we brought Ezra home they just wanted to smell and lick him," Burke said. "They were amazing. They followed me to nappy changes and would lie next to me when Ezra was napping on my chest. They loved him and just wanted to be a part of everything we did with him."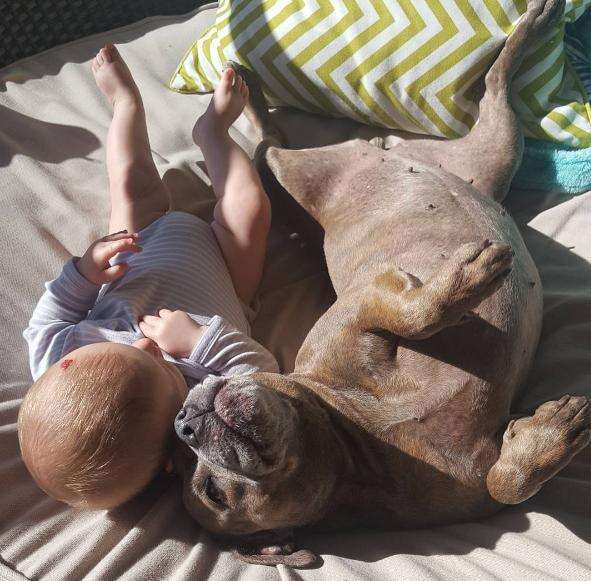 Skyler, Lu Lu and Ezra are now all the best of friends, and love playing together all day long. Skyler and Lu Lu never like being too far away from Ezra, so they can keep an eye on him, and Ezra loves to watch them run and play.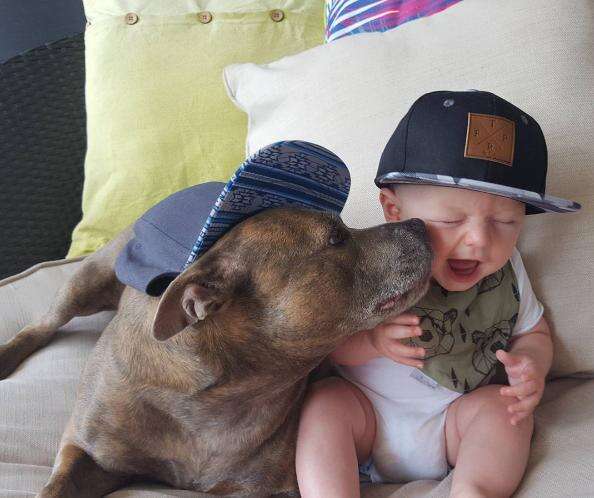 "They have both become protective but are happy to show off their new little brother," Burke said. "Ezra loves his fur sisters just as equally."
Lu Lu went from living all alone in a backyard to having the best family in the world, and she, Skyler and Ezra will have many years to play and grow up together.