This Awesome Campaign Proves That Pit Bulls Are Full Of Love
<p> <a class="checked-link" href="http://louisvilleky.gov/government/animal-services/pit-bull-dogs-are-family?clienttype=generic&mobilecgbypass">Pit Bull Dogs Are Family</a><span></span> </p>
Pit bulls have an unfair reputation for being aggressive and dangerous, and, because of it, thousands of affectionate pitties are stuck in shelters, waiting for forever homes.
One U.S. city wants to change that.
With the help of local shelters and rescue organizations, Louisville, Ky., has launched a citywide campaign featuring families who adopted (and fell in love with) rescued pit bulls. The campaign is called "Pit Bull Dogs Are Family Too," and the photos are just too cute.
Bridget and Meg with their pit bulls, Jack and Tucker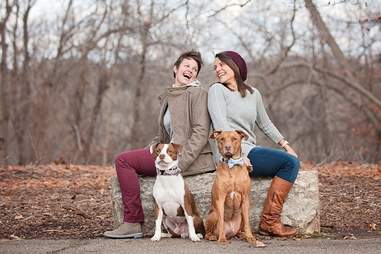 "Tucker and Jack have taught us the ultimate lessons of tolerance, acceptance, patience, and love. This goes beyond just us. I grew up in a small town in the country, where dogs live outside. My dad was furious when I told him I found a dog and he was going to live inside with me. I was going home that same weekend. My dad informed me I better not bring 'that dog' home with me because he would be staying outside. I took him home anyway. By the end of that weekend, my dad had fallen love, and Jack was sleeping in the bed with my dad."
Hilary and Lamont with their beagle, Holly, and their pit bull, Pinky
"We love how friendly Pinky is - she loves everyone! She is also very smart and has learned many commands like 'Sit,' 'Lay,' and 'Stay' very quickly."
Miles with his French bulldog, Willow, and his pit bull, Clay
"Clay came to our house as our eighth foster with Saving Sunny. I knew almost immediately that his gentle spirit was something special and he was staying forever. Our family is currently working with our 14th foster dog, and we have no plans to stop."
Amani and James with their pit bull, Chloe
"Chloe knows when someone is in a bad mood, and she will cuddle nonstop. She also makes the best pillow! Chloe loves to meet new people and give them kisses."
Eric and Bianca with their pit bull, Juicy
"Juicy loves it when you sing to her. She gives you kisses if you stop because she wants more! She is also fond of belly rubs. Juicy is outgoing and loves to explore. Juicy's favorite thing to do is eat. She also enjoys car rides."
These lovable pits are all proof that pit bulls, like any dog, can make a sweet addition to any kind of family. To see more of these stories, check out the campaign page here. And if you're ready to provide a forever home for a dog, check your local shelter or look on Petfinder for rescue dogs awaiting homes.