Pit Bull With Rare Disorder Feels Lots Of Love From Children
Once upon a time, a little "deformed" pit bull entered my life.
In 2010 I was an animal control officer responding to a complaint about an "aggressive dog." Any animal control officer knows the majority of these types of calls result in nervous strays or neighbor disputes. Neighbor disputes escalate when it involves one of their pets. Animal control responds faster when the complaint involves the word "aggressive" and although that was the case in this particular call, I never imagined how my life would change because of it.
Upon arriving, a scared, little dog was out darting around between two houses. A woman was busy coaxing her dog into the house while two people next door yelled at her. Animal control officers wear many hats. We are mediators, counselors and teachers who are often seen as the bad guys just because people think we want to take their dogs. We don't want to take your dogs. There are enough in the shelters already. We just want you to do right by your dogs.
The argument didn't stop just because I arrived and I heatedly advised both parties that someone was going to jail if all present did not go back into their homes. Unfortunately, animal control officers also spend a lot of time waiting on people when we could be helping other animals. The woman who scooted the dog into her house told me that the dog was actually her husband's responsibility. I am always amazed how two people can live together but hold one person liable for their dog. I had to wait on the husband to get home to show me proof of ownership, proof of licensing and the opportunity to educate him about letting his dog run at large.
The complainants sat on their porch so I awkwardly struck up conversation to waste time. They told me how they rescued a pit bull puppy but had to get out of town in a hurry and needed someone to take her. Yes, that was what they said. They asked if I wanted to see her. Sure. Why not? Not like pit bull puppies who need homes aren't in abundance, right? They brought out this little white and black puppy on a leash made of twine. My jaw dropped. Her shape was nothing like I had ever seen before. The owners didn't mention her shape to me nor did I to them. Instead, I realized this pup was special and had to come home with me. I needed to protect her from euthanasia as I knew that's what would happen once the shelter vet looked at her. I started text arguing with my husband and he lost. This puppy, named Cuda, was coming home with me.
After the initial shock my husband and son had at her appearance, and a vet visit resulting in a clean bill of health, I decided to make her life matter because she was a backyard bred dog who was put up for sale on Craigslist for $50 and the people who bought her had her only two weeks before they realized she was very different. I can't imagine what would have happened had they decided to breed her.
We started with social media. Then we decided to bring her to the 2011 World's Ugliest Dog Contest in Petaluma, California. While we got a lot of flack for that, our decision was based on education. We thought we could show people that she was not bred for her appearance like so many dogs who end up in that contest are. We wanted to bring a pit bull into the contest. We wanted people to learn about acceptance, tolerance and diversity. We lost. Still, she had a great fan base on social media and we enjoyed taking her to events and helping rescues raise money by raffling off Cuda t-shirts and such.
We later discovered that Cuda has short spine syndrome, a congenital disorder causing her spine to, literally, be shortened. Over the years, we have found twelve other dogs living with the same condition all over the world. I'm happy to say they are all doing great.
People kept saying I should write a book about her. It occurred to me during a visit to an elementary school that children were open to her looks, asked questions and were overall curious. I needed to write a children's book focused on diversity. I felt a little dog could help kids understand that their classmates who were different than them were still the same inside and that's what mattered. It took me two years and many more visits with children to piece it together in my mind well enough to put it to paper. Through Cuda, I found Sydney Koehl, a young college student and talented artist who turned my words into whimsical drawings.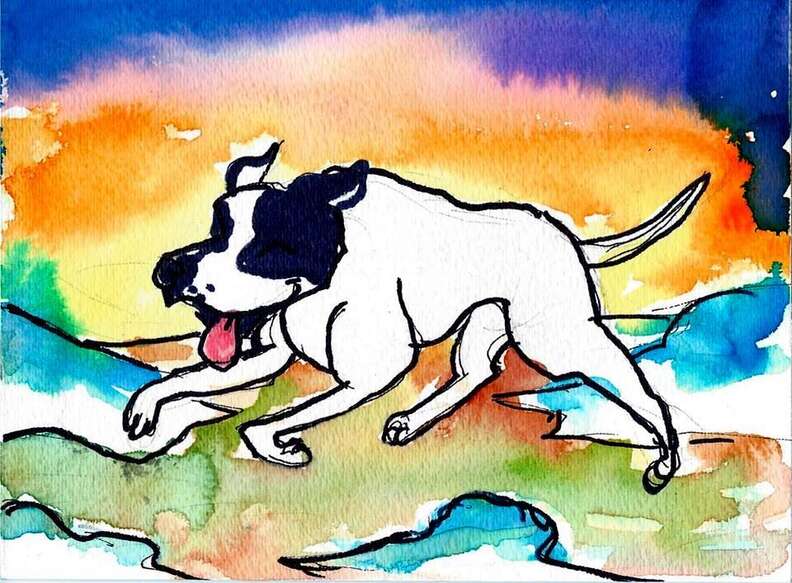 Once I had it written, I found a wonderful teacher and mom-to-two Cuda fans to edit the book. I sold t-shirts, stickers, bracelets ... whatever I had, to raise the funds for the book and got incredible support from the people who followed her page. I found selfpublishing.com. They walked me through the whole process and I proudly cried when I had the finished product in my hands. Thus began my next mission: getting them to children everywhere so they can see how we need to look at what's inside someone before judging their outsides.