Playful Pit Bull Storms TV News Set, Showers Weatherman With Kisses
<p><a class="checked-link" href="https://www.youtube.com/watch?v=pJkRMFu9__U">YouTube/semiramid</a></p>
Each week, local news affiliate NBC 6 in South Florida devotes airtime to help pets in need of adoption. But for one American pit bull, named King, a single segment just wasn't enough to contain his playful personality.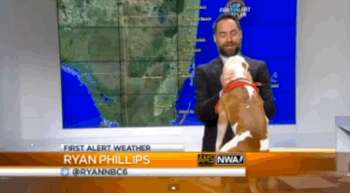 Apparently unwilling to wait for "Pet of the Week" to begin, King made his entrance a few minutes early - smack dab in the middle of the weather report. As meteorologist Ryan Phillips delivered the forecast, the happy pup leapt up onto the anchor desk to douse him with kisses.
"It's not your turn yet. You have to wait one more segment," says Phillips, clearly caught off guard by the pit bull love-storm.
Volunteers from Pooches in Pine, the pet rescue group caring for King, hope that the pit bull's recent appearance will be just as life-changing for him. As of Sunday evening, the group reports that King is still available for adoption - as are countless other shelter animals just like him, eager to shower kisses upon whomever is kind enough to offer them a home.
To learn more about adopting a pet, visit your local Humane Society.