People Were Scared Of This Pit Bull — Until She Started Wearing Bandanas
"The bandana made them actually look at her as just a dog, not as a breed."
When the mom of a lovable pit bull noticed people were scared of her and tried to avoid her when they were out walking, she decided to try and do something about it.
In 2015, Malibu the pit bull ended up at a kill shelter in southern California when she was just a year old, after her owner surrendered her on New Year's Day. She was thankfully pulled by a rescue and sent to be boarded in Huntington Beach, California, where she met her future mom, Christine Smith.
Smith volunteered with different rescue organizations, and when she found out Malibu was being boarded near her home, she started working with her every week.
"I began walking her every Friday in hopes of working on her social skills and leash work, hoping to make her more adoptable," Smith told The Dodo.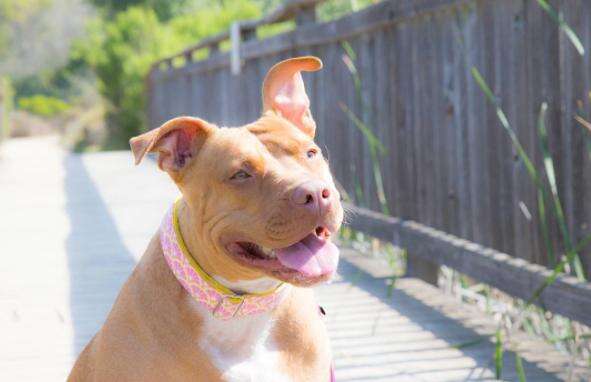 After she'd been at the boarding facility for about two months, the rescue in charge of Malibu was forced to close, and had to leave her behind, according to Smith. Smith took over her case, working tirelessly to try and find her a home, and finally decided to foster her herself.
"I reached out to another rescue I knew asking them if they would take her into their rescue if I fostered. They agreed," Smith said. "On July 1 I left the boarding facility, this time with Malibu, and we both had big smiles on our faces. We knew the first night she was home, as we couldn't imagine life without her."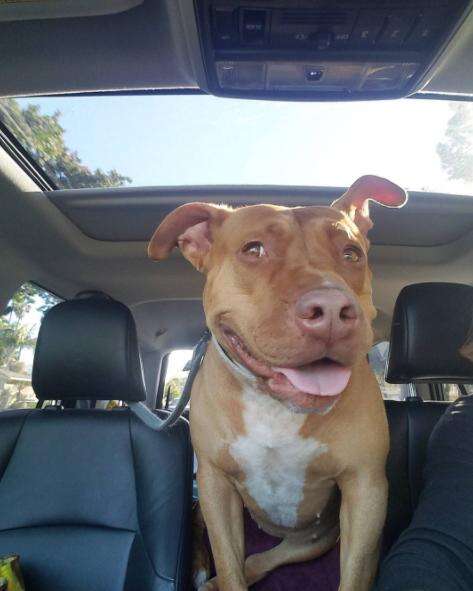 Malibu quickly became a foster fail and a permanent member of Smith's family. She immediately thrived in her new home, and especially loved going on walks and exploring the world with her new mom.
"Our favorite activity is hitting the trails, which we do seven days a week," Smith said. "We live in an area where we can explore beaches, where she loves dancing around the sand, dirt trails and walks along the bay or river."
When Smith first started taking Malibu out on walks around her new neighborhood, however, she began to notice something upsetting - everyone who saw Malibu seemed to be judging her based on the fact that she's a pit bull.
"Every time I walked Malibu, we would experience people crossing to the other side of the street to avoid us," Smith said. "Small dog owners would pick up their dogs off the ground cradling them close, mothers would pull their children to the side with a death grip, all the while eyes focused on Malibu's every move. This broke my heart, knowing what a loving dog she is. I knew I had to try to change people's perception."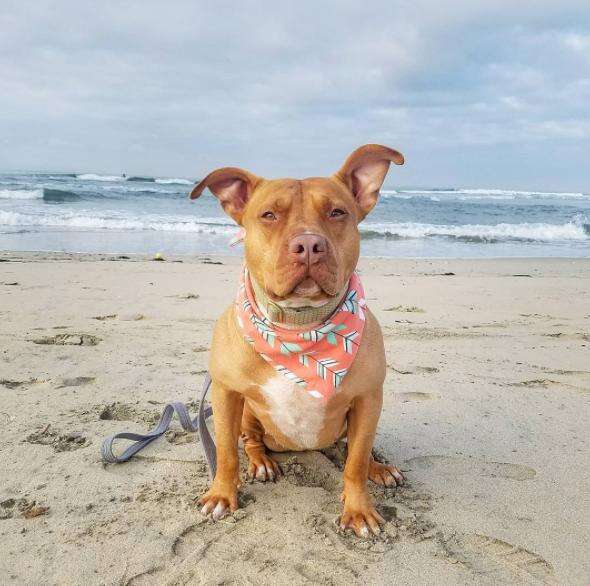 Back when Malibu was still looking for a forever home, Smith used to dress her up in cute outfits to make her look more adoptable. She decided to try this approach when taking Malibu out for walks, and began dressing her in simple paisley bandanas.
The result was incredible.
"I immediately noticed a change when we would walk, Smith said. "People would smile when they looked at her. They would ask questions, what breed is she, how old is she, or just comment on how cute she was. Not everyone was accepting. However, this gave me the opportunity as her owner to communicate with them in a less stressful environment as the bandana made them actually look at her as just a dog, not as a breed."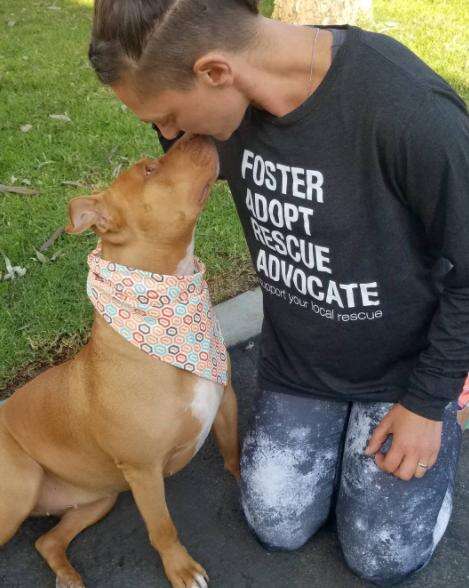 The banadas made sweet Malibu seem more approachable, and allowed her mom to start conversations with people about why they were afraid of pit bulls. She questioned their fears and tried to help people see that pit bulls are just as sweet and wonderful as any other type of dog.
"I would begin to explain that any dog can be raised to be aggressive," Smith said. "It is the owners who encourage aggression, either through intent or neglect."
Now, Malibu has an entire drawer filled with different types of bandanas, and her mom even sews some custom ones for her and her friends. The bandanas have made Malibu an ambassador for her breed, and she even works with some small businesses to promote adoption and raise awareness about breed discrimination.
"She is often asked to model for companies, however, we choose to only work with people who promote rescue and adoption and who give back a percentage to shelters and or rescues," Smith said. "We are thankful for our Instagram family in the rescue community who also support these businesses who speak out against abuse, neglect and breed discrimination."
Malibu is the sweetest, most gentle dog who just wants to be with her mom and dad at all times. Slowly but surely, she is fighting breed discrimination, and showing the world that she has nothing but love to give.