Pit Bull Who Was Set On Fire Proves Love Conquers All
<p> Dee Hartley<span></span> </p>
For Louis Vuitton, every day is a celebration of life: The rescue pit bull has been through hell - but he's still got nothing but love for his family and friends.
Warning: Graphic image below
Back in 2007, Louis was nearly killed when his owner's son beat him brutally and then lit him on fire in a case that rocked his hometown of Montgomery, Alabama, and made headlines across the country. Rescuers thought he was too injured to survive, and they planned to euthanize him.
Dee Hartley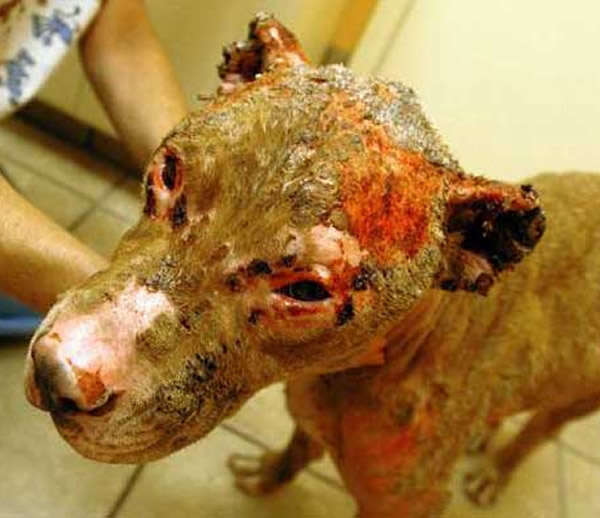 But Louis clung to life, and even though he was in horrendous pain, he couldn't stop wagging his tail and trying to lick his doctors. They decided to do everything they could to save him.
For months, Louis was a patient at Golden Animal Hospital in Montgomery. The abuse had left him with burns over 70 percent of his body, and he eventually required 33 surgeries. But Louis was soon a staff favorite, and his rescuers worked extra hours just to spend time with him.
Dee Hartley

Local animal lover Dee Hartley first found out about Louis while he was recovering in the hospital. After seeing his story on the news and hearing about him through her friends at a local shelter, she told her husband that she couldn't get Louis out of her head.
"I told him, 'I really want to meet that dog,'" Hartley told The Dodo. "There's something about him that's really tugging at my heart." But William insisted that they already had a full house with all their rescue dogs, and didn't need another.
Dee Hartley
Without telling William, Dee went to visit Louis in the hospital. She felt an instant connection. "He was just in terrible, terrible condition," Hartley said. "I spent about an hour with him."
When Hartley got home after meeting Louis, she was "on cloud nine." She just had to tell her husband about him. What she didn't know was that William had also gone to visit Louis in secret. They were both head-over-heals for the sweet pit bull.
The Hartleys started to visit Louis every day on their lunch breaks, bringing him treats and helping him open the gifts that were flooding in from supporters all over the country.

Dee Hartley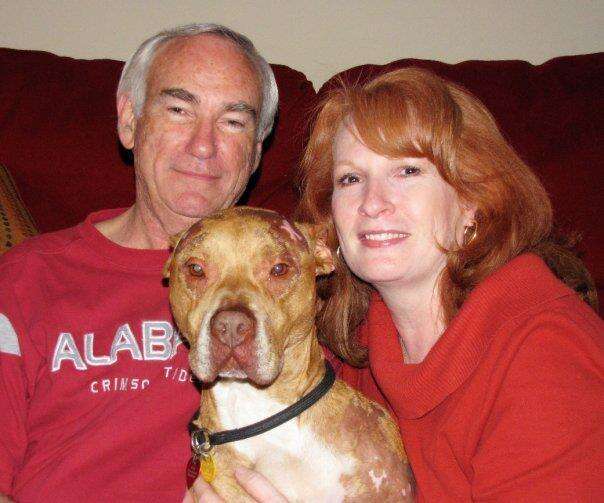 Louis couldn't officially go up for adoption until his abuser's trial was over, but the Hartleys became his foster family once he finally left the hospital. He was already part of the family in their hearts.
In January 2009, Louis' abuser, Juan Daniels, was sentenced to nine years and six months for animal cruelty - setting a new state record for an animal abuse case.
The Hartleys could finally adopt Louis, and they happily made it official - Louis even signed the documents with his paw print. Though he still bears the scars of his horrific abuse, Louis now serves as an inspiration to everyone he meets.
Dee Hartley

"He is wonderful, and we are very blessed that we can use him to help shelters and rescues to bring that to light," Hartley told The Dodo, explaining that Louis proves that rescue dogs aren't damaged goods - no matter how rough their past might be.
Dee Hartley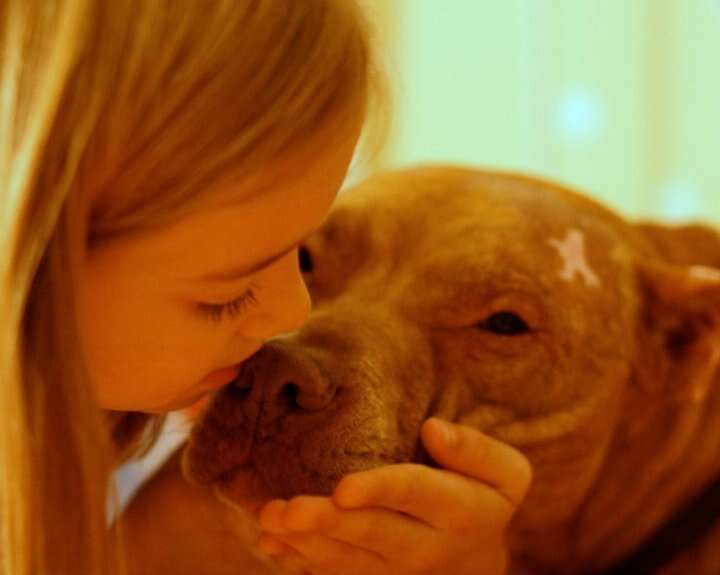 To celebrate Louis' life, the Hartleys decided to throw a huge birthday bash - with all the proceeds going to the nearby Humane Society of Elmore County.
Dee Hartley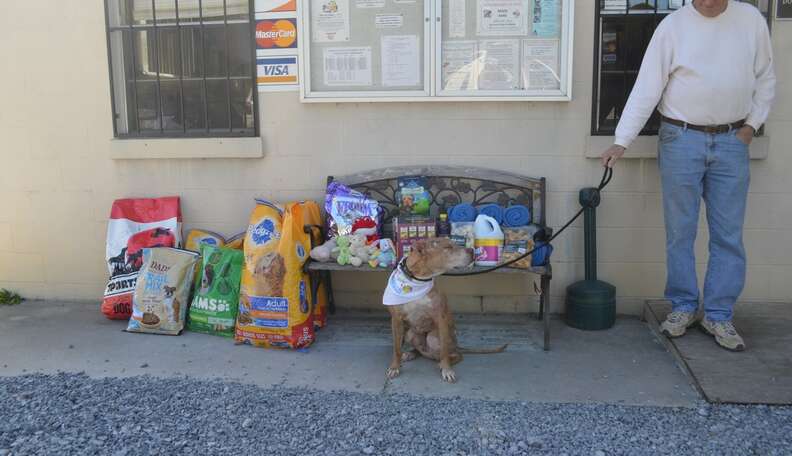 This winter, Louis will have the honor of serving as a "monster elf" for the "I'm Not a Monster" campaign, which helps spread awareness about pit bulls and pit bull discrimination. Louis' big birthday bash was also an opportunity to fundraise for his "monster elf" holiday drive - and to continue to share his story.
Dee Hartley

Louis' birthday party was a packed affair, with lots and lots of dogs and their humans there to celebrate his life, and his triumph over trauma. And, as his mom pointed out, he just loved being the star of the show.
"Louis is all about being the center of attention," Hartley said. "It was all about Louis and still to this day all about Louis."