Beaten Pit Bull's Head Was Swollen Twice Its Size, But He Never Gave Up
<p>Dawn Poomee<span></span></p>
<p>Dawn Poomee<span></span></p>
A pit bull was found beaten so badly that his head had swollen to two times its normal size, but that hasn't stopped him on his journey to making a full recovery.
Warning: Images may be disturbing
When Petey was first discovered, it was thought that he might have brain damage, simply because his head was so swollen.
Karma Rescue heard about Petey and knew that if he stayed in the shelter, he would likely be euthanized - so they began the steps to save his life.
Astoundingly, Petey's injuries didn't take long to heal, but emotionally, he was scarred. He was extremely closed off and everything frightened him. Robyn Stern of Karma Rescue became attached to Petey and worked with him to help him trust the world again. Soon enough, Petey was a happy dog who loved to play - and Robyn couldn't help but adopt him after all they'd been through together.
PAWsitive and Karma Rescue together made a video detailing Petey's incredible story and journey, and showing exactly what his life is like now that he's been adopted into a loving home.
While that would have been the most perfect ending to Petey's tale, sadly, he was diagnosed with cancer recently. Tumors were removed from one of his legs, and his health is being monitored closely. Robyn and Petey have only begun their journey together, and everyone is hoping that Petey will heal and they can continue their happy ending.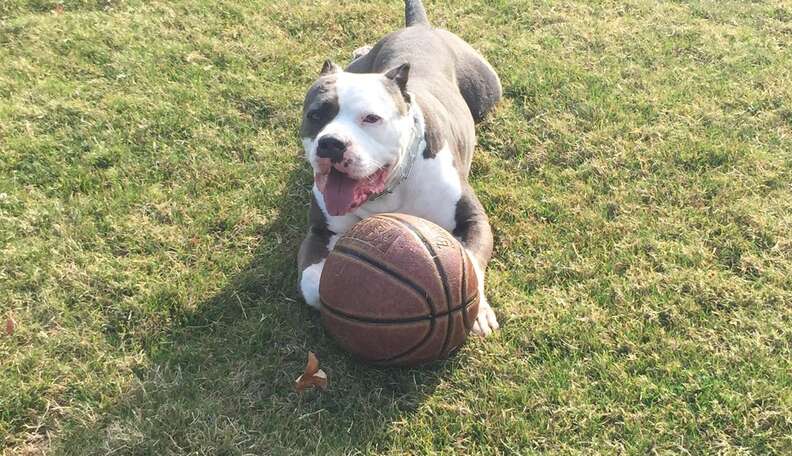 If you would like to help Petey and Robyn, you can donate to Petey's Cancer Fund to help with the costs of treatment. And if you're ready to give a pet a forever home, visit Adopt-a-Pet.com.
Check out the video Karma Rescue made for Petey below:
The Dodo is joining the Huffington Post in celebrating Pit Bull Week, a week-long, community-driven effort to bust the myths and raise awareness about pit bulls, a maligned "breed" that often bears the brunt of dated, discriminatory legislation that can make it near impossible for these dogs to find a forever home.