Cola the pit bull has been living in a shelter for a year and a half. When he first arrived at the Yonkers Animal Shelter in October 2015 as a stray, he was already neutered, and so the staff assumed he might have an owner somewhere. But when they couldn't find anyone who would claim him, Cola became a resident of the shelter, and that's where he's been ever since.
Many dogs who spend a long time in a shelter environment can often get stressed or irritated, but not Cola. He is incredibly sweet and easygoing, and one of the most well-behaved dogs the shelter has.
"His personality is laid-back in his kennel," Leslie McCauley, of Yonkers Animal Shelter, told The Dodo. "He's very polite and doesn't make a fuss. He's never stressed, he never spins and rarely barks."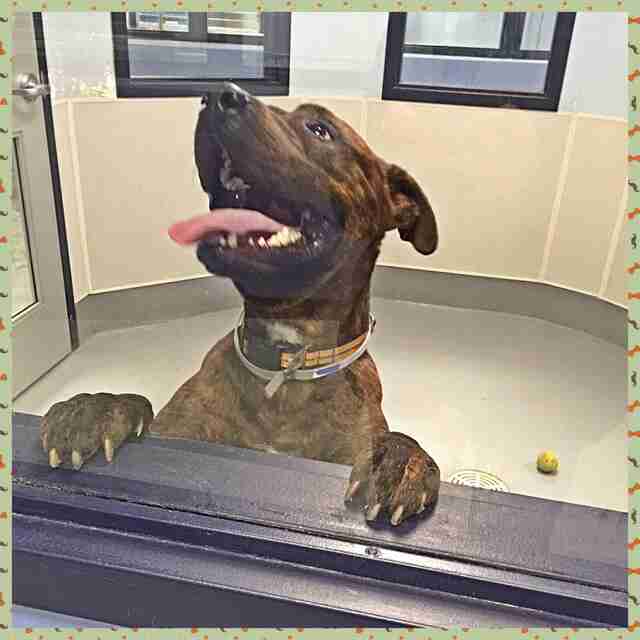 Cola is a model shelter resident, and so it's baffling to all the staff there why he hasn't been adopted yet. Cola may be well-adjusted to shelter life, but of course he still wants a home to call his own, and so while he waits, he takes comfort in his tennis balls.
"As soon as he is free, he zooms to the play yard and once he is there, his focus is on the ball," McCauley said.
All Cola ever wants to do in the play yard is chase ball after ball, and it's absolutely the highlight of his day. Once he's chased and caught two, his fits them both in his mouth, and keeps them there the entire rest of the time he's outside. He chases every other ball that's thrown, and expects them to keep getting thrown as long as he's out there, but he never picks them up. He just needs two in his mouth to make him feel safe.
Once it's time to go back inside, Cola proudly carries his two tennis balls back to his kennel with him. Unfortunately, dogs aren't allowed to keep balls in their kennels for fear that they might eat them and get sick, so Cola dotes over his balls for a few minutes before he loses interest and staffers quickly take them away. Then Cola waits eagerly to do the whole thing over again the next day.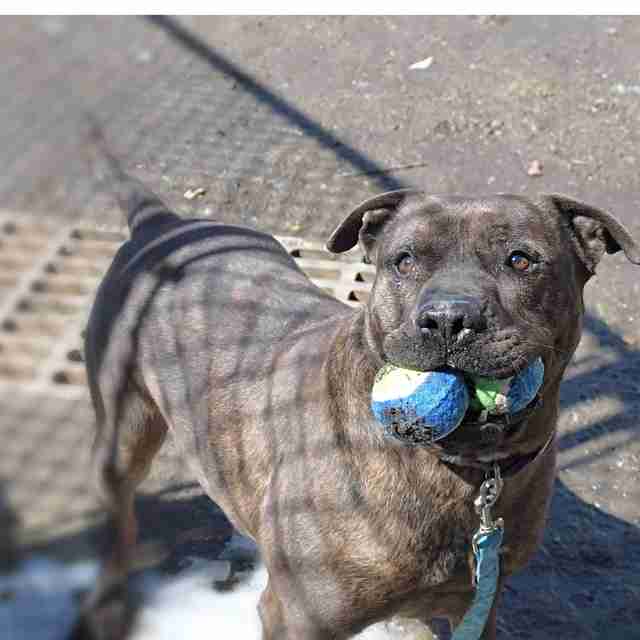 The shelter staffers think that once Cola finds a loving home, he might not need his two ball routine anymore, because he will ideally be getting plenty of attention and exercise. For now, though, it helps him through his time at the shelter, which has already been much too long.
Cola will need to be the only pet in his new home, at least at first while he gets adjusted. He would also do best in a home with adults or older children only, because, with his current ball attachment, he might not understand if a young child tried to take a ball out of his mouth. He's sweet, friendly and loves to play, and deserves to finally find his perfect family.