Pit Bull Recovers After Being Burned With Fireworks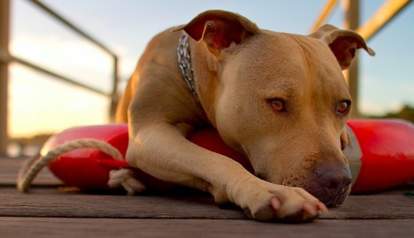 Last July, Los Angeles residents discovered a young pit bull abandoned in an alley the evening after Independence Day, his body covered in third-degree burns that appeared to have been caused by fireworks. Rescuers believe that the dog, who has since been nicknamed "Indy," was strapped with explosive fireworks and then set ablaze. Now, the man allegedly responsible for Indy's abuse isn't doing so well: he's been arrested and charged with animal cruelty, and his bail was set at $30,000. Indy, on the other hand, is doing just fine.
After being rescued by the Shelter Transport Animal Rescue Team (S.T.A.R.T.) last year, Indy underwent four surgeries plus a series of skin grafts, some of which had to be performed by a surgeon who generally operates on humans. Rene Ruston, S.T.A.R.T.'s co-founder, described Indy's abuse as "a gratuitous and incomprehensible act of cruelty," according to a local NBC affiliate.
We received over 20,000 emails and letters from all over the world, supporting Indy and the apprehension of the criminal who did this heinous act... I cannot convey in words, the pain and agony this dog suffered over the 6 months of rehabilitation he endured. No one should be subjected to this kind of cruelty.
Months later, following countless hours of physical therapy, Indy is functional and rehabilitated -- and he even has a new home. Jenny Mandel, a veterinary technician at Westlake Village Animal Hospital, where Indy spent his recovery, signed Indy's adoption papers earlier this week and is eager to take him home.
"You can't not love a dog like that," Mandel told NBC4. "Every day it was just more love, more love, and then finally he became a momma's boy. I became a doggy's girl." She said that while Indy still has a few "nuances" as a result of his past abuse -- such as a limp and early onset fatigue -- he is otherwise happy and healthy. Indy is currently being trained to work as a therapy dog.