Puppy Who Can't Walk Is Learning How To Get Around On His Own
He lies down when he's eating so he won't topple over.
On a rainy afternoon in Sacramento, California, a woman was walking her son home from school. When they passed a park, they both noticed something - there, on a soggy blanket, were two tiny puppies.
The puppies were in horrible condition - emaciated, lethargic and barely moving. When they went over to them and picked them up, the puppies were ice cold.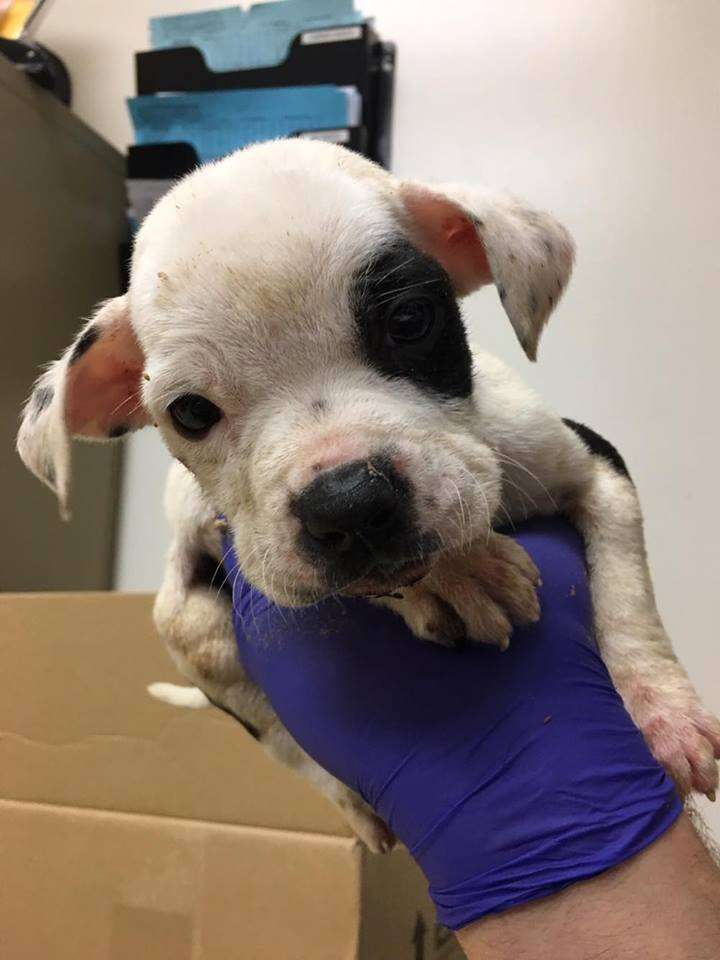 The mother and son whisked the puppies to the Sacramento SPCA. Unfortunately, one of the puppies died upon arrival. The other one - who'd later be named Petey - was barely hanging on.
"We administered warm subcutaneous fluids and karo syrup to help his blood sugar levels," Sarah Varanini, foster care coordinator for Sacramento SPCA, told The Dodo. "After a few minutes, we offered warm wet puppy food, which he ate vigorously."
Once Petey was stable, the vet team gave him a proper assessment. Besides being cold, dirty and thin, his belly was bloated with ringworms, and he had several abrasions on his chin and neck.
They believed he was about a month old at the time.
Perhaps even more concerning, they noticed that Petey couldn't really walk.
"He was unable to stand or walk without falling over," Varanini said. "At first, we weren't sure if this was a result of malnutrition, illness or a congenital defect."
Through a process of elimination, they figured out that Petey had cerebellar hypoplasia, a neurological condition in which the cerebellum isn't fully developed.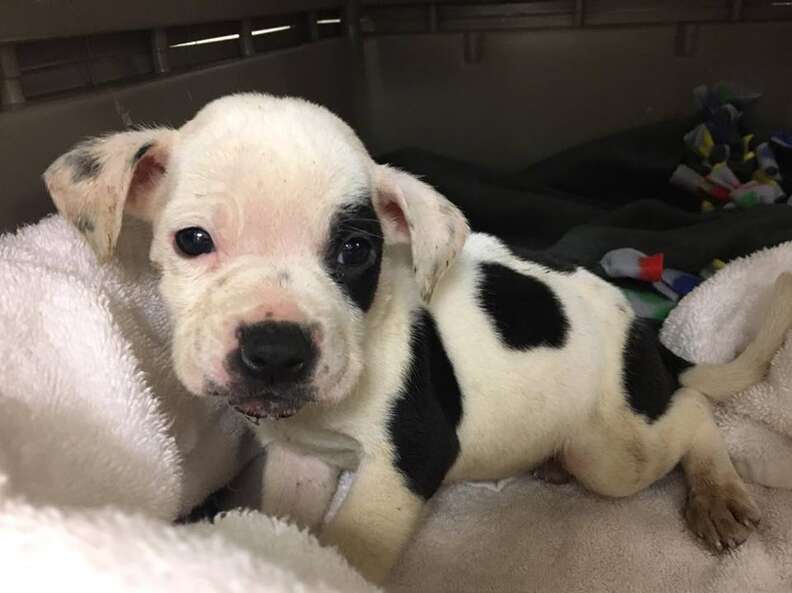 "This can occur due to genetic causes or infections in the mother during development," Dr. Laurie Siperstein-Cook, a veterinarian at the Sacramento SPCA, told The Dodo. "The signs include head bobbing, clumsiness and falling. Some improvement occurs as the puppy learns to accommodate. There is no treatment, but the signs do not worsen and affected dogs have normal lifespans."
"Generally, animals with this disorder may need to avoid stairs and climbing on furniture, and it's best to keep them on a leash when outdoors," Erika Loftin, emergency veterinarian and critical care specialist at DoveLewis Emergency Animal Hospital, told The Dodo. "These pets can be prone to accident-related injuries, like chipped teeth or broken nails, so it's a good idea to 'baby proof' their area as much as possible. This is all part of dealing with a special needs pet."
Petey is already figuring out how to cope with his disability.
"Petey's learned to stay low to the ground when moving from one area to another," Elizabeth Westphal-Thomson, rescue coordinator at Sacramento SCA and Petey's foster mom, told The Dodo. "He has also learned to stay in a 'lay' or 'down' position when eating or drinking so that he's less likely to topple over."
"Petey does best on padded and textured surfaces," Westphal-Thomson added. "We usually stack up lots of blankets on the floor for him. However, he doesn't stay there - he moves freely and checks out everything around him, but he usually returns to the most comfortable places! Petey will scope out a whole room to find the most comfortable spot to snooze. Watching any baby sleep is heartwarming, but this is especially true of Petey."
Petey may have a disability, but he's also a normal puppy. "He's rambunctious, curious and silly," Westphal-Thomson said. "He's also very confident and enjoys meeting new people and investigating new environments. Petey loves coming to work with me. He knows he's going to get to visit with a lot of people and get spoiled all day."
Petey is currently up for adoption, but Westphal-Thomson believes that he will need a special kind of family.
"Petey is a puppy first and foremost, so he has a lot to learn - what's appropriate to chew, how to play with dogs, where to go potty," Westphal-Thomson said. "Secondly, it will take a creative and dedicated family to figure out how to adjust their home to fit his needs and keep him safe."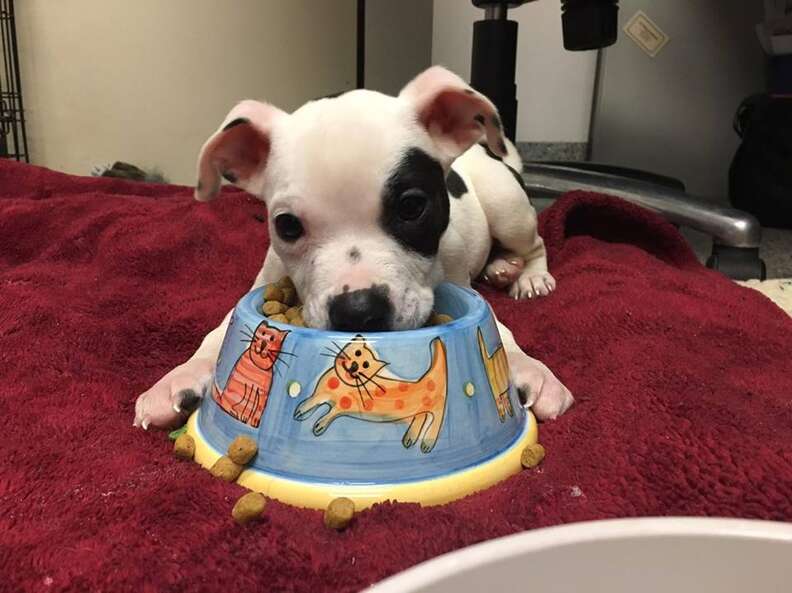 "We are excited to see how Petey adjusts and grows as he gets older," Westphal-Thomson said. "We hope his new family will keep us updated on his progress.
To help puppies like Petey - as well as dogs, cats, kittens, rabbits and other animals - you can make a donation to the Sacramento SPCA here. If you're interested in adopting Petey, you can inquire here.