Puppy Abandoned On 'Dumping Ground' Is About To See His Mom Again
"She started licking him. And I just started crying."
This week, Judy Obregon, locally known as the "dog lady," was out walking around Echo Lake Park in Fort Worth, Texas, yet again - the area is an infamous dumping ground for unwanted dogs.
This time, she had someone else with her - a writer who, interested in what Obregon does, decided to shadow her for the day.
"I was actually being interviewed by someone here locally and suddenly she was like, 'Oh my god, I just heard something,'" Obregon told The Dodo. "I walked toward the trash where they dump them all."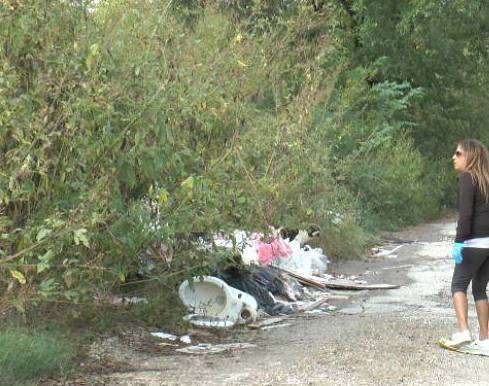 There was at least one carcass rotting nearby. The smell permeated the area.
Suddenly a pit bull came out of the rubbish. Her teats were bulging.
"She actually walked out once she saw me," Obregon said. "I kneeled down and she literally came up to me and started licking me. I had the smell of death and trash all over my face but I wasn't going to turn her away."
Because the dog was obviously a mom, Obregon and the interviewer went up and down the street looking for puppies. "We didn't think there were any since a lot of dogs used for breeding are dumped here."
They got in the car with the emaciated, starving dog and started to drive away. She needed to get to the veterinarian right away. But then they noticed something moving in a ditch behind them, almost a block away from where they'd found the mother dog.
"I got out and ran over there," Obregon said. "Here was this puppy, just lying there. No doubt, that's her puppy."
"The first thing I do is pick him up and run over to her," Obregon said.
The mother dog immediately recognized her baby.
"She started licking him. And I just started crying," Obregon said.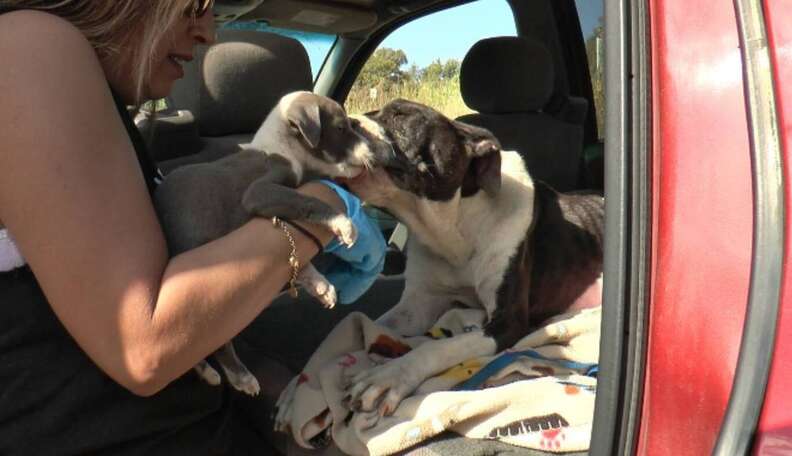 As Obregon rushed the mom and puppy to the experts at V.E.T. Care Hospital and Pet Resort in southeast Fort Worth - who made time and space for the two to come in as an emergency - the reunited pair curled up together in the backseat.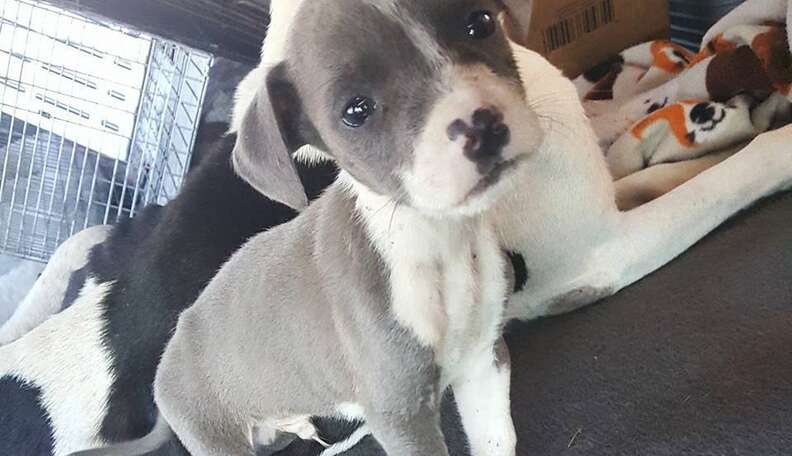 When Obregon glanced back she saw the exhausted pair had fallen asleep almost immediately.
The mother dog, whom Obregon named Hope, was in rough shape when the vet saw her.
They discovered she has heartworm on top of being emaciated. She has scars around her face. And most heartbreaking of all, she has just two teeth - and they've been intentionally filed down.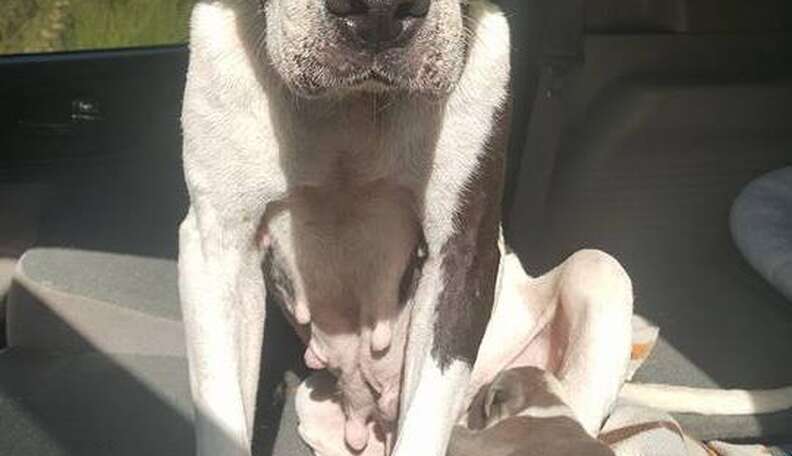 "This suggests that she could have been a bait dog," Obregon said.
Bait dogs are dogs used as targets so people can force more dominant dogs to practice fighting on them. "Or, maybe her teeth were filed down so she couldn't fight the humans who were forcing her to breed," Obregon said. "We just don't know for sure."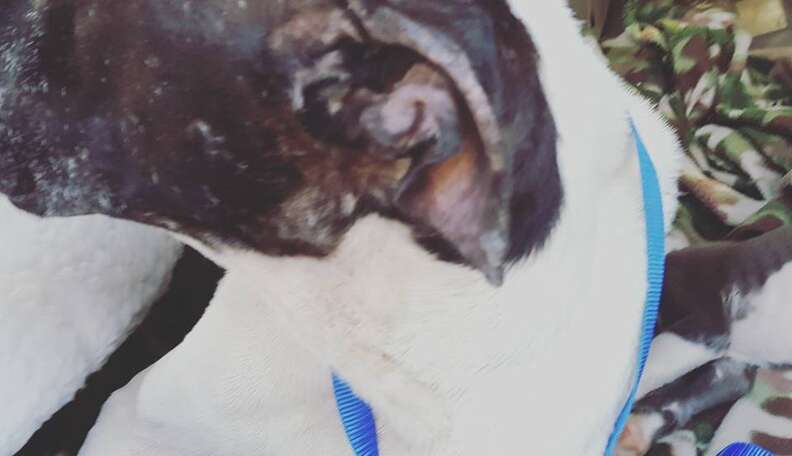 "Look how sweet she is despite what they did to her," Obregon said.
The two dogs are now recovering in a temporary foster home. "We're definitely going to keep them together until they're healthy and ready for adoption," Obregon said.
Obregon named Hope's puppy Future.
"Pit bulls shouldn't be judged for who they are. They're so abused and so many people judge his breed," Obregon explained. "But his future could be one where people change how they think about dogs like him. That's the whole meaning behind his name."
Each year, dozens of dogs are left to die in the area where Future and Hope were found. To help The Abandoned Ones save them, you can make a donation here. If you're local, you can click here to find out how to foster one of these dogs.