In 2011, a pit bull puppy was found tied to a tree in Florida with her ears purposely wrapped in rubber bands so they would rot. This is a common practice in the dog fighting community, making it easier to cut the dog's ears off with a razor or scissors. This little puppy was most likely going to be used as a bait dog or a fighter, but someone called SPCA Tampa Bay to report the situation
Kelli Chickos saw the puppy's story on the news and was upset by it. Her family doesn't typically adopt puppies as they normally care for senior dogs, specifically rescue greyhounds. At work, the receptionist read about the puppy - now named Nikki - in the newspaper and told Chickos that she had to adopt her, but she just laughed it off.
A few days later, Chickos was at a luncheon for SPCA Tampa Bay and the animal cruelty investigator brought Nikki into the room. It was then that Chickos realized that she was meant to be part of her family. She asked shelter staff at the event about adopting her, but Nikki wasn't available yet because she was still recovering.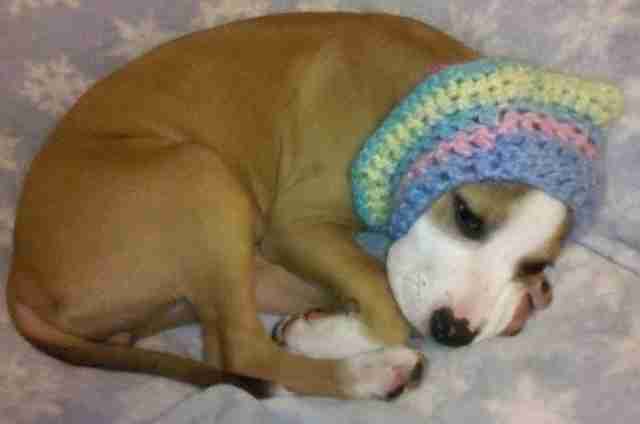 "I approached everyone I could to inquire about adopting her," Chickos told The Dodo. "They must have thought I was nuts because I was such a pest."
Chickos went home that evening and made Nikki a care package of toys, treats and ear covers that she knitted to keep the puppy's ears warm as they healed.
"Seeing an innocent animal inflicted with such intentional and barbaric suffering, it just ripped my heart out," Chickos said. "The pictures of her just before surgery, with her ears dead and dangling from her head, was unbearable. When I looked into her brown eyes, I saw a soul that is so special, it is almost unworldly."
A week went by, and the shelter called with some happy news. "Congratulations, it's a girl!" they said, explaining that her care package won them over.
"Nikki and her new brothers and sisters (mostly greyhounds) get along beautifully and her personality brings an all-new energy," said Chickos.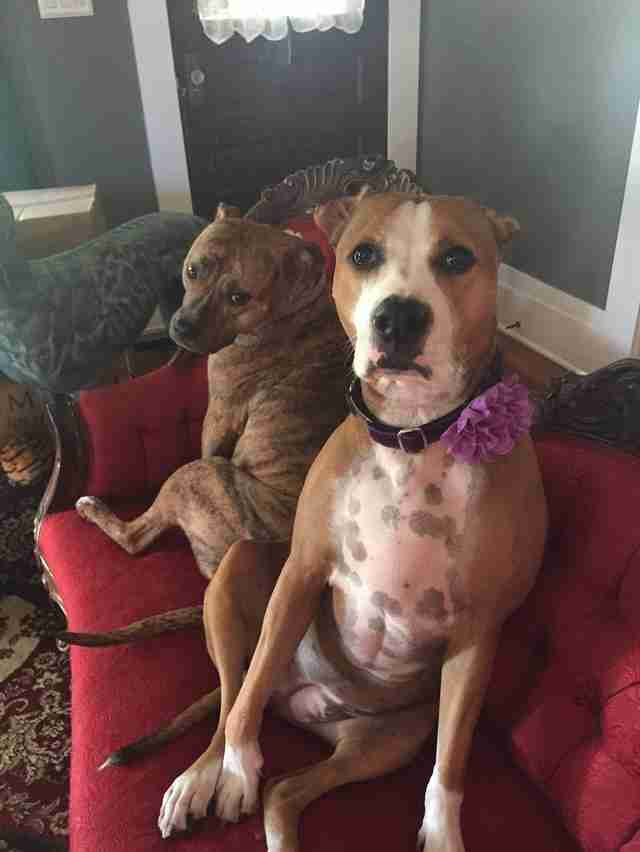 Nikki's hearing isn't impaired, but she doesn't like the rain because the drops go right into her ear canal since she's missing her flaps. Chickos puts sunscreen on her ears because the flaps also would have protected them from the sun.
"Nikki is all grown up now and is an ambassador for her breed," Chickos said. "She frequently attends events to show the importance of adoption and that pit bulls can be big sweethearts. Sometimes people do get scared of her because of how she looks, but she doesn't have a mean bone in her body."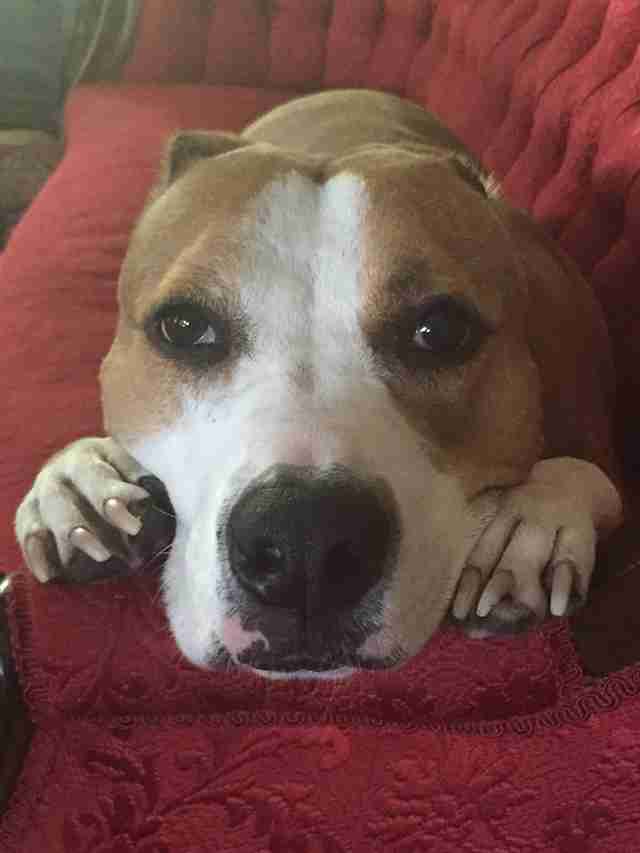 I recently met Nikki at one of my Pet Photo Shoot Fundraisers held at Crooked Thumb Brewery in Safety Harbor, Florida, for the Humane Society of Pinellas and knew instantly that she was something special.
"Nikki's ears always draw attention and having professional photos of her will hopefully bring some awareness to animal cruelty," Chickos said.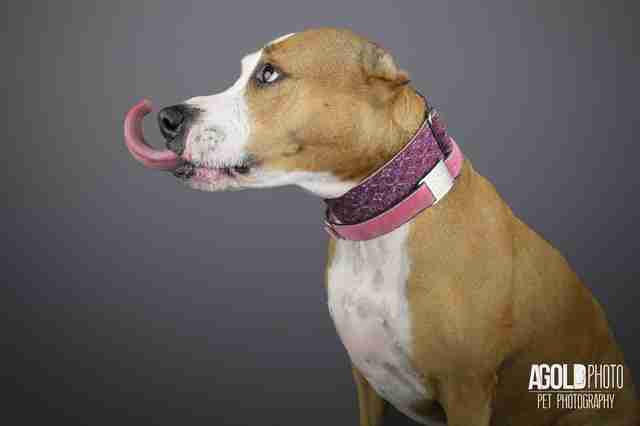 When asked about how she felt about Nikki's abusers she said, "My mantra is: Spay and neuter, adopt and rescue, promote humane education.
"Some animal abusers simply don't know any better - some have no conscience and are awful people, but others probably have never connected with an animal, looked into his eyes, and seen the feeling, living being that is in front of them," Chickos said. "When you make that connection, no sane person could be cruel. I can't wait for the day when maximum punishments are handed down to animal abusers."
I'm so happy that I was able to meet Nikki and to have the opportunity to tell her story and take her photos. Her story is part of my Pit Bull Picture Project, which documents stories and photos of pit bulls to show how goofy and lovable they are, so that more people will adopt them.